Hooray for trip reports! This trip report covers my April 2023 trip for the runDisney Springtime Surprise Weekend. Read all the posts in this report here. Onward!
When we last left off, I had just finished the Springtime Surprise/Toy Story 10 Miler. Normally that would be the end of that story. But this time, for the first time in (say it with me) forever, I didn't hustle straight through to the resort buses.
Sure, I did my usual immediate post-race thing – grabbing a bag for all my snacks and drinks from the merch tent, which I highly recommend – but this time I had exciting new mission.
Becky had recently mentioned to me that Playalinda Brewing Co. does a special exclusive beer for every race weekend, so just in case I brought my ID. There was a helpful sign advertising said libation by the refreshment tent, and when I saw the words "berry lemonade" in the description and no I, P, or A letters in site, I was in!
I saw no line to speak of in the moment, but a Cast Member was still stationed at the head of the queue to help keep things organized. "Who shall I send you to?" she said, surveying the full complement of available cashiers.
The decision was made for her: "MINE MINE MINE MINE!" shouted a pair of CMs directly in front of me, beautifully capturing the Finding Nemo seagull that comprised my race costume. This is why I went from a never-costume girl to an always-costume girl. (Informationally, I wasn't carded, but I've heard of it happening.)
I managed to snag one of the high top tables scattered about the area, and stood and drank my beer while I unwrapped my medal. They were handed to us still in their plastic wrapping – intentional or was runDisney running behind? 🤔
While I was sipping, I happened to glance up at the wait time sign for the available character photos… and saw Wall-E on the list!!!!! I'd been bummed but not surprised to see zero Wall-E characters on the course, so this photo op was a delightful shock. With an uncharacteristic lack of careful deliberation, I abandoned my table and raced to jump into the short line. ("Where did you get that?!" said the man behind me, gesturing to my beer, and I spread Becky's Playalinda gospel.)
The internet suggests he was moving and making noises at some point, but he was dormant when I showed up. Still awesome.
After that, and after I finished my beer, and after I took one more satisfied and already vaguely nostalgic look around the post-race area, and I boarded a bus and headed back to the Dolphin.
It was barely 8am; luckily Pat was already awake, and we chatted briefly before I zipped into the bathroom for that greatest of life's meager pleasures, the post-race showers. Then I performed on of life's other scant few enjoyments, which is the post-race nap. I especially love a post-race nap in a hotel bed. Something about a hotel nap just [checks slang notes] hits different, no?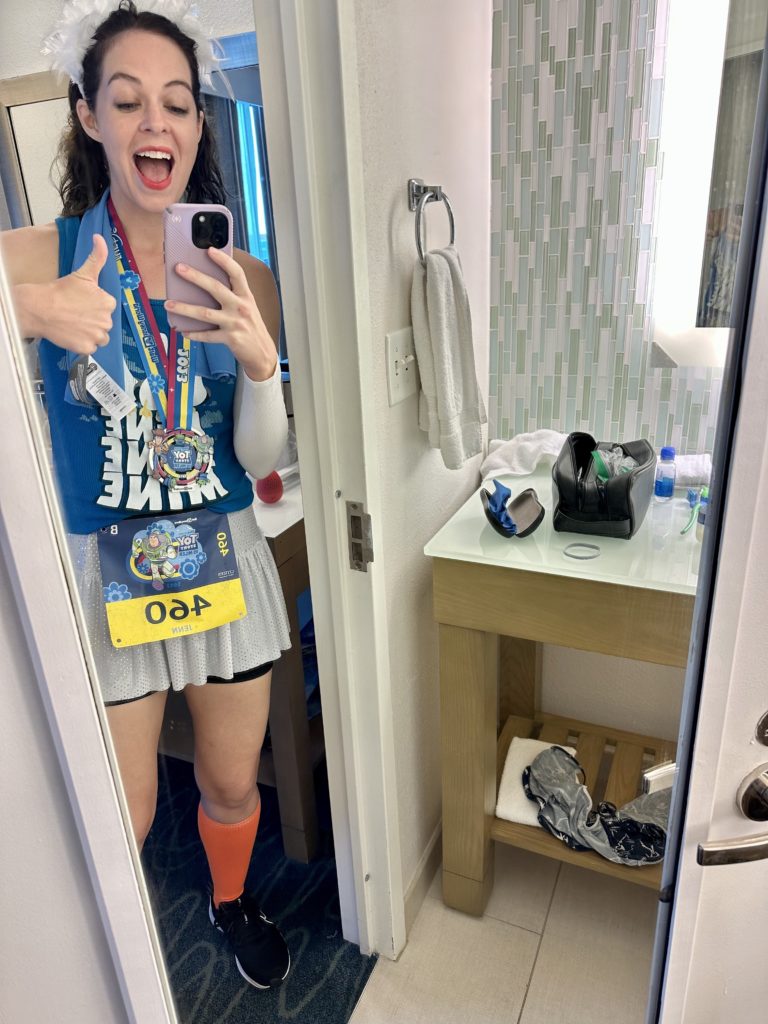 I had no immediate plans for the afternoon, so I took my time waking up. Pat wandered down to the pool bar while I was sleeping, and reported that the food was not good. Serendipitously, I had other options, and I ate some of my race snack box plus a leftover biscuit from Homecomin' before joining him at the Swan pool bar.
Wait, you say. You guys were staying at the Dolphin, not the Swan, correct? Correct! See, Pat was on a mission. I mentioned in another post that Architect Pat is a huge fan of Michael Graves, the architect of the Swan and Dolphin. He even brought a book about Graves' work! The reason he had set up in the Swan pool bar was because he was drawing the Dolphin. A view outside of the hotel was key.
We enjoyed a drink or two by the bar while Pat worked, and I took a brief dip in the hot tub. I almost never use the word "brief" in conjunction with "hot tub;" I look upon the surgeon general's warnings with DEFIANCE. And yet it was so sweltering hot and humid even I could only stomach the hot tub for a bit. If you don't know me, this might not mean much to you, but believe me – that meant it was hot outside. I'm so glad we didn't plan for any parks that day because it must have been a dripping misery.
Once Pat was sufficiently pleased with the details of his sketch, we packed it up and headed back to the room for some dumb TV while we got ready for our dinner reservation at Yachtsman Steakhouse. Review up next!
Side note: I was in the Yacht Club bathroom, taking a mirror selfie like a Perfectly Normal Person, when I realized I forgot to put on my red Minnie ears. This is an unforgivable error. I vow to do better next time.
Following our (spoilers) excellent meal, we considered heading to Jellyrolls for a late night romp as I had originally planned. But I was sooooo tired I decided to be lame and suggest we just go back to the room. One of these days I'm gonna make it there! A day when I've had enough sleep. 😆 We replaced this portion of the plan with a candy run in the Fuel grab-n-go store in the lobby of the Dolphin.
Thus sugared up, we collapsed into the loving arms of bed. We had some leftover wine from dinner, too, which we drank a bit of while watching dumb TV. It didn't take long for me to fall asleep. In the morning: Epcot!
Don't forget, you can follow FRoA on Twitter @fairestrunofall and on Instagram @fairestrunofall. If you have any questions or thoughts, leave a comment or email fairestrunofall@gmail.com. See ya real soon!