Hooray for trip reports! This trip report covers my April 2023 trip for the runDisney Springtime Surprise Weekend. Today I'll be reviewing our post-race dinner at Yachtsman Steakhouse. Read all the posts in this report here. Onward!
True story: I made an Advanced Dining Reservation at Yachtsman Steakhouse for the bread basket.
I have heard so many rave reviews of the onion rolls at Yachtsman that it seemed like a perfect post-race dinner spot. Carbs before and carbs after, yes? Also Pat likes steak, the restaurant generally garners good reviews, and we were staying on the Boardwalk already. Sold!
AMBIENCE AT YACHTSMAN STEAKHOUSE
Yachtsman Steakhouse looks like… a steakhouse. Think dim lighting, dark woods, and vaguely nautical decor. If you somehow managed to cart me into the space without me knowing my location and told me I was in Annapolis, I would believe you. (Incidentally, if you are looking for a good steakhouse in Annapolis, I highly recommend Lewnes.)
The good news is that there are a few tapestries scattered around the walls, which keeps the sound level down. And while the tables out in the middle of the restaurant (where we were placed) are not as cozy as the booths look, you don't feel like you're stacked on top of your neighbors like you do in some restaurants (looking at you, Coral Reef).
It's also hella dark in there – mood lighting, doncha know. I tried to doctor my photos as best I could, but to paraphrase every Star Trek doctor: I'm a writer, not a photographer. 😂
DRINKS AT YACHTSMAN STEAKHOUSE
Oddly enough, there are no cocktails listed on the online menu, although there are some beers, whiskey flights, and alcoholic coffee drinks, etc. I don't remember cocktails on the printed menu either, although to be fair I wasn't looking for them. Regardless, I'm sure they can make you any number of standard drinks by request.
Instead I want to discuss the wine menu. It is extensive, as you might expect in such an establishment, and you can buy wines by the glass or the bottle. As with all wines (thank you, John Cleese!), while some level of quality might be indicated by price, what you like is more than likely going to be up to you. But I did want to bring up two notes:
1. As you might also expect at such an establishment, there is a significant upcharge on bottles of wine. This is how restaurants make their money, and I don't necessarily begrudge them that. But keep it in mind as you budget for your meal here. Unless you don't need to, in which case this entire paragraph has been a waste of your time. Sorry!
2. You can take your bottle to go! They're happy to recork and bag it for you. We took most of our second bottle home for room wine purposes.
BUT MOSTLY FOOD
Yachtsman Steakhouse is perhaps most famous for its bread service, and it's true that I made this reservation partially for that reason. What? I love bread and butter!
And the complimentary Yachtsman bread basket includes two types of bread: a chewy, hearty multigrain roll plus the beloved onion turnovers. Tragically, I was slightly underwhelmed by the turnovers, which were tasty but in a I-could-make-this-with-some-Pillsbury sort of way. Don't get me wrong, I enjoyed them, but I wasn't blown away the bread selection itself.
I did appreciate that the bread came with both softened, salted butter (don't you hate it when the butter is cold?) AND roasted garlic!!! I loved the roasted garlic. It was soft and as spreadable as the butter, but, y'know, garlic. And if you enjoy throwing garlic around in your recipes with wild abandon (which I do), you'll love this. A special touch that genuinely impressed me.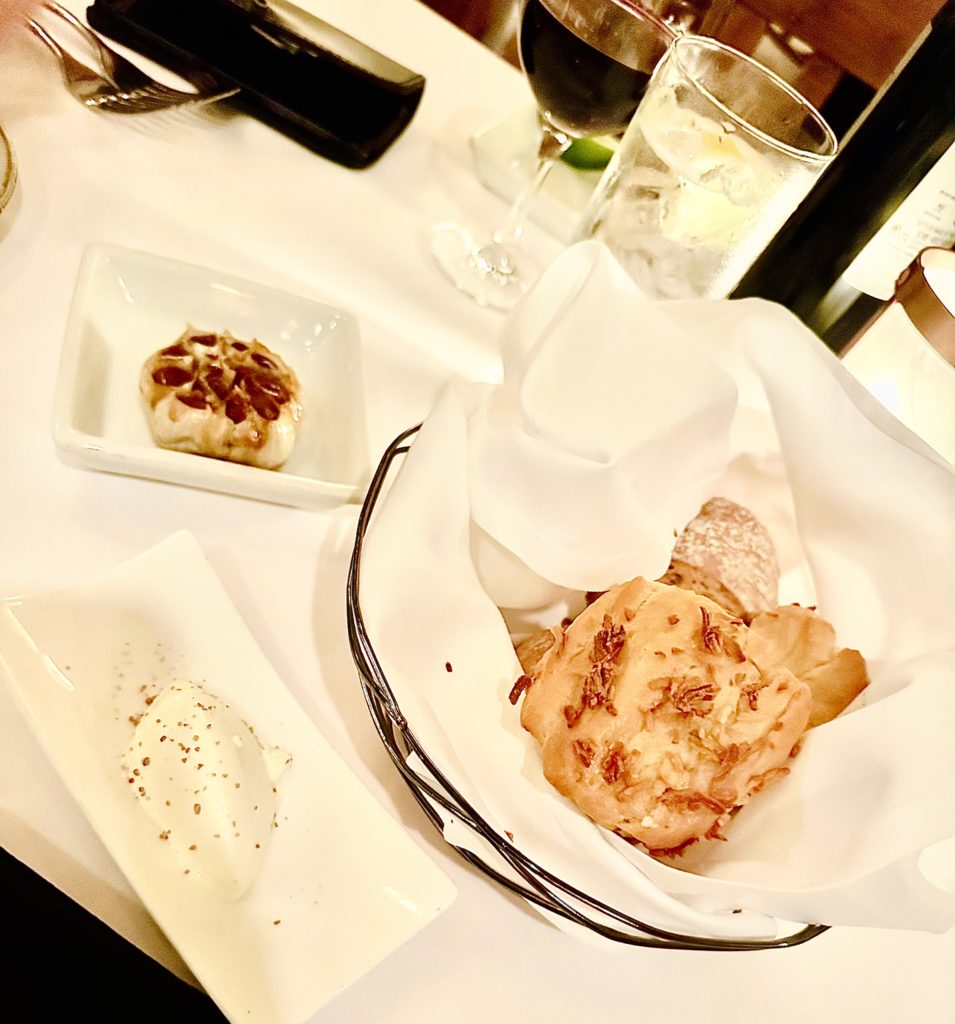 As an appetizer, Pat ordered the steakhouse wedge salad: candied Bacon, farmhouse eggs, radish, and smokey blue cheese vinaigrette. The salad itself was crisp and fresh, but we agreed the real standout with the candied bacon. It was thick and full of umami flavor. I wouldn't call it a must-do, but if you like a salad with your meal this is a solid choice.
After some deliberation, Pat also selected the 12-oz New York strip steak, which our waiter said would've been his suggestion anyway. He absolutely loved this! He ordered it medium rare, and described it as perfectly cooked with an incredible seared crust. Ten out of ten, would order again, and that comes from a man who makes a pretty mean steak himself.
The steak came with fingerling potatoes, blistered tomatoes, and confit shallots. I asked Pat about these for the purposes of this review, and he said "… my steak came with stuff?" So, uh, that part wasn't memorable. But he was really into the steak, and that's what counts.
Now, I know this is tantamount to sacrilege, but at this steakhouse I ordered… the chicken. See, many moons ago my girl Elizabeth made Coq au Vin, and it was AMAZING. It was also a long and time-consuming process, which is why I've never attempted to replicate it myself. So when I saw it on the Yachtsman menu, I had to give it a go.
Yachtsman's Coq au Vin is moist and flavorful, but it just wasn't wine-y enough for my tastes. This is probably a very subjective opinion, but I would've liked more vin to come through. In an inverse of Pat's steak situation, it was the accompaniments that did it for me: house-made fettucine, mushrooms, cipollini onions, and pancetta. Everyone loves pancetta, obviously, but that fresh fettucine was SO GOOD. I could've ordered a bowl of it alone and been perfectly happy. Actually, I wonder if they'd let me do that?
A FEW EXTRAS
As is often the case at steakhouses, Yachtsman offers a bunch of its sides separately. Pat ordered a baked potato to go with his entree. It arrived unassumingly enough, looking exactly like a baked potato generally does, but Pat was really impressed with this too. It was large and fluffy and dusted with sea salt, and while the menu made no mention of this, the sour cream tasted in-house, or at the very least freshly made.
More unusual to me, however, was the offering of a pallet cleanser – with our main course we received a cherry sorbet to help our tastebuds transition from our salad to the entrees. We didn't really need this, but I thought it was a really nice touch. Something else to set Yachtsman apart as an upscale experience.
YACHTSMAN STEAKHOUSE SERVICE
I've never looked into this personally, but it is my vague understanding that getting a waiter position is coveted among Cast Members, I guess because of the tips? I don't know. Anyway, I've never had an unfriendly CM in any WDW restaurant.
That being said, I've noticed that the CMs in your fancier establishments (California Grill, say, or Topolino's at dinner) do seem to raise the bar considerably. Not being a particularly fancy person myself, it's hard for me to put my finger on the difference, nor do I have a ton of comparative experience outside the Disney bubble. Suffice it to say, our server was knowledgeable, personable, and… I don't know, "eager to please" sound kinda demeaning, but yeah, that. Eager to please IN THE MOST DIGNIFIED WAY POSSIBLE, okay?
This is the sort of place where they present the wine, offer facts about the food, and pack your leftovers for you. Then they write "you are special!!" on a piece of paper, roll it into a tube, and bop you on the nose with it.*
* Obviously they do not do this. Hopefully my weird metaphor is illustrative of the vibe?
IN CONCLUSION
Yachtsman Steakhouse, I think, has two strikes against it: it is expensive, for one, and two, I actually don't think it's that unique. Imagineering has done a great job faithfully recreating… a seaside steakhouse. Of course, I've spent a lot of time in Annapolis; maybe it's more interesting if you haven't?
Luckily, it also has many things going for it: the location, service, and food. Yachtsman is wildly convenient to Epcot, the Studios, and anything on the Boardwalk. As noted above, both the service and food are excellent. And as far as that seaside steakhouse theme goes, I would be remiss if I didn't note that they nailed it.
Therefore, if you're a steak-and-potatoes person, you're at WDW, and you're ready to trade a more cash for higher quality, I'd say go for it! And get some wine for the road. 😀
Don't forget, you can follow FRoA on Twitter @fairestrunofall and on Instagram @fairestrunofall. If you have any questions or thoughts, leave a comment or email fairestrunofall@gmail.com. See ya real soon!