Hooray for trip reports! This trip report covers my April 2023 trip for the runDisney Springtime Surprise Weekend. Read all the posts in this report here. Onward!
Did I get tons of sleep the night before the Toy Story 10 Miler? No, I did not. But I did not get no sleep, so already this race had one up on the last one. Hooray!
I woke up a few minutes before my alarm, quickly threw on my race costume, and headed down to the buses. By the way, this thing they're doing where we back to a 3am – 4am bus time? Love that. As long as they stay efficient with the buses, it's plenty of time (although I did hear some horror stories about lost bus drivers).
SPRINGTIME SURPRISE STAGING AREA
Now, if you're someone who likes to hit the 3am dance floor or eat breakfast from the food trucks beforehand, you might want to arrive earlier, but I had boots on the pre-race area ground just before 4am and I felt good about that. I basically hit the porta potties and walked straight through to the corrals.
By the way, I'm not sure if this is a 10-miler thing or what, but do the corrals seem appreciably worse so far for Springtime Surprise? I arrived at B almost an hour before start time and couldn't get anywhere near the front. Of course, I wasn't nearly as far back as last year, and I just hoped it would be enough to avoid that minor catastrophe. (Short version: the corral was too big, I got horrifically stuck, and wound up, among other things, running the longest race mile of my life.)
We suffered through some of the usual pre-race chatter (I did enjoy "a human hand is a terrible pizza topping;" 5-star banter right there), and after just a few waves of runners, it was my turn. We were off!
SPRINGTIME SURPRISE START & EPCOT
For a couple of minutes, it was a little congested, and I must say, I do raise my eyebrow at people at the front of B who set off walking immediately. Luckily, this time I was able to break out of the main pack within half a mile or so, and from there on I was flying pretty free, all things considered.
We started as we always do – running down the road outside Epcot – and then we continued as we always do, running into Epcot proper. The course took us backwards (that is, backwards if you consider the marathon the platonic ideal… WHICH I DO) around World Showcase, starting in Mexico.
Miguel from Coco was out as a character stop, and I LOVE Coco! Despite the lengthy queue and early mile I stopped for a photo. However, the line wasn't moving, and nightmare visions of last year made me paranoid about getting stuck behind the crowds. The girl in front of me peeled off without getting her pic; I took that as a sign, and ran back onto the course too.
So around we went, country to country, supported by the wild cheering of Cast Members (bless you all!). We ultimately ducked off the show floor behind, um, the American Adventure? Japan? Somewhere around there. We ran behind some pavilions and came out through the France expansion before exiting the park entirely.
Oh, right – how was it going so far? Fine! I was still pretty okay with the crowd level in my immediate space. It was, however, humid. Not really raining, happily, just humid, and rather warm besides. Being used to Puerto Rico, this didn't really worry me, but it did encourage me to back off my pace. Also sweat makes me look laminated in all my photos, but what can ya do.
BOARDWALK & DISNEY'S HOLLYWOOD STUDIOS
From there we were once again going "backwards" as compared to the WDW Marathon, rolling up the Boardwalk and onto the path to the Studios. Given the aforementioned humidity, the kinesio tape on my knee gave up the ghost here. I just ripped it off, chucked it in a nearby trash can, and counted my lucky stars my knee never bothered me the whole race. Hooray!
Tapeless, I hustled my way into Disney's Hollywood Studios, where I finally made my first completed character stop: Edna Mode! I famously (I'm, like, totally famous, right?) took a super awkward picture with her in 2018, so this was my chance to make things right. It went okay, I guess?
We circled around Echo Lake into Batuu and Toy Story Land – I was surprised there were more characters out in these locations – before heading toward the Tower of Terror. Here I was granted a second second chance, as the ghostly bellhops were out for photos! I never should have waited so long for them last time.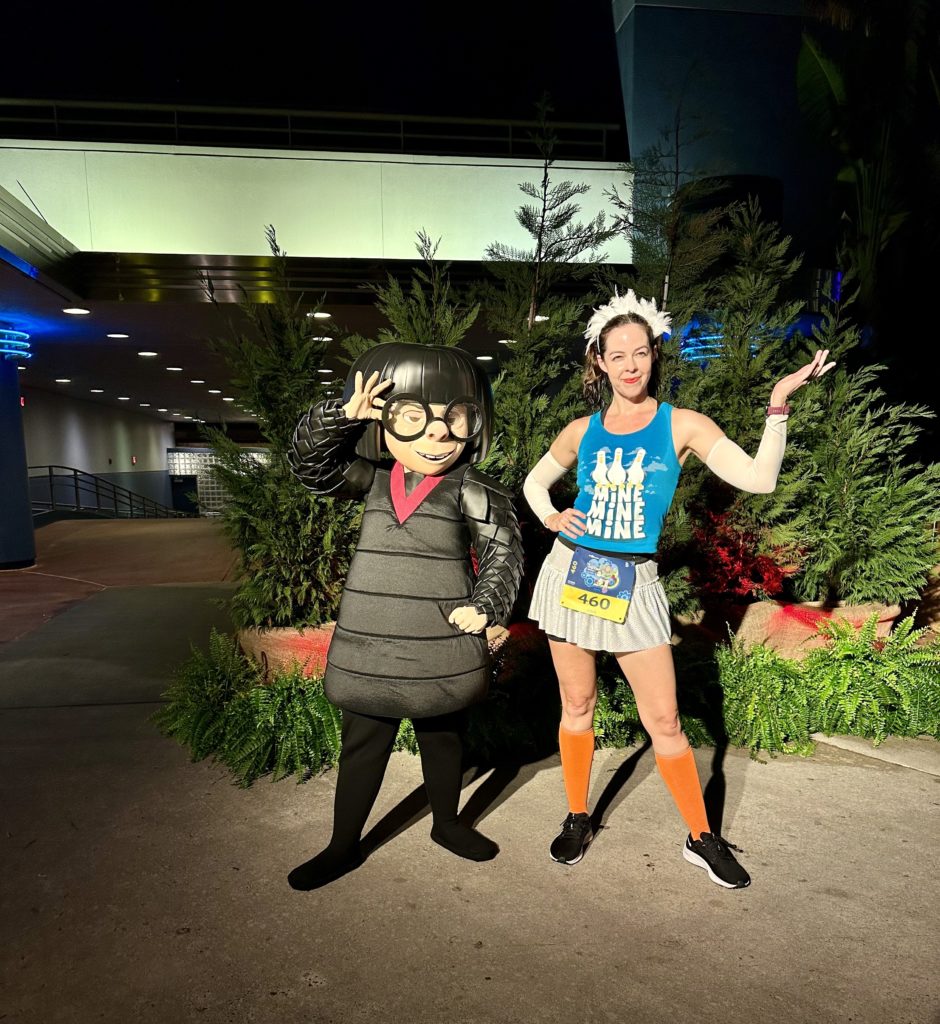 After that, at around the halfway mark, we were herded out of the park, and I knew there was nothing but boring roads ahead of me for awhile. The good news is, with a ten mile race, how much is awhile, really? Not much, says I.
JUST ROADS IS ALL
Down the roads I ran! Crowd levels were still very acceptable, and I was able to hop out for character stops with little to no wait. I got Flik, who was new to me, and then as I passed Princess Atta she was all alone! Just doing a little dance to herself. I'm not a huge A Bugs Life gal, but I couldn't let her dance without a partner, you know?
That's basically how the remainder of my next couple miles went: hey, A Character! No line? I'm in! I grabbed Tuxedo Goofy (a favorite Pixar character…?) and Mike Wazowski that way too.
Awww, he loves me.
EPCOT & SPRINGTIME SURPRISE FINISH
Sooner than I might've expected, I crested the exit ramp (you know the one) and could see Spaceship Earth in the distance. And I felt great! Kicked up my speed a bit and everything. Shortly after and with about a mile to go, I was back inside Epcot!
Running through the construction wall maze of Epcot's front half is perhaps not quite the same as other portions of the course, but it was still a pretty good time. I saw the Incredibles and chose to skip as I've gotten their photos before, and Frozone wasn't out. No Frozone, no dice, says I. Except hey, wait a minute… Frozone got his own stop!!! He so deserved it too. He gave me a fist bump and everything!
And that was just about game! We ran past the Creations shop and the always-stalwart Jammitors before exiting the park and hanging a left toward the gospel choir. Jeff Galloway gave me a high five that made me feel like the only girl in the world, and then I crossed the finish line. Another runDisney race down!
I actually hung out juuuust a bit in the post-race area, but I'll save that for my next trip report entry. For now, let me say that this year's Springtime Surprise experience was SOOO much better than last. Getting as close to the front of the corral as possible is absolutely CLUTCH. I still prefer the half/full marathon distances, but I definitely had an amazing time. I can't wait to see you all at Wine & Dine!
Don't forget, you can follow FRoA on Twitter @fairestrunofall and on Instagram @fairestrunofall. If you have any questions or thoughts, leave a comment or email fairestrunofall@gmail.com. See ya real soon!