Trip report time! I'm covering my April 2022 trip for the Tower of Terror 10 Miler. Read all the posts in this report here. Onward!
How did I feel when I woke up at 2:45am for the Tower of Terror 10 Miler? Well, let's see:
Haha, I exaggerate, obviously. I felt fine – my previous evening's Disney Springs adventure had thankfully not left me worse for wear. But it didn't leave me better for it either, and I can't claim to have had a spring in my step. Seth had sworn up and down that drinking the night before a race was the secret to success; I knew he was wrong then but I KNEW he was wrong now. 😅
No matter! There was still a race to be run and I was going to run it. I threw on my Baymax costume and marched myself out to the bus line; I was at the race staging area shortly after.
I had a good 2 hours before go time, so for my first act I jumped into the race weekend photo op. Unfortunately my vision did not quite pan out, but hey, there's always next time!
Shortly after the crew opened the corral area to the runners, but I wanted to wait a bit before taking my place so I could pee a little closer to the start. This plan, while historically sound, would come back to bite me later. Also I ended up needing to pee during the race anyway. Stupid bodily functions.
So yeah, after peeing I hopped into S2 and awaited go time, which came at pretty much 5am on the dot. A few waves went ahead, and then me – S2 was off!
… Sort of. Look, this race was a fun time. Every runDisney race is a fun time. But my experience was very much colored by my placement halfway back in S2. As it turns out, S2 is both the largest corral AND apparently where club runDisney members with no proof of time are placed. This meant that there were many, MANY people slower than me, even people who started off walking immediately, and it made for a cramped course that never really thinned out like it usually does.
Lest you think that I'm just being cranky, I heard several people around me throughout the race complain, and at one point a wheelchair competitor was literally screaming at people to move over as she was trying to come up the right side.
I would NEVER EVER suggest anyone be disqualified from participating in a race based on their speed. But the runDisney approach to corral placement is frustrating at best and dangerous at worst, and I intend to dive into this more deeply in an upcoming post. Just understand now that some of my recap is going to be less glowy than some other reviewers, I'm sure.
Anyway, the first few miles of the race gave us all reverse deja vu, because it was basically the last 3 miles of the WDW Marathon backwards. Sure, we started off in World Showcase, but once we broke off and exited by the Skyliner it was off to the Boardwalk. From there we took the same familiar path out of the Boardwalk area past the lake and up into the Studios.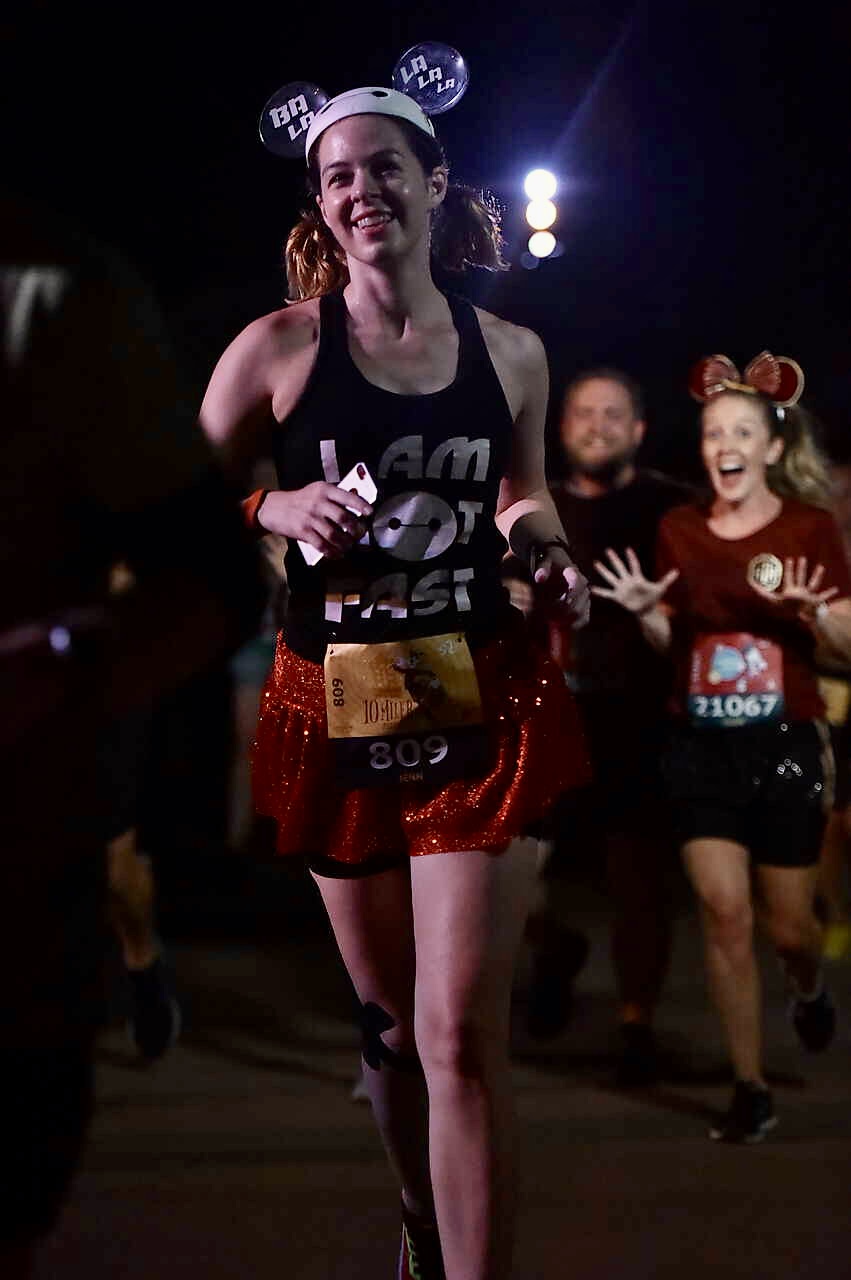 These opening miles were, as noted above, pretty cramped, and I don't remember there being much in the way of characters, but that's fine. What we did get – and maybe they did this for all 3 races over the weekend – was a series of transitional cues suggesting we were going back in time to – wait for it – 1939!!!!!
Oh, I kid, I kid. But over the course of the race they really hammered this point home. We went through some fog (I think this was supposed to be representative of our time travel a la Dinosaur), and then were presented with a 1939 football game on a screen done up to look like a retro television.
Anyway, we entered the Studios at mile 3, and wound up running through Batuu shortly after. There were Stormtroopers out in the upper show areas but no Star Wars character stops that I recall.
After that we headed through Toy Story Land, and for the first time I saw a photo stop line that wasn't a million years long – thanks, Woody!
Speaking of photo stop lines a million years long, allow me to introduce you to The Longest runDisney Mile of My Life.
It all started on Sunset Boulevard, in clear view of the titular Tower of Terror itself. First I saw Jose Carioca, and I was SO EXCITED because he was the last Caballero I needed!
That one went pretty quick. But just a few steps later, I saw a Tower of Terror photo op, and I thought, when might I get this chance again? The line was lengthy, but I stopped.
Guys, this line crawled. I mean, it was long, but usually runDisney photographers are really efficient. You jump in, they get the shot, you jump out. Yet for some reason, the Tower of Terror line seemed to take as long as humanly possible… or so I thought.
Enter, just a few steps later, the Tower bellhops photo op. And again, I thought to myself – and arguably doubly so – when will I get this chance again? ToT10 may never come back! So despite another long line, I stopped. Again, a lot of people. Again, it took FOREVER. Although I did get to see Captain Jack Sparrow prance by, which is something.
Cumulatively, this 3-photo mile took me 18 MINUTES AND 42 SECONDS. Do you have any idea how many times I heard that 2-sentence audio loop about how it was 1939???
Meanwhile, friends at the front of S2 and in S1 were reporting having like 2 people in front of them in the bellhop line. That's it; next time I'm going straight to the front of my corral and if I gotta pee FIRST THING during the race, well, so be it!
This just about ended my time in the Studios, and it was time for the Boring Road Portion to kick in. For ToT10, this constituted, oh, I want to say around 4 miles worth of race? No big deal for the race veteran; we're used to big stretches of nothing.
There were a handful of photo ops here, of course, but not much I was tempted to brave those kinds of lines for. The highlight was definitely stopping for the '30s ghosts, who were providing commentary as they posed for pictures. The tallest of them was a voice double for the Indiana Jones Epic Stunt Spectacular director during my last trip, so as I approached for my pic I said, "Indy Stunt Show?"
"Yes!" said the tall '30s ghost, gesturing to the shorter ghost next to him. "Both of us. We'll be there later… if we make it." Poor Indy Stunt Show director, working such long shifts!
Finally Spaceship Earth floated into site, and we were running toward Epcot. Signs along the course seemed to indicate we were returning to the present day, but there was no fog to cement our time travel. For all I know I'm still in 1939, and have been hallucinating everything since.
But if we accept the conceit that I am a sane and modern girl about town, I ran through several backstage areas and into Epcot in the Year of Our Lord 2022. We popped into the park around the Imagination Pavilion, and there was my buddy Goob with no line at all! You guys are all sleeping on Goob and thank God for it. ;D
The course then curved us away from World Showcase, carrying us toward Spaceship Earth via the vast labyrinth of walls that is present day World Discovery. We ran past Mouse Gears before they chucked us out by Test Track into the backstage areas again.
We only spent a little bit of time behind the park, and soon my momentum carried me to the finish line… but wait, what's this? Why is my cell phone suddenly telling me it's going to call emergency services???? Wait, there's this button that says don't call – hold on, that only paused it??? IT JUST STARTED A COUNTDOWN??????
Soooo it turns out if you hit the side button on your iPhone a certain number of times, it automatically calls 911 for you. I don't recall hitting any buttons, but I guess I was squeezing my phone or adjusting my grip or something because, yeah, that happened literally right at the finish line. Luckily I managed to stop it before the countdown ended, but my finish line photos are almost entirely composed of me staring at my phone and frowning. Whee!
I collected my medal, cooling towel, drinks, and snacks, then grabbed a bag for them at the merch tent before hopping on my bus. Here ended my Tower of Terror 10 Miler experience.
Did I have fun? Heck yeah! Was it also a little out of whack? Heck yeah! But my whole trip was a little out of whack, what with the airplane snafus and gigantor thunderstorms and all. An out of whack runDisney race during an out of whack Walt Disney World trip is still a whole lot better than an out of whack work week at home, no?
I will leave you with this:
1939!!!!!!!!!!!
(Next up: a long spring's nap and then some Studios and Epcot action!)
Don't forget, you can follow FRoA on Twitter @fairestrunofall and on Instagram @fairestrunofall. If you have any questions or thoughts, leave a comment or email fairestrunofall@gmail.com. See ya real soon!