It's trip report time again! Read all the posts in this trip report here. Onward!
Erika had to catch a morning flight and left around 4am; I have a vague recollection of waving goodbye, but aside from that, I was essentially flying solo for the day. I popped out of bed a couple hours later, prepped for the day, threw the rest of my stuff together, and said the sad goodbye to my room.
I left my bags will the checkout-specific bell services and joined what turned out to be a very long Skyliner queue. The Cast Members were claiming every Monday was like this, but I didn't find that to be the case in January. I think Epcot opening at 8:30am in conjunction with the Studios' 9am was compounding the problem, but what do I know.
Ultimately I don't think I waited more than 15 or 20 minutes to board a gondola, but it was enough to throw me off schedule a bit. I myself had considered switching my Park Pass to Epcot for the morning, but when I saw the earlier opening time I decided to stick with the Studios.
Unfortunately, with the Skyliner backup by the time I actually got there it was already halfway through Early Entry and the Rise of the Resistance wait was nearly 2 hours. I walked back to Batuu first anyway, just in case this estimate was inflated, but upon viewing the filled queue I assessed it as fairly accurate.
Ah well. That's the gift of being a regular, you know; you can simply skip things with a sigh instead of a full-on cry.
Instead I marched into the Smugglers Run single riders' line, which A: has two sides, which probably means you can bypass a lot of line by flying solo; and B: skips the preshow entirely. Was the Hondo animatronic working this morning? Who knows? Not me!
Another minor issue with the single rider line here is that, almost inevitably, you're going to end up at the back in the engineering position. As I've noted before, this is my least favorite job on the Millennium Falcon, as it requires the user to split their attention between the controls on the side and the action in front.
This time around, I thought I'd be clever: when the CMs instructed us to hit our activation buttons, I… didn't. I figured I'd just watch the show and let the AI take care of the rest. But my clever plan went awry: when Hondo called for the engineers, nothing happened. Indeed, he prompted me a second time, and I reluctantly flicked my eyes to the side and pushed the lit button.
My best guess is that the CMs could see on their controls that my seat was not activated, assumed I was an idiot, and did it for me? Next time I will spell out my intentions and see if that works.
The exit to Toy Story Land was right there, so I wandered through on the off chance the long lines hadn't made it there yet. Shocker: they had.
I kept on walking until I reached Sunset Boulevard and slid into what turned out to be about a 15 minute single rider line wait for Rock 'n Roller Coaster. Here is my photo from that ride:
Notice anything weird? It's hard to tell, but they blacked out my hands! Why? I was doing The Shocker, duh. What, Steven Tyler does it daily in front of thousands for 2 decades and that's fine, but I can't do it for 10 seconds and 1 photo? No sense of humor at all around this place! 🤣
By this point it was late morning and I felt like a coffee might be in order. I took a gander at the Starbucks line but it was, predictably, nuts. Instead I wandered down behind the Tower of Terror gift shop to the Joffrey's cart, which was also nuts but significantly less so.
Goofy and Max showed up to entertain us while in line, which was nice, but I must confess to some confusion over this sudden infusion of A Goofy Movie everywhere. Is it an anniversary year or something? I saw it in theaters when I was a kid and then never thought about it again until it started popping up again at WDW. 😂
Did I say the coffee spots were nuts? I should've said everything was nuts. There were very few good choices from a time vs. money perspective. I mean, I didn't have Genie+ for the day, so I can't speak to how that was going, but based on the crowd feel I can't imagine it was good.
Rather than fight it, I just window shopped down Sunset Boulevard for bit while I pondered my next move. I wound up chatting with a nice CM who had done the 10K because Tiana is her favorite princess. My favorite being Mulan, we agreed that the princess that don't need boys to rescue them are the best ones.
I settled on seeing the Indiana Jones stunt show next, and even arriving around 15 minutes early it was standing room only! Not that I care; they weren't doing the extras from the crowd even if I was the sort of person who Participates, and you can really see just fine from the top. They did the final airplane scene, too, which is always fun.
While watching I attempted to get a spot on the Brown Derby Lounge waitlist, but even slamming the "join" button at exactly 11am yielded nothing. I've double checked since and the lounge still doesn't accept advanced dining reservations, so I'm not sure what happened there.
I could've gone directly to the lounge itself to ask, but instead I just made a mobile order over at Ronto Roasters. Always intrigued by the plant-based options, I went with the zucchini wrap. Review to come!
Since I was in Batuu anyway, I checked out the line to see if it looked as long as it claimed to be. It did. No Rise for me this trip.
It wasn't a total loss, though. I did get some photos with the Millennium Falcon from a CM who was quite determined to stay in character, acting confused when I requested "pho-tos." Apparently I was meant to ask for, I don't know, holo-captures or something. Next time I'll ask her if I can get my pho-tos with that there U.S.S. Enterprise and really lean into what I know. 😜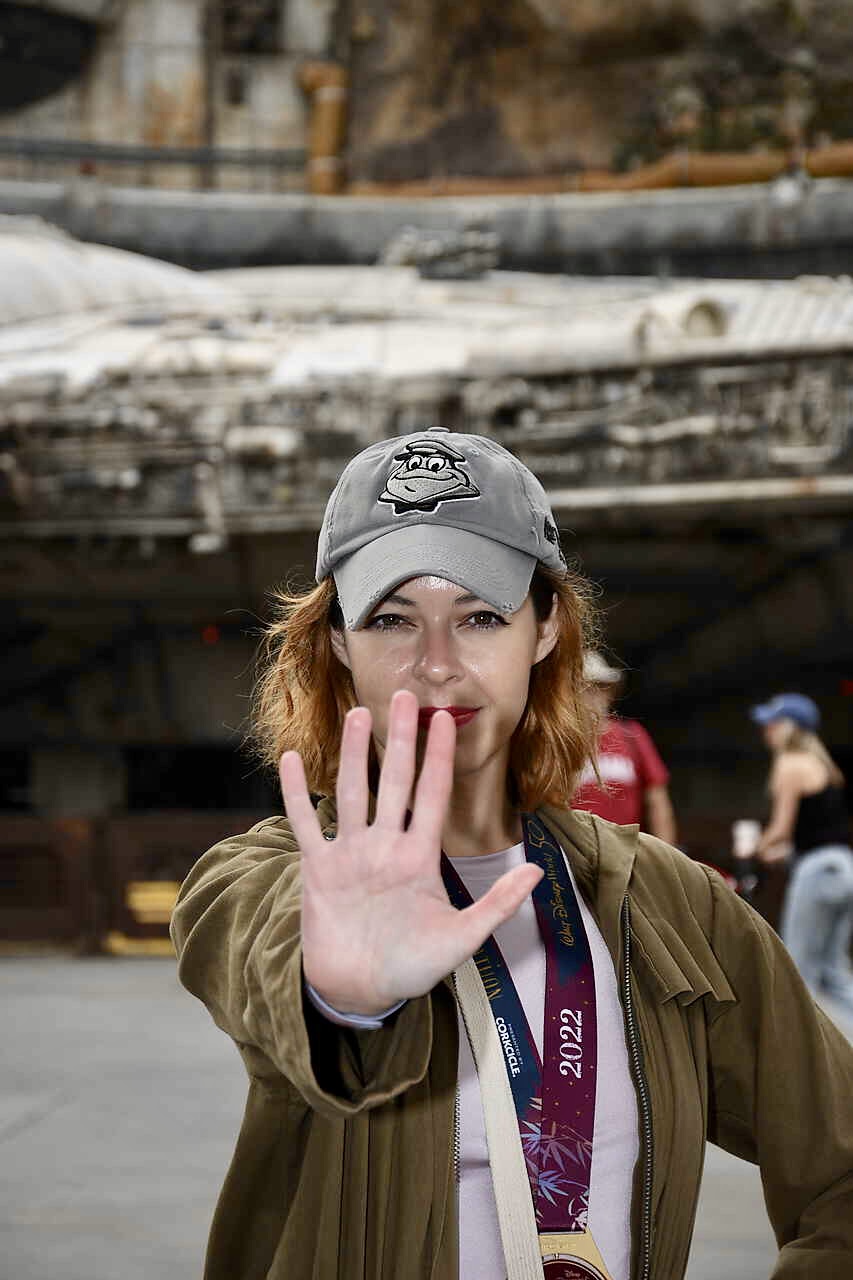 Oh, and Kylo was there. Hi Kylo! Yes, very scary.
I scrolled hopefully through the listed wait times but there were still no good choices. I ensconced myself in that weird Pixar dead end and considered my choices, finally landing on a showing of "Vacation Fun" in the Mickey Shorts theater. In addition to being a genuinely enjoyable cartoon, it features actual footage of me packing!
By the time I exited I was no longer feeling the Studios' chaotic vibe, and while I couldn't park hop for a good 90 minutes yet, I cut my losses and took a series of Skyliners over to the International Gateway.
I still had about 45 minutes to kill before I could enter, so I hung a right toward the Boardwalk and found a seat in the shade. I spent a relaxing half hour charging/messing about on my phone before walking back to the gateway for a prompt 2pm Epcot entrance.
America was my first stop, although I was waylaid briefly by a Matsuriza performance in Japan. Eventually I broke the spell (aka the show ended) and wound up in another crazy line, this time for a libation at the Regal Eagle outdoor drink stand. I took my Moonshine Sour over to Mexico for a round of Mariachi Cobre.
After the show, I continued circling the lagoon, landing France for yet another stab at getting a snack from the Les Halles bakery. Shockingly, the line was actually reasonable! As in well inside the gift shop and everything! I still wound up waiting, oh, 10 or 15 minutes, but I made it and that's what counts.
It was getting toward that unfortunate time in the last day of any Disney trip where you almost need to head back to the resort for a ride to the airport, but not quite. Filling this time just right can be a challenge. I opted to briefly check out the Epcot preview center (which I just learned is shutting down next week, so, good thing) before taking in one final Mariachi Cobre show. This is becoming a bit of a tradition of mine. Consistency!
Then, inevitably, I was forced to slip into the Skyliner back to Pop. I took an Uber to the airport, escaped unscathed from an attack from a conga line of runaway wheelchairs, and took an airplane home. Another Disney trip in the books.
It was a good one. When is it not a good one, really? But to be honest, I can kinda see how people are going to WDW, often for the first time, and coming away bitterly disappointed. It's no secret that WDW still isn't firing on all cylinders. It's gotten more complicated, and it's gotten even more crowded.
Some of this is Disney's fault, and some of it isn't. Regardless, it is absolutely possible to still have an AMAZING time in any crowd conditions, no matter what… provided you do your research, think outside the attractions box, and manage your expectations.
However, if I may be so bold as to quote myself: "The thing us die-hards sometimes forget is that if you don't know what you're doing, WDW can be a tiring, sweaty, confusing, time-consuming mess." I really felt that vibe on this trip.
But that could change. I hope it will change. I'll be back for the Tower of Terror 10 Miler next month, and I'm curious to see how the present WDW experience has evolved. For science, of course! And I know what I'm doing. 😜
Don't forget, you can follow FRoA on Twitter @fairestrunofall and on Instagram @fairestrunofall. If you have any questions or thoughts, leave a comment or email fairestrunofall@gmail.com. See ya real soon!