It's trip report time again! Read all the posts in this trip report here. Onward!
The end of any runDisney race is a whirl of mixed emotions – you're happy and sad that it's over all at once. But there is something so calm and lovely about coming back to your room right after, especially the bit where you take a long hot shower. (Maybe you take a cold one like you're "supposed" to but I'm not about that Arctic life.)
I nestled, clean and satisfyingly tired, into bed and awaited the arrival of Erika. She was back shortly after, and we agreed we'd take a bit of a nap before going directly to our Steakhouse 71 reservation. And that is what we did.
We ran into a bit of bad bus luck to the Magic Kingdom, which combined with the walk to the Contemporary made us a touch late for our ADR, but the CM at the check in desk was unperturbed. The text calling us to our table came shortly after, and we were soon seated in the cavernous dining room that was once the home of The Wave.
I'll be reviewing this meal in a separate food post, but I do want to mention here that with two sodas and then splitting an appetizer and entree, we each paid like $25 a person after tip. That's scarcely more than some counter service restaurants. I think I might start making more sit-down restaurant reservations in the future when I know I'll have a meal buddy who's willing to share.
Have finished up with the eating portion of the program, we picked up the monorail(s) over to Epcot. I knew Erika is very fond of Soarin,' and seeing the wait time was posted at a mere 35 minutes, we slid into line. We wound up only waiting around 20 minutes. Later the wait time soared (ha) to 95 minutes, so I'm glad we knocked it out when we did.
Indeed, I think we happened to arrive during a mid-to-late-afternoon lull, maybe caused by everyone stopping for lunch? At any rate, wait times started skyrocketing. I had thought we would followup our hang-glide with a spin on Living with the Land, but the queue for it looked ominously full as we approached.
Instead, we headed to Club Cool, which I hadn't yet scoped since the refurb. It looks… nice? Kinda sterile. And I wish they'd kept the circular dispenser setup, which I think was easier for multiple groups to navigate at once. But I can't get mad about free international soda, especially when a watermelon flavor is back.
The tiny sample cups yielding insufficient hydration, our next act was to hightail it over to Choza in the Mexico pavilion for margaritas. The line is always long but they really do move efficiently. Erika was kinda enough to treat me to a frozen Black Magic margarita, which I sipped happily while we caught a showing of Mariachi Cobre.
China, as you no doubt are aware, was right next door, and we headed into the temple for the Reflections of China movie. I'm growing rather fond of Li Bao.
We had no real agenda after that, and the state of the parks at the moment did not encourage us to pursue one: it was crowded, and all the rides had wait times to match. Plus Remy's Ratatouille Adventure was down, which meant all those people were otherwise dispersed too.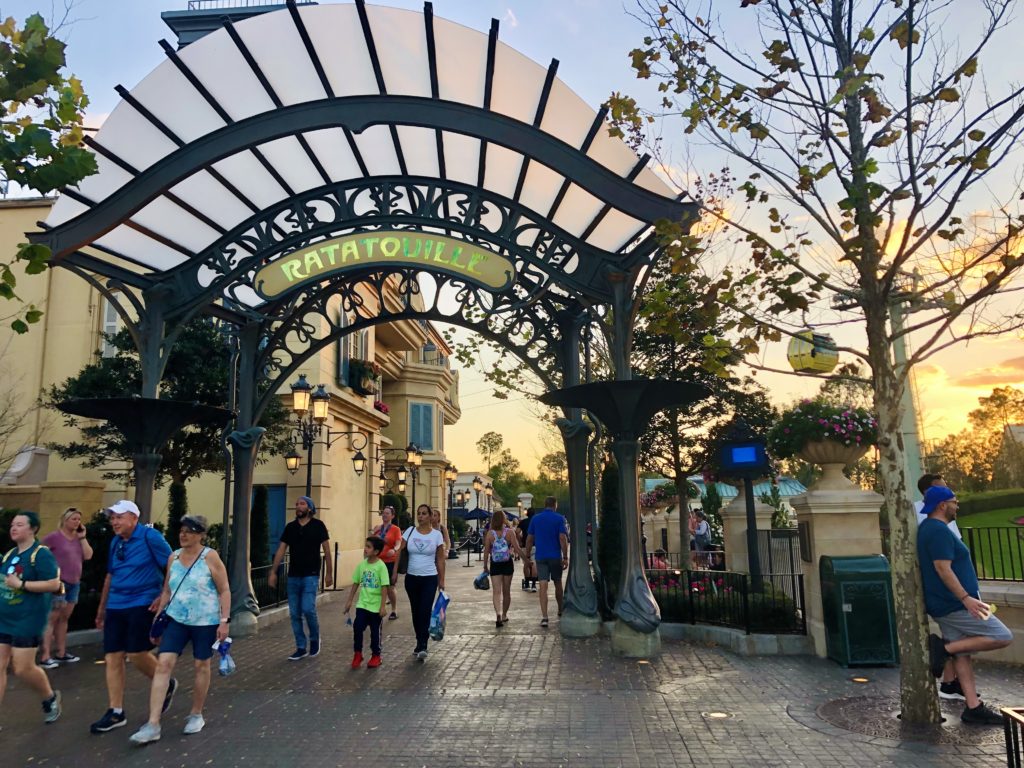 So we just kinda wandered dreamily through World Showcase, poking around here and there as our fancy willed.
We meandered through the Mitsukoshi department store, although, as Erika noted, "I kind of hate going in there because I want to buy EVERYTHING." Same, girl. Same. (Have you seen my pink Shiba?)
There was a PhotoPass photographer positioned by the bridge near the International Gateway, so we stopped for some pictures, although this guy wasn't nearly as good as the one from May.
By the time we had made it from Mexico to France (how often can you say that, though?), at least some people must've been leaving, as at least some wait times were beginning to approach reasonable levels. Living with the Land was down to 15 minutes, so we went there. I don't know if I've ever been on it at night before! It was weird, all ghostly shadows from fluorescent lights, and devoid of CMs working in the greenhouses.
Spaceship Earth had plummeted to 5 minutes, and we hustled over before anybody else could get there. Sadly, our photos didn't register for the ending animation, which seems to be de rigeur since the pandemic. In the past I assumed it was the masks messing with the automated tech, but we weren't wearing any this time since the mandate dropped. Is the photo feature no longer running or am I just unlucky?
After our trip through time, we headed back to World Showcase in search of dinner. Les Halles in France was the favorite, but as has been the case the last, like, 3 times I've tried to eat there, the line spilled prohibitively outside the building. Eventually we found ourselves eating at Katsura Grill in Japan; I'll touch on this in my food post, but here's a minor spoiler: meh.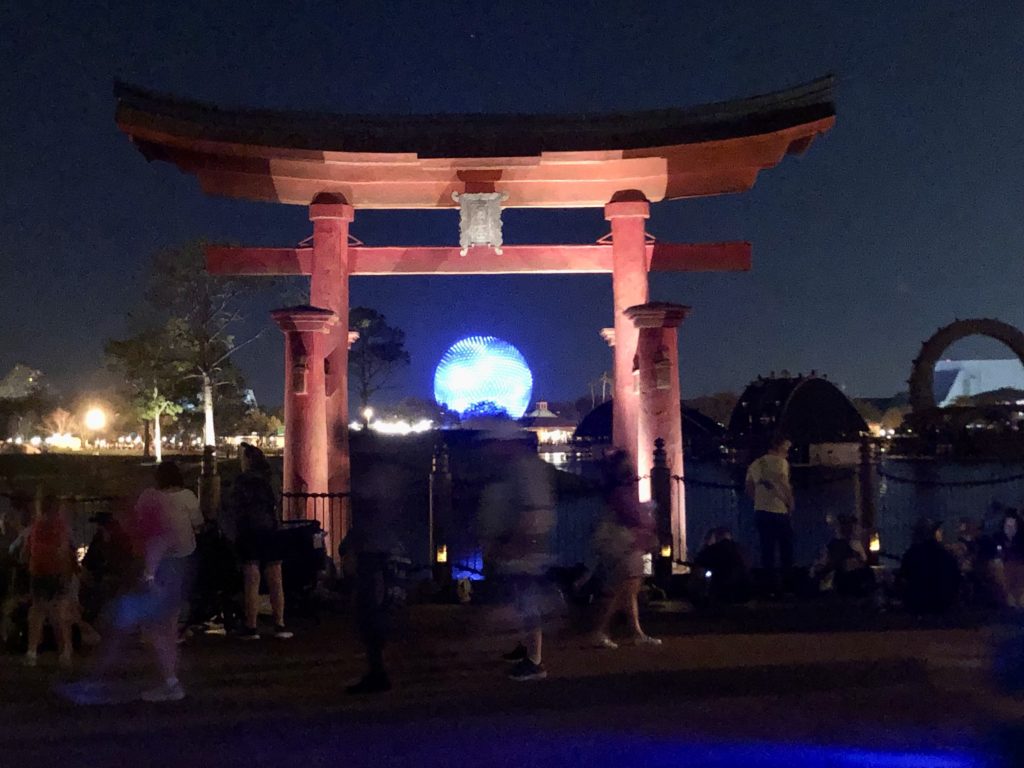 Park close was rapidly approaching, and it was high time we took up positions for Harmonious. We actually good have had some pretty decent views up against the railing further into World Showcase, but like all the others I preferred to stay near International Gateway so as to beat a hasty retreat to the Skyliner ahead of the hordes.
We wound up standing back against that one little outdoor souvenir kiosk right next to the start of the gateway bridge – I think you'll know what I mean if you're a WDW regular? The angle was surprisingly good, as long as I shifted around with the moving heads of the people in front of me. I could see one barge completely and others in enough part to get the overall effect.
Around the "Dig A Little Deeper" portion, while a great song, is where I've determined is a good place to duck out early. We heel-toed it over to the Skyliner and found scarcely any line at all. We were even able to catch the tail end of Harmonious as our Skyliner glided away. That's the ideal!
The rest of the evening proceeded as all last evenings do: we did some packing and went to bed.
Tomorrow: one last day in paradise.
Don't forget, you can follow FRoA on Twitter @fairestrunofall and on Instagram @fairestrunofall. If you have any questions or thoughts, leave a comment or email fairestrunofall@gmail.com. See ya real soon!