It's trip report time again! Read all the posts in this trip report here. Onward!
One does not simply eat food at Walt Disney World and then fail to talk about it. Inquiring minds want to know: what did you eat at WDW, and was it worth it? I would never hold out on you! Here's all the comestibles and libations worth mentioning from my February Disney trip:
DISNEY SPRINGS SNACKS
We return to Blaze pizza for the first time in awhile, so chosen for its efficient line and carb-heavy pre-race offerings. I was pleased to see they offer a half-pizza + salad (or cheese bread) option, and doubly pleased to discover I could get any signature pie as my half-pizza. Dazzled by the promise of garlic and ricotta, I chose the Art Lover, which also includes artichokes and red sauce. (View the menu here.)
I'd say this pizza delivered! But it didn't wow. The standard pizza crust is pretty thin – you can upgrade to a thicker crust, but why put your best stuff behind a paywall? I loved the inclusion of roasted garlic, and even my Vampire Hunter level of garlic adoration was satiated. I do wish there had been more ricotta, but admittedly that might have gotten too soggy.
You can select from a variety of salads at Blaze. A basic green salad sounded good to me at the time, so I just went with that. It was the standard melange of lettuce, onion, tomato, etc. Not exciting but no complaints.
When at Disney Springs, one simply must make a stop at Gideon's Bakehouse! (If you can.) This time around, I tried 2 new-to-me items: their Golden Oreo cake and the February specialty cookie.
The golden Oreo cake has vanilla frosting, yellow cake, and crushed golden Oreos worked in against the frosting layers. The predominant flavor is vanilla, but given that golden Oreos are also vanilla, it checks out. Probably not the most unique flavor Gideon's has put out, but I was mostly in it for the frosting, anyway. Although I did try a bit of the cake and it was preternaturally moist. I'm suspicious. HOW? (Also, Gideon's owes me 1 bite worth of frosting.)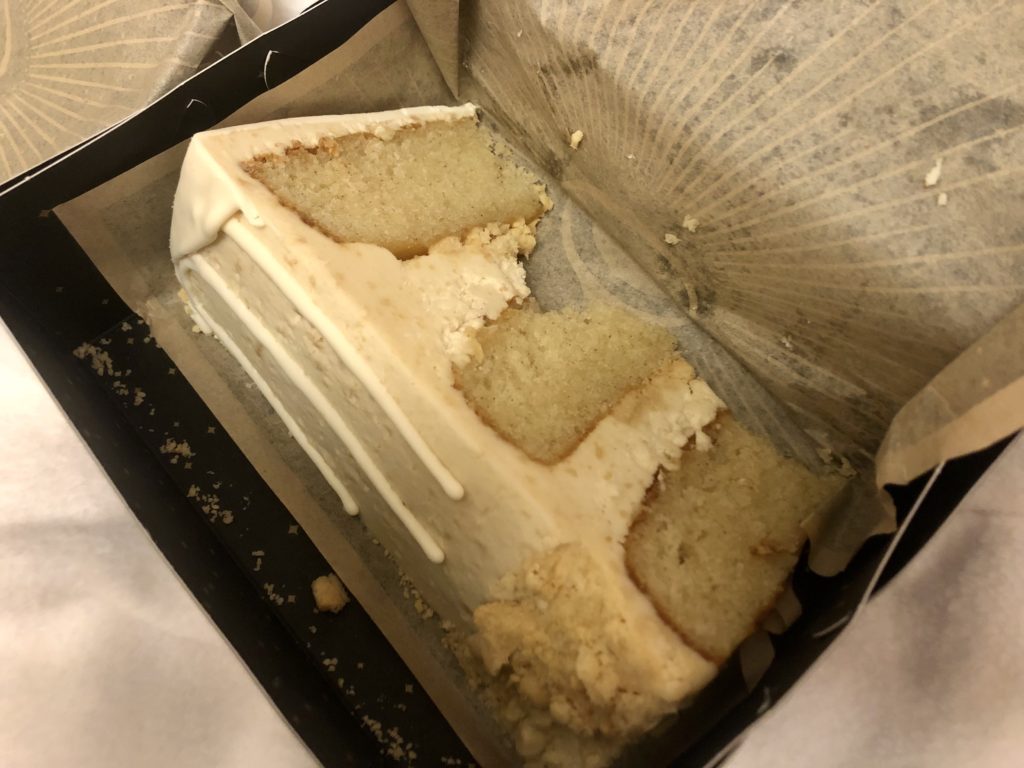 February's specialty cookie was labeled "Love Never Dies," and was a chocolate cookie with chocolate chips alongside chocolate covered cherries. Assorted spices include cinnamon and ancho chilis, which, similar to the November Calaveras cookie, give the whole works the faint taste of Red Hots. It was, obviously, tasty, but I find the whole Red Hot thing vaguely distracting. I think it could use some sea salt to cut across the sweetness and the spice. So far, the original chocolate chip remains my favorite!
STEAKHOUSE 71 MINI-REVIEW
Normally I would give a sit-down restaurant review its own separate post, but as we shared an appetizer and entree, it seemed unnecessary. For context, though, you can check out the lunch menu here.
So anyway, about that appetizer! I know reviews of the sea salt-dusted potato brioche rolls have been tepid, but as a Bread & Butter Fiend I had to order them anyway.
Alas, my assessment is similarly lukewarm, which coincidentally is the temperature at which the rolls are served. That's fine; not everything has to be piping hot. Yet with similarly unremarkable accompaniments, I just didn't reach the flavor heights I wanted. The butter was whipped into a form so insubstantial it almost ceased to be. The garlic-tomato spread was fine but not better-than-butter fine. I'd rather some standard crusty rolls and a slab of salted butter.
We also split the gourmet grilled cheese. Okay, but what kind of cheese, you ask? In this case, gruyere and gouda, and while I thought the flavors blended together, they were definitely the requisite amount of gooey and stringy. If you're looking for a food porn-style cheese pull, this sandwich delivers.
The "gourmet" part comes into play with shredded pork belly and onion jam. The latter was rather disappointingly lost underneath the other, more assertive ingredients, the the onion jam did in fact elevate the dish. It added a delightful sweetness to the overall flavor profile. Were I to return to Steakhouse 71, I would try something else, but I wouldn't attempt to dissuade anyone from the grilled cheese. Next time I need to try a cocktail too!
EPCOT EDIBLES (NO, NOT THAT KIND)
Erika was kinda enough to buy me the Black Magic Margarita of "Neil Patrick Harris made me!" fame, despite the fact that it is almost twice as expensive as the other Choza margarita drink offerings. It originates inside the pyramid at La Cava, where I think it comes in a non-frozen form. Normally I prefer my margaritas on the rocks myself, but it was so hot that day the icier temperature alone made a frozen marg appealing.
If it were my own $21 I were dropping on this drink, would I do it? Actually, yeah! I don't know if I'd always choose this margarita when there are so many fun options still to try, but the Black Magic version is solid. Mind you, you'll have to enjoy mezcal to like this one as the smoky flavor definitely comes through, but to my tastebuds it meshed very well with the blackberry, fruity but not overpoweringly sweet.
Speaking of Epcot drinks, I went back to the outdoor drink stand at Regal Eagle to try their moonshine sour. First of all, any drink that comes garnished with a blackberry is a-okay by me. Second of all, this is good! Very fruity, sour enough to warrant the name, not enough to pucker. Not much alcohol, though. If you're looking for bang for your boozy buck, this ain't it. But it's always fun to try drinks that aren't from La Cava, you know?
Katsura Grill sushi is basically grocery store sushi. And I like grocery store sushi! But, like, don't buy this at Epcot. There are always better choices at Epcot. Buy grocery store sushi at the grocery store, its natural habitat. The green tea was legit and unsweetened, though, which I appreciated.
It took me multiple tries just to get in the door at the Les Halles bakery in France, so I had to make my selection carefully. I had hoped to get one of those bacon pinwheel things, but they were either sold out or not currently available. Ultimately I went with a similar flavor profile: a sort of baguette twist with bacon and cheese.
The good news: bacon! Cheese! Delicious soft bread! The bad news: a LOT of bread. Lots and lots of bread, not that much bacon and cheese. The ratio is off. But as I said, it was delicious bread, so how mad can you really be?
PLANT-BASED IN THE STUDIOS
I like a good Ronto Wrap from Ronto Roasters as much as the next gal, and yet unfortunately, they don't always love me back. I'll be the first to tell you to get the greasy tasty thing if that's what you're craving, but my stomach tends to behave better when I stick to their plant-based offerings.
Which is how I wound up with the "Zuchii" wrap, which contains roasted zucchini, their spicy chickpea onion slaw, garlic-tahini sauce, and cilantro on pita bread. And y'know what, it's legit good!
For starters, it's always nice to have a clever vegan item that contains no fake meat. You don't get a ton of "roasted" flavor, or really a ton of flavor at all, from the zucchini, but the chickpea slaw is a worthy star. The pita is soft but strong enough to hold up against its innards. My only caveat would be to say that it is, indeed, spicy. Not oh-God-it-burns spicy, but anyone who doesn't like spice will not be happy here.
HERE ENDS THE TRIP REPORT
And that's game on my February 2022 trip! But don't fret, because I go back to WDW next month. Meet ya back here in a couple weeks and we can start all over again. You know how I do. 😅
Don't forget, you can follow FRoA on Twitter @fairestrunofall and on Instagram @fairestrunofall. If you have any questions or thoughts, leave a comment or email fairestrunofall@gmail.com. See ya real soon!