Trip report time! I'm covering my April 2022 trip for the Tower of Terror 10 Miler. Read all the posts in this report here. Onward!
I'm gonna be up front with you guys: this day did NOT go as planned. But it did go, and I'll tell you how!
I got up around 6am in preparation for Early Entry rope drop at the Magic Kingdom. I showered, prepped, and rolled out to the Pop Century bus stations.
Hot WDW trip tip: 10 minutes can make all the difference. Get up 10 minutes earlier than you think strictly necessary if you're attempting anything related to rope drop. Mind you, this can sometimes be do-as-I-say-not-as-I-do advice, but on this day I nailed it and here's how: I arrived BEFORE the enormous cheerleading group. Yes, at a value resort in particular, timing is clutch.
So that was good. Now for the bad: I am an idiot. I completely forgot that unlike the other parks, the Magic Kingdom's Early Entry only applies to select lands. As soon as the Cast Members let us into Fantasyland, I heel-toed it toward Frontierland only to discover it wouldn't open until 9am.
Boo. That totally threw off my plan, and there are those who will argue I adapted poorly by slinking onto the almost completely empty Royal Carousel. Like what kind of touring strategy is that?! But it gave me a minute to think, and I must confess I enjoyed my turn on a carousel horse. I almost never take one.
it's a small world had been down at Early Entry's start due to technical difficulties; I just happened to be wandering by as it finally opened. I took a spin on that since I was in the area – and I know, that's another comparatively low-priority attraction, but lines have been crazy lately and I knew it would be much worse later.
To complete my Amateur Hour trifecta, I decided to abandon my Frontierland plans and double back to Tomorrowland and Space Mountain. If I was going to do that, I should have done it first, as Tomorrowland is open for Early Entry. But I didn't. That's what spontaneity gets you, I suppose.
The Space Mountain wait was still only around 20 minutes, which was honestly fine. I even got to skip a bit of the line by way of being a single rider. And I was in the very back seat on the left side track, which I absolutely maintain is the better one. Maybe I made some dumb decisions at the start, but the universe still aligned for me here.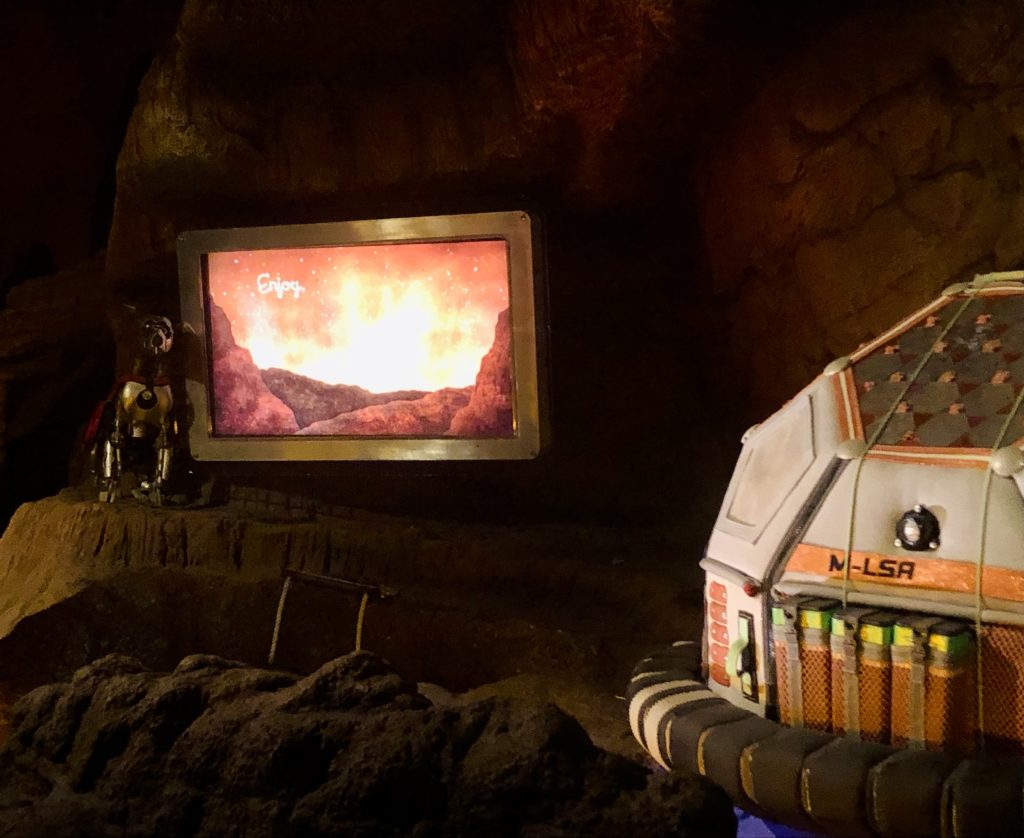 I had put in a mobile order for breakfast after my ride, so my next act was to wander back into Fantasyland to grab a breakfast sandwich from Friar's Nook. I ate it off the window ledge at the ice cream place immediately adjacent, which hopefully didn't make the CMs inside feel like they were in a fishbowl. Certainly I kept my eyes largely trained on my phone, just as Disney intended.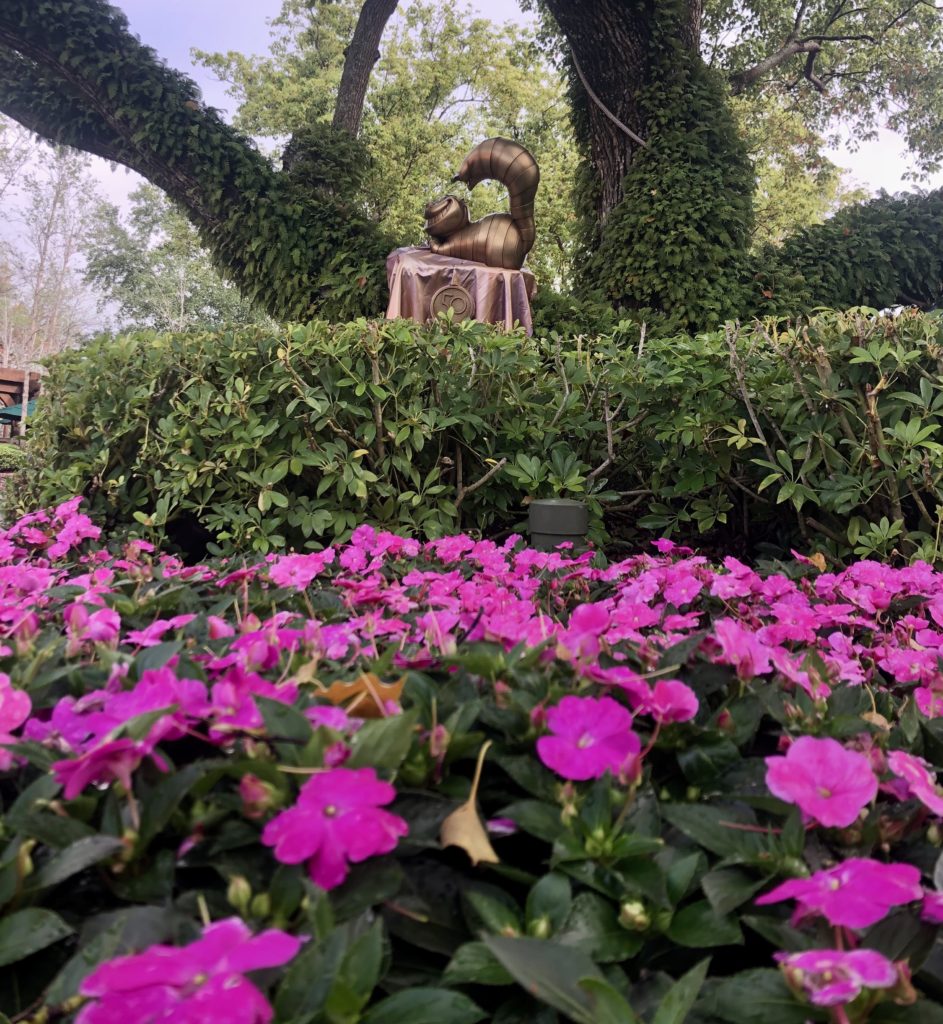 Temporarily sated, I followed breakfast with more retracing of steps, for the Peoplemover was calling my name. I will absolutely cross the park for the Peoplemover. Right now the highlight is seeing the Tron Lightcycle ride under construction, although there's still a lot of dirt.
I still had some entertainment on my to-do list, with the Dapper Dans squarely at the top. I went to Main Street at what the app assured me was the time for the next show, only to find the Dans performing from a moving trolley?
You know, the trolley that centers in the Trolley Show, only this time it does not stop but CONSTANTLY MOVES UP AND AROUND MAIN STREET. If you want to watch the Dapper Dans perform, you have to chase them the whole way. They only performed 2 songs during their sojourn, which took some of the punch out of their "the last one is their favorite" joke.
I took 30 minutes or so to chase some Cinderella Castle and entrance photos before leaving the park. Thanks to my plane landing over 3 hours late the day before, I still needed to roll through the expo. I had much to do and less time to do it in!
PHOTOPASS DROP AHOY:
A quick walk over to the Contemporary later and I was on the bus to the Springtime Surprise Race Weekend expo. My goal was an expo speed run of sorts, but I had some errands to take care of.
For example, after picking up my bib I went over to runner relations to find out why my expo pass keeps listing my state (PR) as "Parana."* Nobody knew, but they did reset my state to a complete blank, which I guess is an improvement…?
* Yes, obviously PR is not technically a state, but where tf did Parana come from?
From there I skedaddled over to the exhibitor's hall for my race shirt. I did my level best to ignore all the shopping, but impulse buy my first pair of Goodr sunglasses from a store right next to shirt pickup, which is how they get ya. Shockingly, no buyer's remorse set in – I still love them, even if the polarization does blank out my GPS watch face.
Before I left I took a spin through the official merchandise area, but none of the offerings spoke to me. Look, pink is my favorite color too, but this is The Twilight Zone Tower of Terror we're talking about. Why wasn't anything black and ominous and for preference Rod Serling-y? And what's a girl gotta do for a dang ceramic coffee mug?!
The expo having served its purpose, I hopped a bus back to Pop Century and took a brief break in my room. A brief break, mind you, because I still had Disney Springs AND Disney's Animal Kingdom on my docket… so far. (DUN DUN DUNNNNNNN!)
I knew there was a serious thunderstorm on the horizon, so I grabbed my rain jacket and just made it onto a bus to Disney Springs. Obviously the first and only thing to do was make a beeline for Gideon's Bakehouse to get my virtual queue spot. I was quoted a 4 hour wait but at least this time I did it at the beginning of my Springs time instead of the end.
So I had at least 3 hours to kill. I went to World of Disney first, where I found a surprising amount of Space Mountain Main Attraction merch but not a single large-size 50th anniversary reusable shopping bag. It worked so well in January for porg smuggling. Probably supply chain problems. I hope they come back!
I browsed through some more stores, including the Marketplace Co-Op, where I was tempted by an anniversary sweatsuit but none of the Dress Shop dresses? Weird! I also checked out TrenD and Disney Style, which seem like they could really just merge into one mega "is this what the kids like???" store but what do I know.
About an hour into this Disney Springs Expotition the promised rain began, but I had my rain jacket so it was no worries. And then, around the time I was poking around in Disney Style the skies really started to open up. During a lull I skittered across the street to Starbucks, which was surprisingly not yet full of rain-dodgers. I snagged a latte and curled up in a corner to wait.
And while I waited, the rot set in. It wasn't just pouring down – there was thunder and lightning and rushing wind. Not outdoor mall weather at all.
After about an hour, though, the tempest slacked at least enough for me to feel comfortable venturing out again. It was well past lunch o'clock, so I went to a new-to-me but old-favorite restaurant: the Polite Pig. I was maybe a third of the way through my meal when my phone buzzed: my Gideon's moment had arrived!
You know what else arrived? A renewal of the MONSOON. It was coming down pretty hard as I approached the standby line, but the buckets really started upending as I took my place. My rain jacket is mostly water resistant, not waterproof, with the exception of the hood, which was dripping onto my face. The paper bag holding my Polite Pig was disintegrating. True story: one of the handles just fell off. It was so cold. Oh, how we suffer for our Gideon's!
To add insult to injury, the person manning the virtual queue return line let a guy with no return time hop in line ahead of me. I wasn't about to narc on her, but come on!
As if to balance out this injustice, the guy behind me was a real standup dude. After sending his wife to wait under a nearby shelter, he told me to go with her. "I'll hold your place in line," he said. And so he did, waving me in front of him when my turn came up. I enjoyed a few blissful moments without being pelted by raindrops. Thank you, kind sir!
Entering warm, wonderful, creepy Gideon's was the balm my storm-soaked soul needed. I bought my allotted half dozen cookies plus a frosting tub for after the race, and even exchanged my melted Polite Pig bag for a shiny new Gideon's model. It was still raining when I emerged, but less so. Less rain and more cookies. Things were looking up!
My plan then was to finish out my day at Disney's Animal Kingdom, but my Insta-buddy Seth had just arrived at the Polite Pig bar and I was determined to stop and say hello. Just as I slid onto a stool next to him, the deluge began anew. Another Insta buddy informed me that DAK was basically shut down due to the weather. Seth asked me if I wanted a beer.
I should've said no, right? Because it was the night before a race. But I was wet and cold, and any efforts to make it to the only partially functional Animal Kingdom would only leave me wetter and colder. So yeah, I wanted a beer.
Needless to say and to my shame, I never made it to Disney's Animal Kingdom that night. I did make it to Raglan Road, whose bar is enormous and which was also way more fun than I remember! Was this super wise, the night before a race? No! But we sang Irish drinking songs and had a good time. 😎
Eventually I did have the good sense to schlep myself back to Pop Century before it got too late. The rain had slowed to a sprinkle. I picked up my usual bland but practical pre-race pasta meal from the food court, set out my race stuff, and headed to bed.
Next up: Do I make it to the Twilight Zone Tower of Terror 10 Miler???
Don't forget, you can follow FRoA on Twitter @fairestrunofall and on Instagram @fairestrunofall. If you have any questions or thoughts, leave a comment or email fairestrunofall@gmail.com. See ya real soon!