Hooray for trip reports! This trip report covers my April 2023 trip for the runDisney Springtime Surprise Weekend. Read all the posts in this report here. Onward!
I shall begin this recap of my vacation day in the Most Magical Place on Earth with a complaint, because of course I will. 🤪 Even if you carefully lay out a plan to sleep in and deliberately arrive at the parks in the late morning, you still have to wake up at 7am if you want to use Genie+ or get any Lightning Lanes. For anyone who arrives at Walt Disney World for the first time expecting to relax and unwind: HA!
Oh, I jest, I jest – it wasn't so bad waking up, making my ride selections, and going back to bed for a bit. We were able to sneak in a small nap before finally rolling out of bed for real, performing our morning rituals of readiness, and trotting down the path to Disney's Hollywood Studios. That's right; for this trip, our primary mode of transportation was our walking shoes! Man, Boardwalk resorts really, uh, [checks slang notes] slap, no?
We had a little trouble getting in at the tapstiles (good ol' Disney tech strikes again), but everything was eventually sorted out and we arrived in Batuu in plenty of time for our first Genie+ selection. This was Millennium Falcon: Smuggler's Run at Pat's request, and he was very pleased to bypass the 90 minute queue in favor of 5 minutes in the Lightning Lane line.
I took one for the team and accepted an engineer's posting, pushing Pat forward into the slightly more desirable gunner position. We picked up two containers of coaxium, which is pretty good, right? I don't know; being an engineer is lame. 😅
Earlier I had grabbed us a second Genie+ slot for Toy Story Midway Mania, so we headed over there next. Shockingly, I got a higher score than Pat! Probably only because I found the fox before he did. Give him a little time to study the high score guides and he'll cream all of us, trust me.
We made a quick pit stop at a snack cart so Pat could pick up an ice cream sandwich before backtracking to Batuu for our Lightning Lane reservation at Rise of the Resistance. We were in the front row, yay! But the big Kylo Ren animatronic wasn't working, boo. Come to think of it, neither was Hondo's AA. Something in the air at the Studios that morning?
Weird thing that happened: the mother and daughter next to us in our car BOTH took cell phone video. They were literally right next to each other and pointing both straight ahead. What, do you need to see the same video again but slightly to the left?
I noticed while walking through the Batuu Marketplace that a CM was teaching guests some sort of card game. Or possibly the Star Wars universe has a tarot deck? Anyone know what that's about? At any rate, Pat enjoyed the design elements here.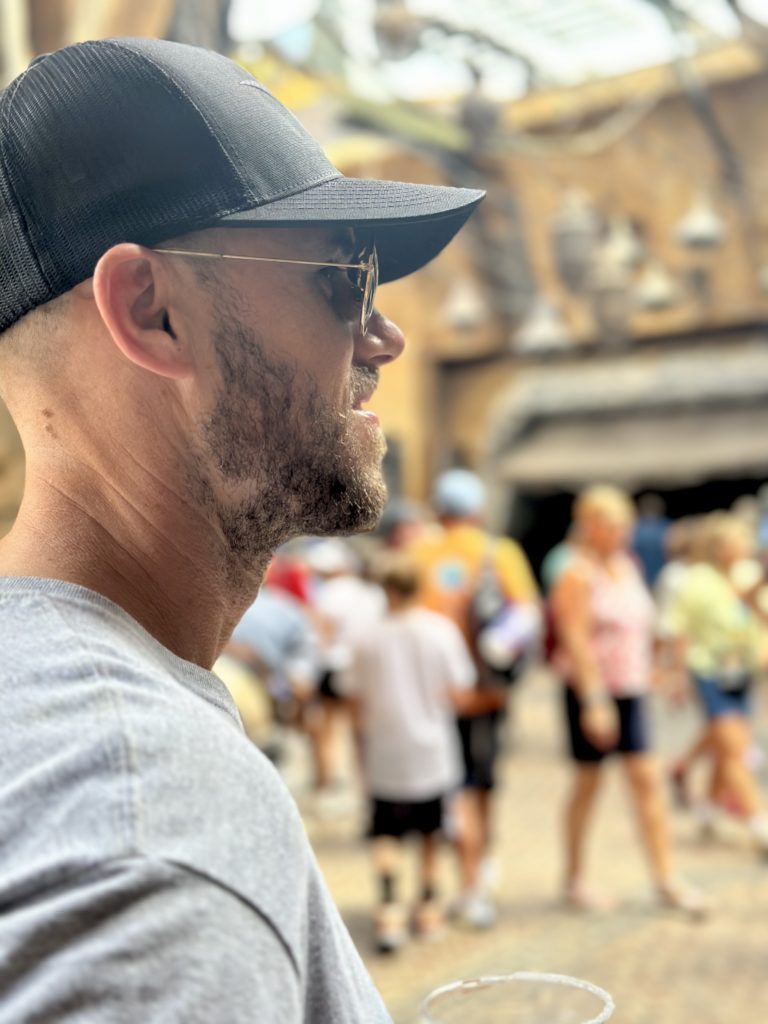 Time for a snack break! We meandered out of Batuu and over to the conveniently positioned BaseLine Tap House for some snacks and drinks. BaseLine always manages to maintain a chill vibe even in the middle of a crowded Studios day, so… I don't recommend it. Everybody stay away, okay? 🤪
While eating, Pat mentioned that he was developing blisters on his heels. I instructed him to stay put – no sense in making it worse – while I power-walked to the park entrance for a quick consult from the first aid station by Sid Cahuenga's. The Cast Members there were super nice, and addition to giving me an "adult-size handful" of bandaids, they heaped praise upon my C-3PO shirt. Stop by some time! Just don't hurt yourself, kid.
I found Pat back at BaseLine nursing a margarita; he applied the bandaids to his Achilles and declared himself infinitely better. Over we then went to Oga's Cantina!
It was a great time as always, and Pat enjoyed picking out little Imagineering details in the design. We saw the engine reset, which is clutch, but I must confess I still don't quite have the hang of the drinking song. I don't think anyone does, really. Do you?
Post-Oga's we logically had to go to the bathroom. Then we looked at a wall.
The wall summarily examined, there was nothing stopping us from tackling our next Genie+ slot: Mickey and Minnie's Runaway Railway. Pat likes this one a lot, and it's grown on me with each ride-through, but I still wish TCM had done something with The Great Movie Ride. The Busby Berkeley section alone…
Next we knocked at a Star Tours Lightning Lane we probably did not need (I was not the rebel spy, boo) before facing the hard choice: were we ready to brave a standby line?
See, for no clear reason, the Lightning Lane selection for Tower of Terror had been down ALL DAY. People said it was just out of slots, but ToT emptying before Slinky Dog? I think not. I maintain that something was up. But the ride was operational and had a 30-40 minute wait… and Pat loves it. Into the line we went.
And as luck would have it, we made some Disney friends with the couple in front of us – a group pushed past us in line in that charming fashion we all know and love, and our commiseration session led into a queue-long chat. Much better at passing the time than burying your face in your phone.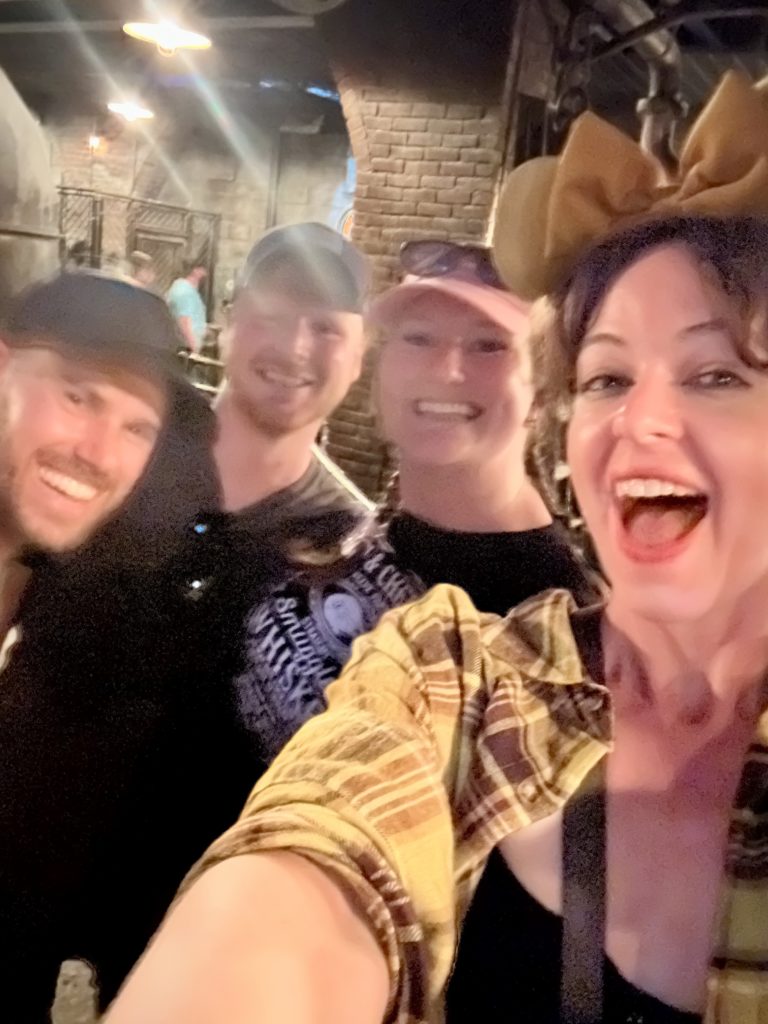 We bid adieu at the tower's exit, then Pat and I too parted ways: I wanted to go see the Frozen singalong show I never shut up about, and Pat absolutely did not. So I left him with a drink and heading into the next Frozen performance.
It was not my favorite – I thought these royal storytellers, while talented, played it a tad too broad – but still a fun and funny way to pass half an hour or so. I picked Pat up from BaseLine once again, and we agreed that with my race tomorrow morning it would be an opportune time to head out.
(But first I stopped at guest relations about the ticket weirdness that morning. The CM said it looked fine and they didn't know what happened. As I said: that's Disney tech for ya.)
We enjoyed a leisurely stroll along the lake back to the Dolphin, where Pat took some time to extoll the virtues of architect Michael Graves.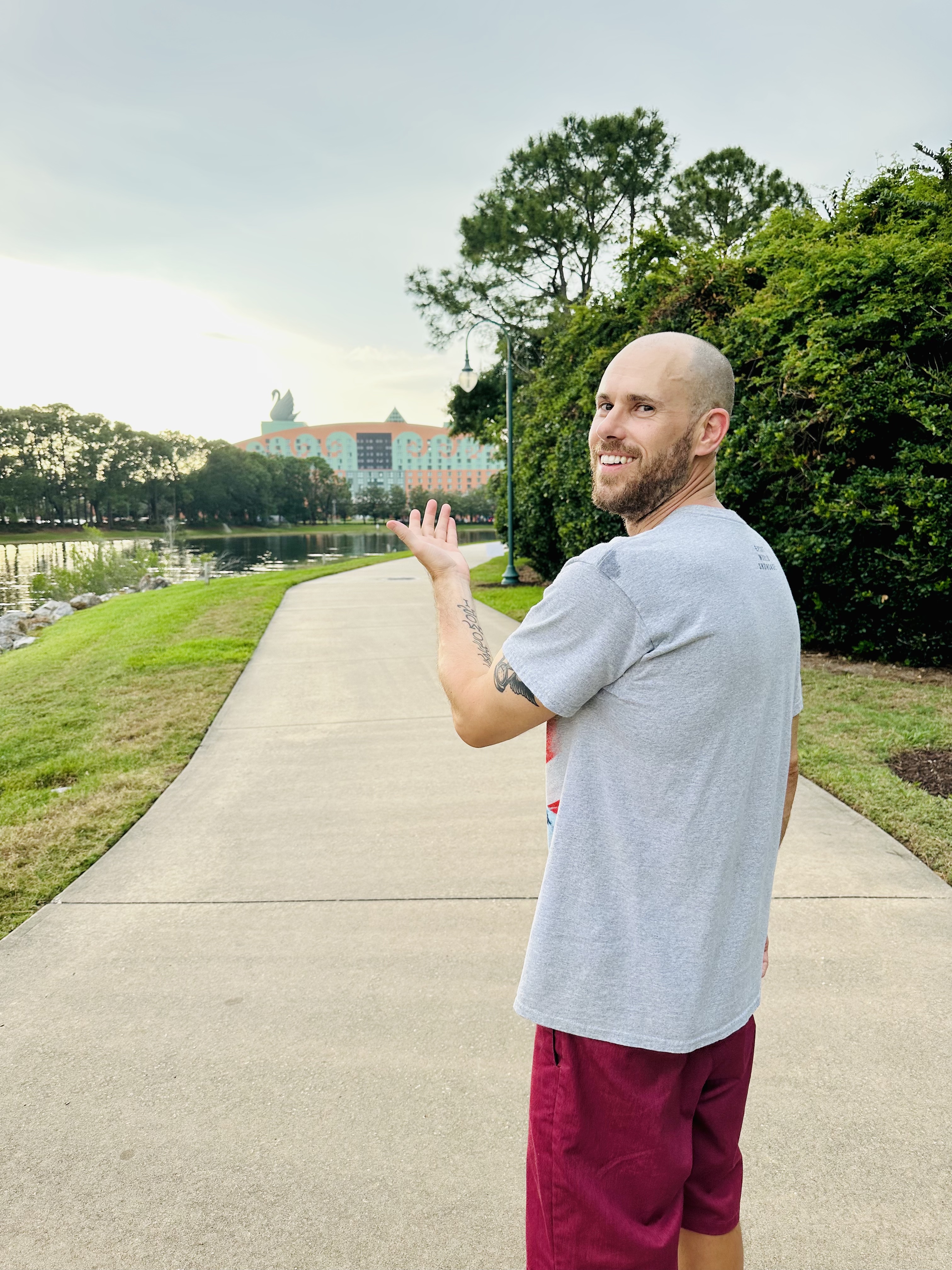 Back in the hotel, I race prepped, we grabbed some snacks, and before I knew it, it was time for my early bedtime. Million dollar question: did I have another pre-race panic attack?! Tune into my race recap to find out!
Don't forget, you can follow FRoA on Twitter @fairestrunofall and on Instagram @fairestrunofall. If you have any questions or thoughts, leave a comment or email fairestrunofall@gmail.com. See ya real soon!