Hello and welcome back to another edition of What I'm Going To Wear To Walt Disney World! Last time I posted my trip wardrobe after I got home, and while it was due to extenuating circumstances I considered doing the same for this trip. However, an informal Instagram poll seemed to indicate that you guys prefer it before. And I get that – anticipation is a delicious flavor. I believe Spock said something similar once. Do Starfleet crews ever spend their shore leave at Disneyland? Where's that Disney crossover episode?
Before we begin our Lower Decks letter-writing campaign, let's return to the matter at hand: what am I going to wear to Walt Disney World this weekend? Well…
DAY 1: EXPO & DISNEY SPRINGS
For the first day I wanted something I could change into quickly and easily, since I can't be sure my room will be ready when I arrive. To that end, I'm keeping it pretty chill with some shorts and a tank, plus my Coach x Keith Haring Mickey ballcap. It's finally getting its day in the sun!
Since all of that is so monochromatic, I threw on some pink Color in Motion 5K knee socks I bought waaaaay back at the beginning of my running journey to liven things up a bit. Are they too much? I may ask Instagram if they're too much…
Oh, and you can get my iridescent Adidas slides here!*
DAY 2: DISNEY'S HOLLYWOOD STUDIOS
An Oga's Cantina reservation deserves a Star Wars outfit to match. While I considered my Batuu-bound outfit, I feel like that would be more fun with someone similarly attired, and Pat's not much for dressing up. Instead, I present to you my C-3P0 flannel from Cakeworthy. I enjoy Threepio's antics, but I must confess I bought it for the quote on the back. I can relate.
The dress is from H&M; it's out of stock at the time of this writing but could come back? All things are possible. Disney socks too!
DAY 3: RACE, POOL TIME, BOARDWALK NIGHTLIFE
Race day is also scheduled to be a rest day, but we do have one major plan: dinner at Yachtsman Steakhouse! A fancy dinner reservation requires a fancy outfit to match.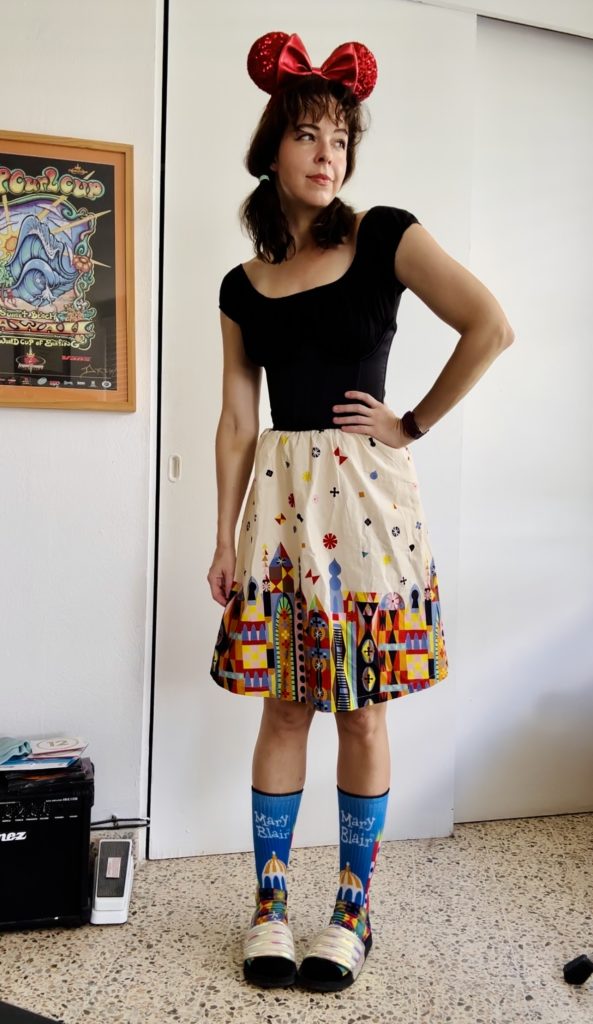 My shirt is from Pinup Girl Clothing and the corset/bustier/belt is from Etsy (and I highly recommend it if you're in the market for that kinda of thing – the zipper is clutch). The AMAZING small world Mary Blair skirt, though? It's Modcloth by brand but I didn't get it there; in fact, it's a secondhand miracle find from Thredup!*
In truth, I would love to finish this outfit off with my Timberland heeled booties, but a carry-on-only girl only has so much suitcase space. The Mary Blair socks will have to serve.
(Keep an eye on my Instagram page Saturday evening to get a glimpse of my race costume!)
DAY 4: EPCOT
I was originally going to wear my Figment sweater to Epcot, but since this year's Wine & Dine Race Weekend Challenge is themed to Figment, I'm pressing pause on that ensemble for now.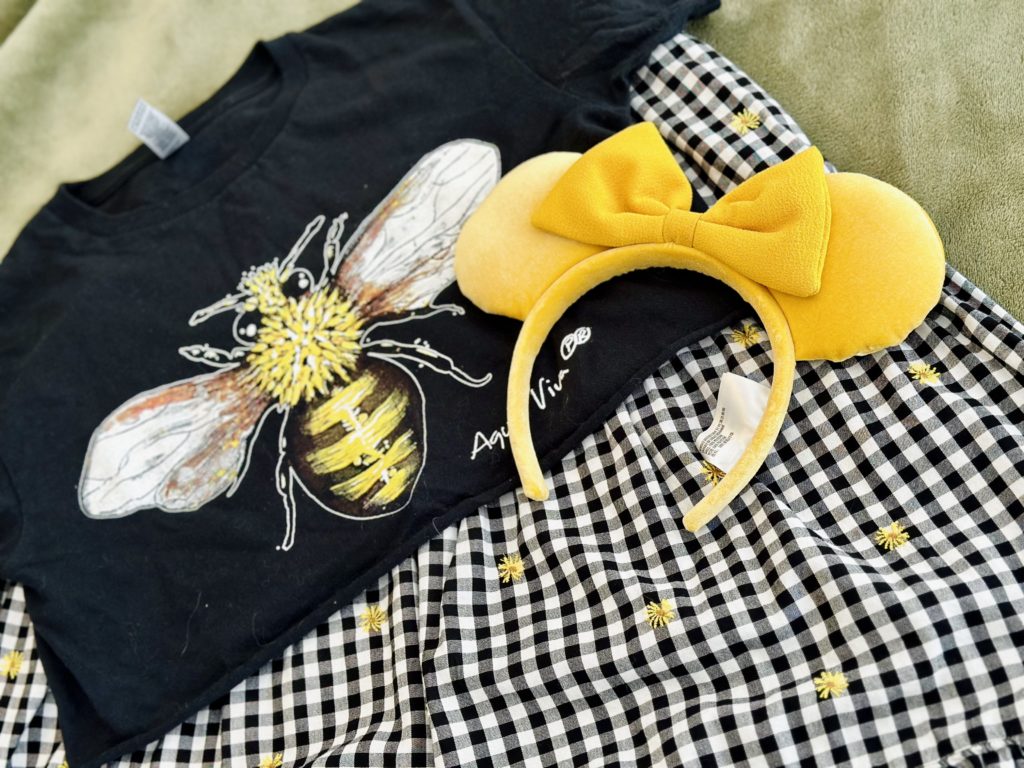 Instead, I'm trying something new – dressing to match the festival. Epcot will be in full Flower & Garden Festival mode, so I'll be dressing in an homage to Spike the Bee! My gingham maxi skirt is embroidered with little flowers; it's from Old Navy but tragically no longer in stock. This Amazon find is similar, though.*
My bee shirt has an interesting provenance – I bought it from the Art Walk that pops up every Thursday in Rincón, a town on the west side here in Puerto Rico. There's a super talented artist who consistently displays her artwork there, and I watched her slice this t-shirt into a crop just for me! I don't think she has an e-commerce site, but her Instagram is here. DM her and she might sell ya one.
DAY 5: GOODBYE, SWEET WALT DISNEY WORLD
Since we're mostly getting up and going home, no real outfit plans for this one. I'm gonna throw on leggings and my Gideon's wolf girl t-shirt.
And that's it – I'm all packed up and ready to go. Tune in tomorrow for my trip to-do list, and then it's time… we're going to Disney World!!!
* Affiliate link
Don't forget, you can follow FRoA on Twitter @fairestrunofall and on Instagram @fairestrunofall. If you have any questions or thoughts, leave a comment or email fairestrunofall@gmail.com. See ya real soon!