For literal years now, I have always assembled a pre-trip Walt Disney World wardrobe post. It's not that I think anyone really cares all that much; it's just fun! And it does help crystallize what to include in this particular packing list.
Yet this time around, I didn't do one. It was too risky. What if I really HAD been forced to cancel my marathon trip? That's why I got all quiet for the week leading up to Disney – it would've been sad enough without adding backpedaling to the proceedings.
(Incidentally, this is how I wound up packing at 10pm the night before my flight. I was ironing a Zero patch onto my race shirt at like 10:30. Not procrastination this time, just mental health management! Or so I tell myself.)
I vowed to myself that, if I was able to go, I would do an ex post facto, debrief version of my usual WDW clothing post. Sure, it wouldn't have the same excitement a lead-up does, but to make up for it I'm actually able to show them as I wore them at Disney! That's fun, right?
So let's cast our minds back, back, to my 2023 WDW Marathon trip. Each morning I dug into my suitcase and found…
FRIDAY'S OUTFIT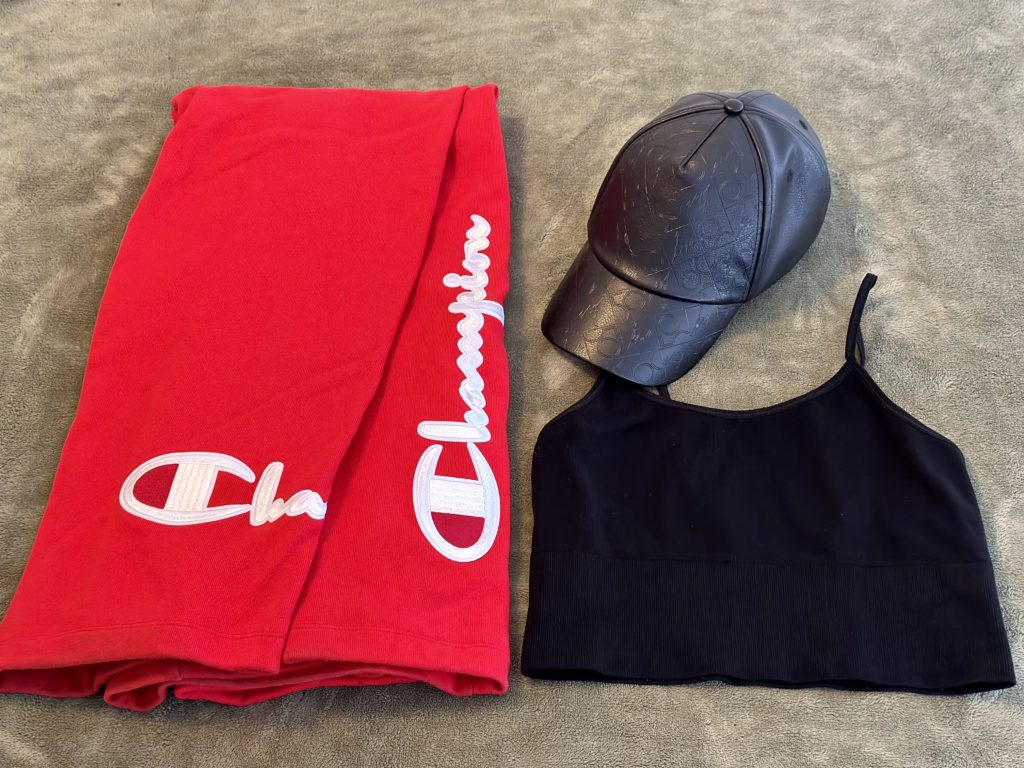 Here Erika and I are modeling our matching WDW50 hats. Erika got hers first, and I admired it so much I turned into a total copycat and got my own. Luckily she doesn't seem to mind me copping her style. Tragically this hat doesn't seem to be in production anymore, and even the page is gone from shopDisney. Drat.
My tank and hoodie are both from H&M. Of particular note are my wide-leg sweatpants, which I was SUPER excited to wear – believe it or not, their silhouette gives me retro vibes and I am alllll about it. They're one of the designs produced from Making the Cut on Amazon and some styles are still available here.*
My convertible backpack/bag is from Fossil, but their customer service sucks so maybe don't buy from them. Try this version instead.*
SATURDAY'S OUTFIT
I like to bust out my Mickey and Minnie kissing jeans when the weather is a little chillier; they're another one of my Hot Topic pulls. Surprisingly, they have some new pairs that are thematically akin!*
The sequined basic Minnie ears are the very first pair I ever bought! They don't make this particular model anymore – indeed, the all-sequin ears seem to be increasingly rare – but this version is pretty similar.*
SUNDAY'S OUTFIT
This Winnie the Pooh dress is also from Hot Topic, and you can find it here.* Fun fact: I did not pick this dress out myself! Pat got it for me for Christmas. And the funny thing is, I would not have picked this particular dress out myself – but now that I have it, I absolutely love it!
It goes perfectly with my yellow ears, which, alas, Disney no longer makes. However, they recently came out with a NEW yellow pair* that, while quilted and not velvet, match these in color at the very least.
I also wore my super cute Disney socks from Hot Topic; you can get those anymore either, but here's a Mickey crew sock set alternative.*
MONDAY'S OUTFIT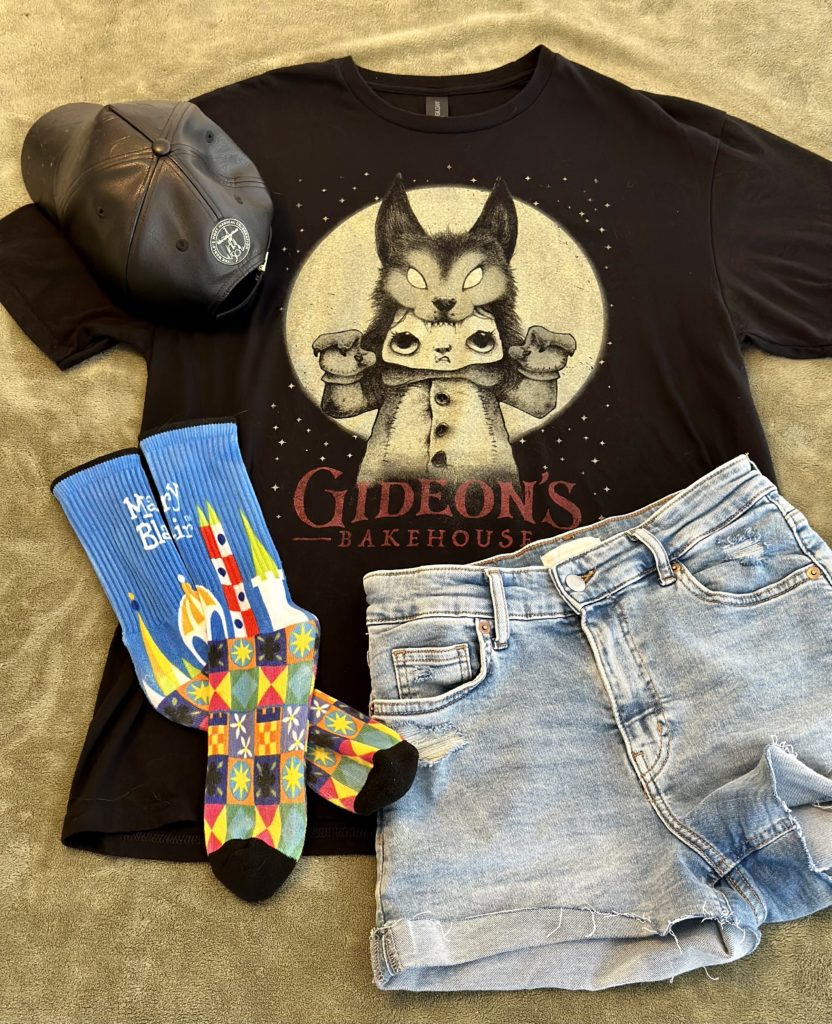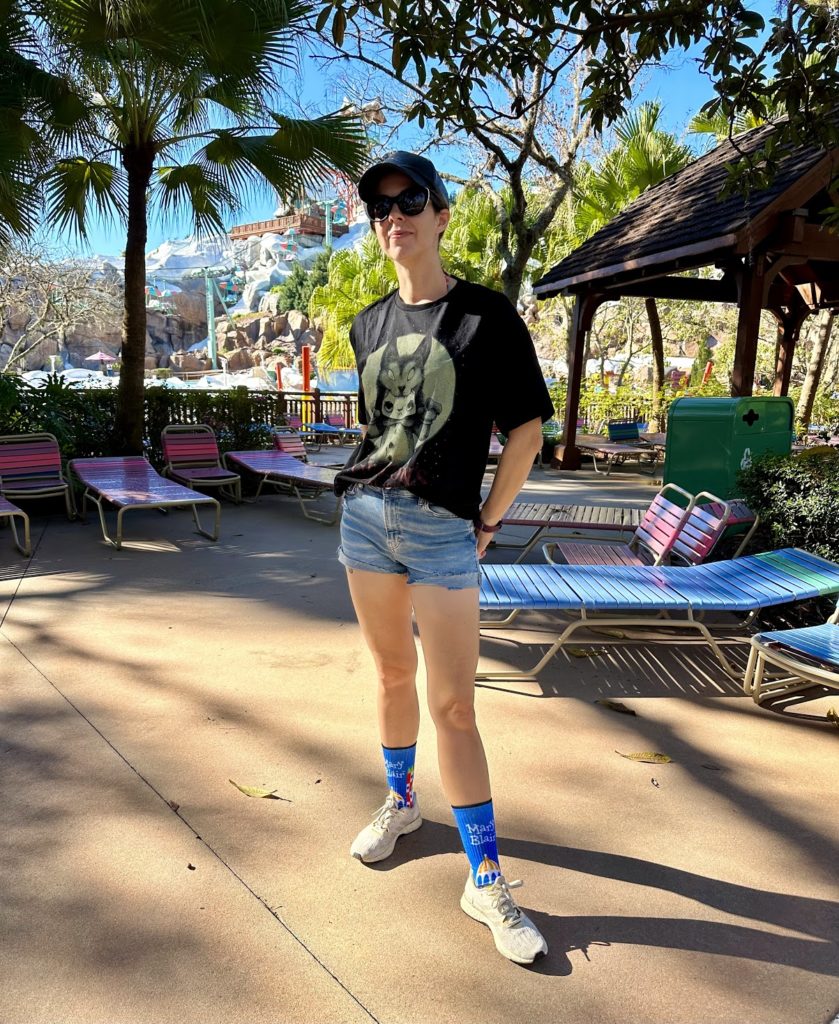 The second I saw the Gideon's Bakehouse mascot for January 2023, I knew I had to have the t-shirt. I mean, how FREAKING CUTE is this little wolf-pajama girl?! Thankfully, they had the shirt in stock when we picked up our cookies. You can still get the shirt here.
There's my WDW50 hat again, and these "Breakfast Run to Tiffany's" Goodr sunglasses I got when we hit the race expo. The shorts are from H&M, and the AMAZING Mary Blair socks are – wait for it – another Christmas present from Pat! That kid really knocked it out of the park this year. Find this particular pair here.
I LOVE A GOOD WDW WARDROBE
Ahhh, I feel better. I have so much fun putting together my Disney outfits, I can't bear not to make an official internet record. I can't wait until April when I can do it all again! Hopefully in advance this time. 😅
*Please note some links are affiliate – a girl's gotta pay for her domain, y'know?
Don't forget, you can follow FRoA on Twitter @fairestrunofall and on Instagram @fairestrunofall. If you have any questions or thoughts, leave a comment or email fairestrunofall@gmail.com. See ya real soon!