It's my favorite annual trip report – my WDW Marathon trip! See all the posts in this trip report here. Onward!
Thinking you might miss your Disney trip really puts a new perspective on things. I went into this WDW Marathon weekend with one watchword: gratitude. Yessiree, I was just happy to be there – even happy to make it to the airport!
My newfound equanimity was not tested on the way down. Maybe the universe clears a path for positivity? My flight was uneventful, and my Mears bus dropped me off at All-Star Sports second of four. Even my resort room was already ready for me; I met up with stalwart trip buddy Erika there. I slapped on some makeup (I remain an egocentric maniac, just a grateful one), snagged a snack in the food court, and then we were off to the race expo!
First things obviously being first, we skedaddled over to bib pickup to, y'know, pick up our bibs. They had a 30th anniversary photo op in place there, so naturally I insisted we take pictures. That's my new thing, insisting on pictures, because a) Insta is hungry and b) I hear taking pictures is making memories.
Next up was the exhibitor's hall, where, in addition to grabbing our race shirts as per usual, I had several missions.
The first and most important was at the Sparkle Athletic booth, where the amazing team there had a white skirt in a small for me in exchange for the XS I had bought. (The XS does fit but the S covers a bit more butt, so, you're welcome.) In thanks for their consistently stellar customer service, I gave them some mini bottles of Puerto Rican rum. This is now my currency; someone tell Captain Jack Sparrow.
Second: sunglasses! I accidentally left my (thankfully v. cheap) cat eye sunglasses on the bus last trip, and I knew exactly the pair I wanted to replace them with: black Goodr sunglasses. Happily, they were in stock! Erika got a pair too, because the more your outfit matches the more powerful you become. We are MIGHTY!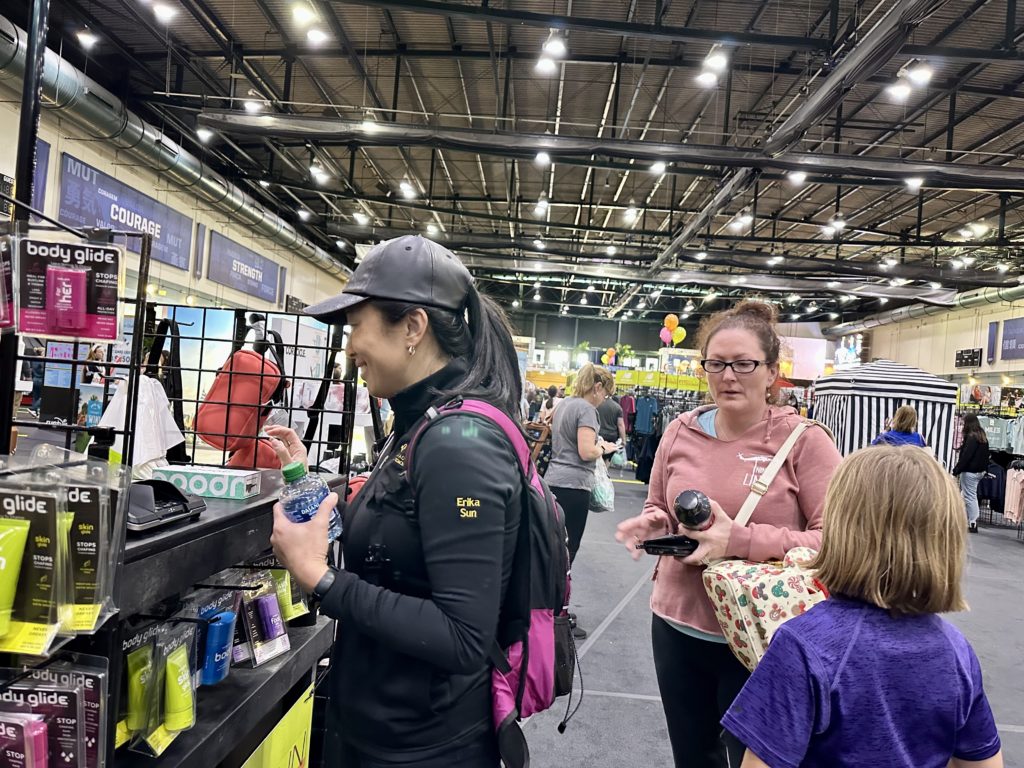 Since we were there anyway, I also took a minute to purchase some Honey Stinger chews for the race. These turned out to be clutch; I just wish I'd picked some better flavors. Neither orange blossom nor cherry blossom really did it for me. Fruit punch FTW!
We then took the obligatory trip through the official race merch hall, but, uh… look, don't get mad at me. I know everyone is in looooove with the '90s theme of the weekend. But I, um, think… it was all……….. ugly. I'M SORRY. Also will runDisney PLEASE stock more frickin' coffee mugs? I cannot get a mug to save my life, and NO, travel mugs do not count. Ah, well. Saved some money anyway.
On our way out, we availed ourselves of more photo ops. Like I said, it's a thing I do now.
Having finished up with the expo, we hopped a bus back to All-Star Sports. We took a quick spin through the gift shop before heading back to our room for a brief siesta.
Then it was time for Disney Springs! I always seem to have the best luck with Disney Springs buses; one showed up in short order. The only thing that sucks is that sometimes the All-Star resorts share buses, which was the case here, and it's invariably a mess. But that was okay, because I was just happy to be there. We still made it to Disney Springs eventually, which is what counts.
Here I had yet more missions! Well, one mission, really: I wanted go to Sephora so I could replace my Patrick Ta Fantasia palette, which had arrived in the mail with one color completely shattered. Sephora doesn't do exchanges online, but they will do them in store, so I brought my flawed palette down with me. Serendipitous timing, no?
Finding a replacement turned out to be a very simple affair – Disney magic! I figured I'd take advantage of my good luck by shopping for a cosmetic I am traditionally terrible with: concealer. I cannot color match my stupid skin to save my life. And by the same miracle that fills all Disney trips, I found a Kosas concealer that matched my face beautifully. If Sephora also sold lotto tickets I would've bought one.
After this successful venture, we headed over to Maria & Enzo's. We were about 40 minutes early for our ADR, but they let us check in anyway and seated us soon after. Review forthcoming! Minor spoiler: it was… fine.
By the time we finished our dinner, we were just about ready to call it a day. But there was one Disney Springs store that still sang its siren song to me: the Marketplace Co-op.
Is it my favorite just because of the Dress Shop? I mean, yeah. Is there still a Dress Shop? Not exactly, no! The area once occupied by retro dresses and novelty handbags was now filled with random Marvel stuff. Hmph.
No need to panic: we found the Dress Shop stuff after all; it had just been absorbed by the Disney Style store next door. Nothing particularly stood out to us, though, so after some unhurried perusing we walked back to the buses and headed home to our resort.
After a pit stop for water at the food court, some showers, and some general futzing about, it was bedtime. Day one, down!
Don't forget, you can follow FRoA on Twitter @fairestrunofall and on Instagram @fairestrunofall. If you have any questions or thoughts, leave a comment or email fairestrunofall@gmail.com. See ya real soon!