It's my favorite annual trip report – my WDW Marathon trip! See all the posts in this trip report here. Onward!
I booked an ADR at Maria & Enzo's for two reasons: 1. As a Disney Springs restaurant, there's no park ticket needed to go, and 2. PASTA!
After all, what's more widely beloved than a pasta meal before a marathon? And current research suggested that carb loading should start before the day before the race, so visiting an Italian restaurant the Friday ahead of the marathon seemed perfect.
And it was perfect, as far as carb loading went for me. Alas, it was somewhat imperfect in other ways, which I will enumerate here.
Things started off on the right foot: the staff was very kind and accommodating when we asked to check in early, and we were seated within 10 minutes later. Everyone we encountered, including our host and waiter, was friendly. The space is cavernous, but it wasn't too loud, and the repurposed airport design was nifty. The restaurant was clean, and we had a lovely table by the window, overlooking the hot air balloon, no less.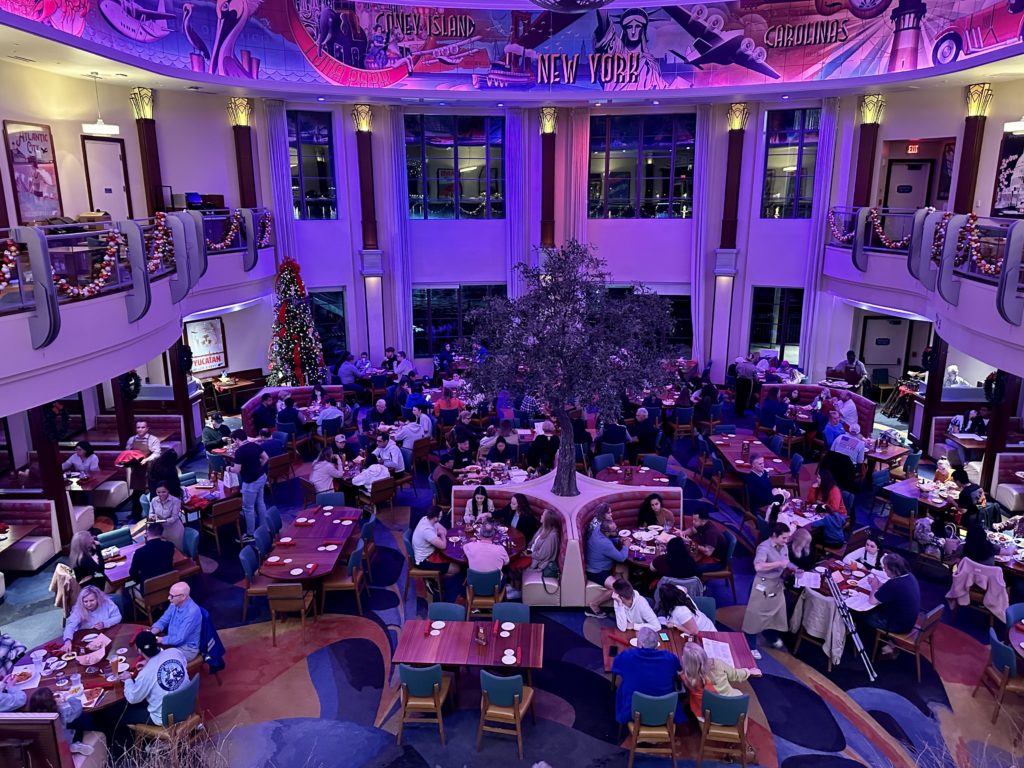 Our server showed up soon after we sat down, and Erika and I both selected drinks. I went with the Italian Margarita (Lazzaroni Amaretto, Cointreau, Espolon Tequila, Sweet and Sour Salt) and Erika got a seasonal cocktail, Coquito, which is a Puerto Rican holiday drink made with coconut, condensed milk, and rum, among other things. It may be worth noting that the cocktail list on the internet was different from the menu in restaurant. (By the way, you can follow along with the full menu here.)
(Apologies for the mood lighting; everything was red in there!)
Our drinks were very good in terms of flavor, but the alcohol was practically nonexistent as far as we could tell. Which is a shame, because I'm quite fond of tequila. Alas, this is not a place where drinks pack a punch – unless we just got unlucky.
Shortly after we ordered our entrees, and this is where things started to get a little weird. Erika ordered the Costina di Manzo: Braised Beef Short-rib, Creamy Polenta, Fontina, Roasted Carrots, and Onions. All good there.
I proceeded to order the Torchio Alla Vedure: Housemade Pasta, Asparagus, Cipollini Onion, Cherry Tomatoes, Parmigiano, Basil, Calabrian Chili, and Toasted Bread Crumbs. Would it be possible, I asked, to have it without tomatoes?
The answer was no.
That was odd, but upon being assured they would be easy to eat around, I stuck with my selection.
Our orders came out like 5 minutes later. Maybe less.
A minute or so after that, our bread basket arrived.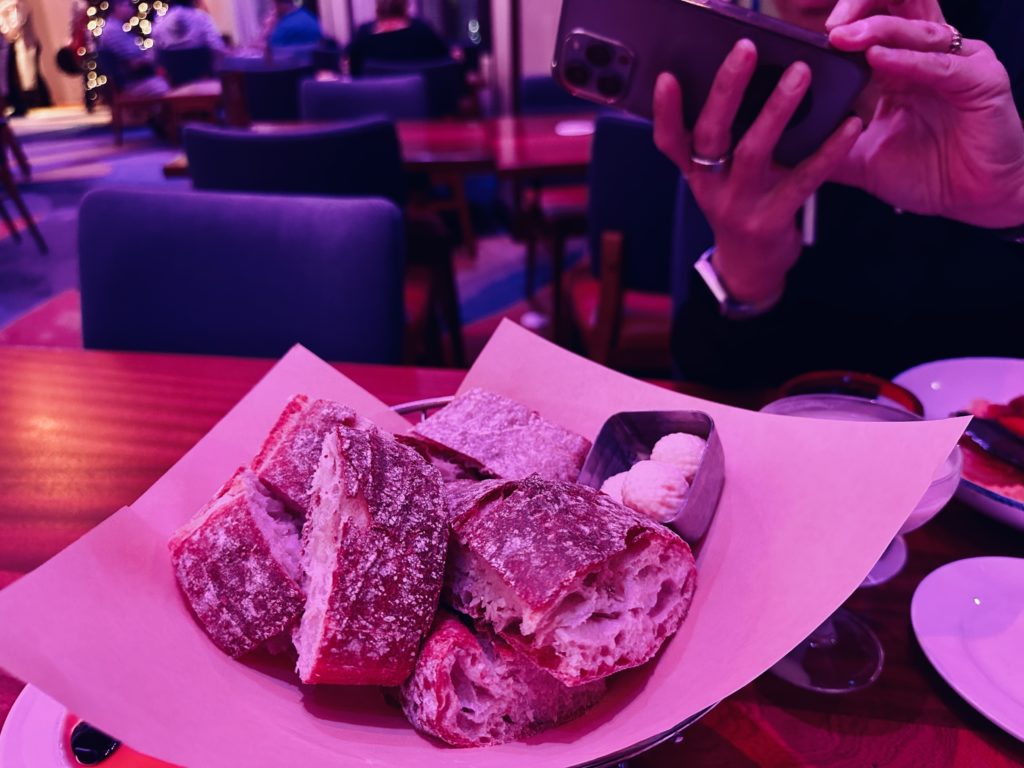 Isn't that odd? And Erika said that while the flavor of her dish was good, it was cold.
My pasta was quite tasty, with the pasta cooked to an expert al dente and the parmigiano and basil lending it an appealingly earthy flavor.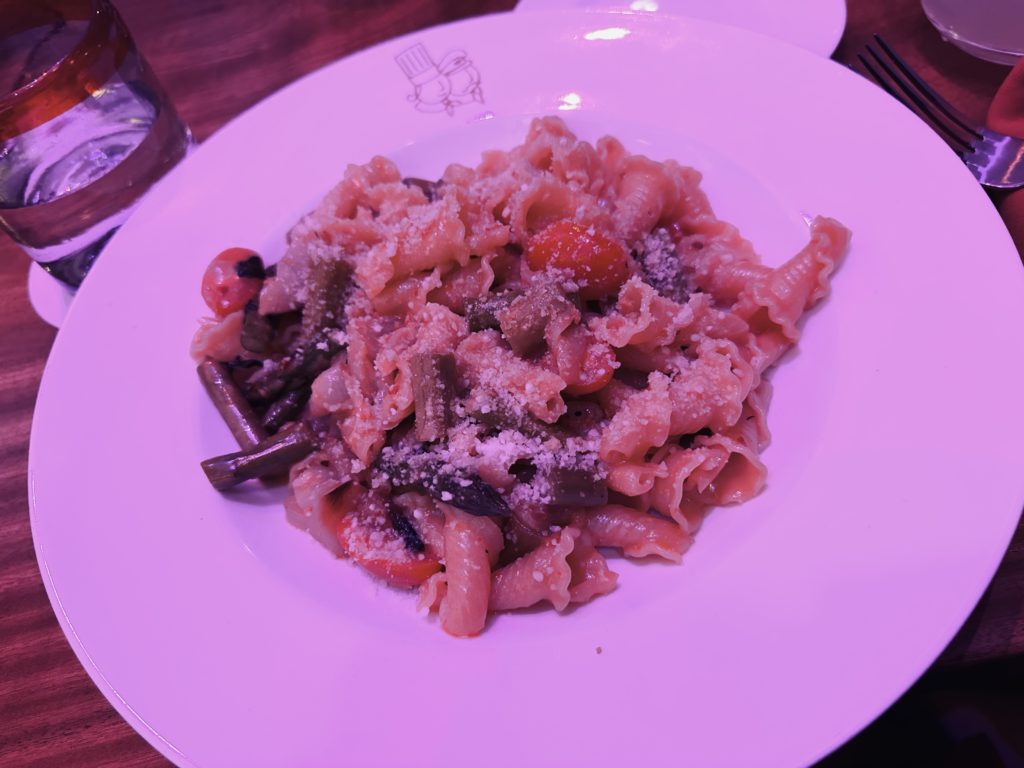 The bread was delicious as well, served with both olive oil and a salted butter that was delivered soft. I hate it when restaurants send out cold, unspreadable butter.
But… let's recap:
I was denied a substitution. Okay, fair enough. But our entrees were delivered in mere minutes, before the bread even arrived, and Erika's wasn't properly heated. I'd say that all points to one thing: food is being prepared en masse in advance and delivered when ordered. Little to nothing is being made to order.
That's fine for a counter service restaurant or Food & Wine Festival kiosk or whatever, but that doesn't feel right for a mid-price sit down restaurant.
Look, this is admittedly just a theory. I didn't go back into the kitchen and I have no inside intel re: how their operation works. But if the boot-shaped shoe fits, you know?
As it stands, nothing about the experience makes me eager to revisit Maria & Enzo's. I'd call this one a swing and a miss. It's not a bad restaurant – I certainly wouldn't actively warn you away if you had an ADR – but it did not impress. And at WDW, where any number of things are designed to impress, that's disappointing.
But hey, at least I got those pre-race carbs in, right? That's what ultimately counts!
Don't forget, you can follow FRoA on Twitter @fairestrunofall and on Instagram @fairestrunofall. If you have any questions or thoughts, leave a comment or email fairestrunofall@gmail.com. See ya real soon!