Hooray for trip reports! Today's post is all about our day one meal at Chef Art Smith's Homecomin' in Disney Springs. Read all the posts in this report here. Onward!
We went back to Chef Art Smith's Homecomin' restaurant in Disney Springs at Pat's specific request, and it did not disappoint. I know that, as Anton Ego so famously said, we thrive on negative criticism. None of that here today, folks, so let's see some smiling faces! And follow along with the menu if you're so inclined.
I've reviewed Homecomin' before (because it is that good and also I am terrible about bloggability), but for those who are new, Homecomin' is a southern-style restaurant that specializes in fried chicken particularly. The eponymous Chef Art Smith is a native Floridian, and the food, drinks, and ambience are all meant to evoke the traditions of the state.
As such, the environment, food, and staff are all friendly, casual, and chill. I for one love that, but if you're after the formal and fancy, I suggest going elsewhere. Still with me? Good, because it's time to order some drinks!
DRINKS AT HOMECOMIN'
My favorite fruit by a landslide is watermelon, and my favorite liquor is tequila, so there was no question what I was ordering this time around: the Spicy Watermelon Margarita! This decidedly up-my-alley libation comes with jalapeno-infused tequila, Dobel Barrel-Strength Anejo, chili simple syrup and fresh watermelon.
That last bit pleased me enormously; I love when my watermelon drinks come with a watermelon snack! As for the drink itself, it either did not feature a heavy pour or the syrup and watermelon are working very hard to cover it up. It wasn't terribly spicy, and indeed, reminded me of a watermelon Jolly Rancher. It was tasty and I certainly wouldn't dissuade you from ordering it, but I think I'll go for more moonshine next time.
Pat went with the Tropical Itch: Woodford Britton Barrel Select Bourbon, Plantation OFTD Rum, Cointreau, passionfruit, pineapple and lemon juices garnished with your very own bamboo back scratcher. While he's a big Woodford man, he said the drink itself was a perfectly serviceable if unremarkable tropical cocktail. HOWEVER, he LOVED the backscratcher it came from for some reason? He took it home with him and wants to get another one to take to work. 🤣
FOOD AT HOMECOMIN'
For entrees, Pat got the Fried chicken sandwich: buttermilk-brined for 24 hours and hand-battered, dressed with hot sauce, aioli, iceberg lettuce, tomato and bread and butter pickles. The menu says it's served with house-made chips, but he was offered and accepted French fries.
Now this delivered: it was his second-favorite meal of the entire trip, only overshadowed by a much fancier and more expensive New York strip at Yachstman Steakhouse. Deceptively simple just going by its description, Pat felt like all the flavors provided a perfect backdrop for a spectacular fried chicken breast. Highly recommended.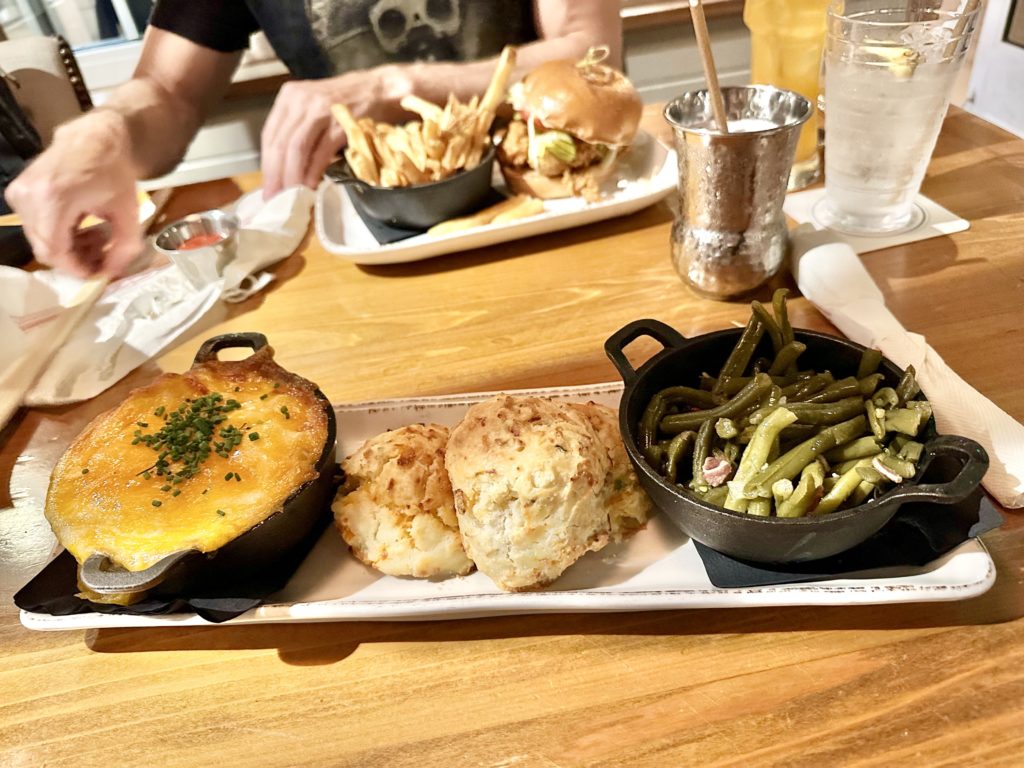 I had a race on my schedule, so I elected to carb up with a kitchen plate, which is where you select any three side dishes to make up your meal. It was a tough call, but I elected to try the cheddar drop biscuits, mac and cheese, and southern green beans (which my server warned me contain bacon, so take note, strict vegetarians).
Holy smokes, was this a winner in my book! I mean, we know the cheddar cheese drop biscuits are incredible, but did you know that you get three of 'em and they are just as delicious for breakfast the next morning? Because I do. I'm not sure if the mac and cheese has changed since the last time I had it or what, but it was way better than I remembered, with a delicious top crust of melted cheese and perfect internal pasta texture. The green beans were the least inspired of the three, but I mean, how much can you really do with green beans? They were fine. I ate a vegetable and felt good about it.
WAIT! … THERE'S [NO] CAKE?
Tragically, we were once again too full for dessert, which means I once again left without trying the hummingbird cake. Oh, well; gotta go back AGAIN, I guess. For science!
In conclusion, if you're looking for delicious food AND potentially great carb-loading for races, Homecomin' is a slightly off-book selection I would heartily recommend. You've already done pre-race Italian like a million times, yes? Give biscuits a go! They do not disappoint. 😊
Don't forget, you can follow FRoA on Twitter @fairestrunofall and on Instagram @fairestrunofall. If you have any questions or thoughts, leave a comment or email fairestrunofall@gmail.com. See ya real soon!