Hooray for trip reports! This trip report covers my April 2023 trip for the runDisney Springtime Surprise Weekend. Read all the posts in this report here. Onward!
Hello and welcome back to my favorite kind of post: the trip report! It's my favorite because a) I get to go to a theme park, usually Walt Disney World; b) I then get to tell you all about it; and c) I can then relive it any time I want forever. Because the internet is forever, I hear. So why not increase the Disney ratio?
This particular report starts out boring the best possible way: our flight was fine; heck, it landed a smidge early. Given the mid-afternoon landing time and the fact there were two of us, I chose to risk an Uber rather than reserve a slightly cheaper but more time-consuming Mears bus. We were at the Dolphin in record time!
Oh, yes: for this trip we stayed at the Dolphin, because architect Pat came with me and he's a HUGE Michael Graves fan. It's a bit more expensive than a moderate resort tier, but for a hotel categorized as deluxe it is WAY more cost-effective than other Boardwalk resorts. The location alone is unmatched.
We checked in at the desk because we were using a federal room rate, and in theory we expected them to ask for Pat's government ID (they did not, but I probably wouldn't count on it if you don't organically cop the discount). Our room was ready, yay! Ironically, it was almost the EXACT same location as last time I stayed at the Dolphin, only on the eighth floor this time. Not a primo view of Epcot or the Studios, but we could see Cinderella Castle waaaay in the distance, and that's not too shabby either.
I changed my clothes, slapped on some makeup, and left Pat to wander the hotel in search of architectural wonders while I headed to the race expo.
So I've mentioned I'm trying to save a little money, and also I don't find shopping alone nearly as fun when there's no clear objective. As it turns out, you can really speedrun the whole expo if you don't buy anything. I grabbed my bib, picked up my race shirt, and got a picture with the 10 in record time. Fiscal responsibility: faster! Less fun. 😅
A bus for the Dolphin was waiting for me, and I zoomed back to the resort to find Pat at the hotel pool bar, beginning a sketch of the building (don't worry, you'll see it before this trip report is over).
From there it was time for Disney Springs! The Swan Reserve bus was closest to the bar, so we walked over there to pick up the bus. Happily, from there it was a direct shot to Disney Springs; no further bus sharing.
The Dolphin bus drop off/pickup is on the opposite side of Disney Springs from where the official Disney resorts are stationed, and we entered near the Cirque du Soleil tent. I don't remember having to go through bag check on the normal side near Coach? But maybe I'm misremembering.
At any rate, there was a security checkpoint on this side, and Pat got pulled (I forgot to tell him to take his umbrella out of his backpack; my bad). While he got that sorted out, I hightailed it over to Gideon's Bakehouse to snag us a place in the virtual queue. To my shock, I was quoted a wait time of only an hour and twenty minutes?! On a Friday afternoon just before 5, no less!
This was actually a potential (relative) problem, as Pat and I were hoping to get the dark coffee cake cookie, which is only available after sundown. Luckily the Gideon's queue CM assured me that I could show up at any point after I was called, so we could stall until the sun went down. Whew!
Pat had escaped security's clutches by that point, and I met him at the outdoor bar in Paradiso 37. Neither of us had had a drink for about six weeks at that point, and to break our alcohol fast he felt only a margarita would be appropriate. Thus we toasted the beginning of our trip. (More on this – and other bar/restaurant experiences – later.)
After that we had a bit of shopping to do. Pat wanted to replace his current, worn out Sanuk sandals, and as the Sanuk shop is right across the street from Paradiso 37 we went there first. He picked out some v. squishy flip flops that I must confess I am jealous of. I might have to get a pair myself.
Next up: Uniqlo for – wait for it – SOCKS. Why does Pat always seem to discover he needs more socks at WDW? Anyway, he needed some black no-show socks, and Uniqlo delivered.
This concluded Pat's to-do list, and by coincidence around this time our Gideon's virtual queue spot came up. We still had time to kill before sunset, though, so I was free to drag him around some additional shops.
Obviously I started with the BEST store at Disney Springs: The Marketplace Coop. If I ever win the lottery, I am starting in The Dress Shop and I am leaving no article of clothing behind. Alas, as of that moment I was still on a No Buying Anything Less Than Perfect kick, so I had to content myself with looking. We also poked around some of the connected stores, tried the Sprinkles Cupcake ATM (per Pat: disappointing), got Pat another margarita from nearby Dockside, admired the detailing at Morimoto's, and listened to the musicians at the Tonsil Tickler bar before finally heading to Gideon's for our nighttime visit.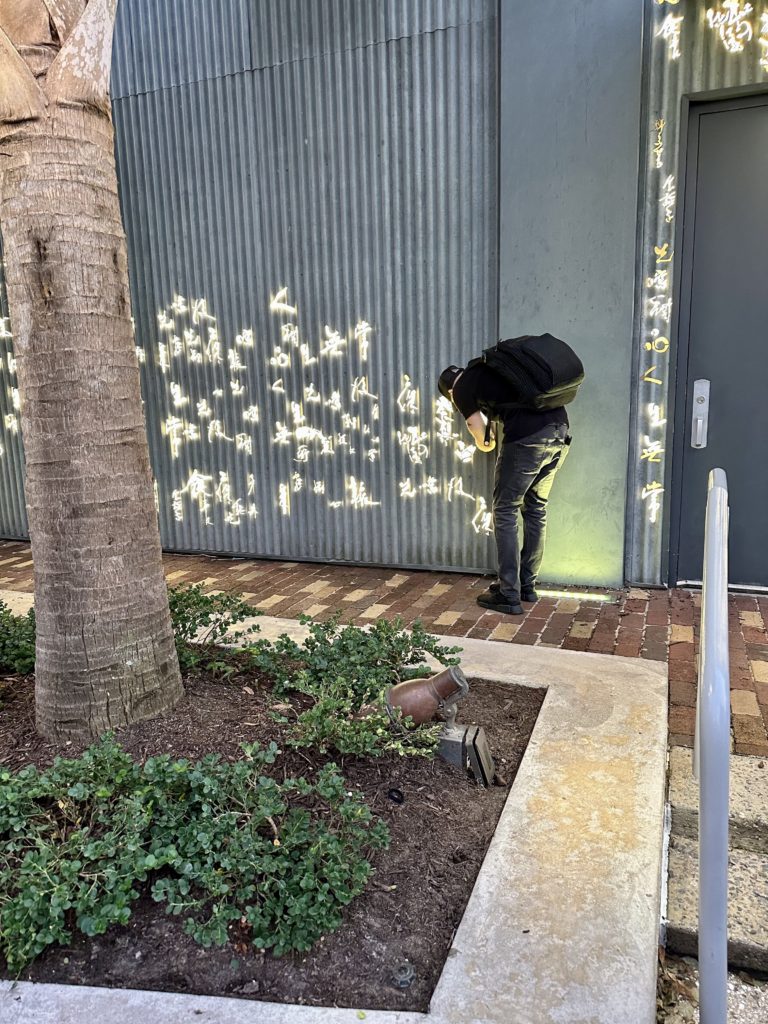 Speaking of places I could easily blow out post theoretical lottery win, I could easily clear out some Gideon's merch. Once again: alas, not today. Instead we contented ourselves with a full compliment of the eight cookies allowed, plus a slice of cake and an iced coffee. The CM who packed our order was very receptive to our enthusiasm for the place, which is always a nice touch.
Gideon's bag in hand, we then headed over to Homecomin' to see if we couldn't sneak in ahead of our rather late reservation. We could, and we did! Full review to come in my next post.
This did not conclude the evening, however – on the contrary, Pat wanted to check out Raglan Road. We found a spot at the truly frickin' ENORMOUS bar, and were treated to a show! Not only was there a trio of musicians performing Irish drinking song favorites, we also caught the last stepdancing performance of the night. I wonder if anyone sitting at a table right next to the dance platform has ever gotten decked? 🤔
THEN we were, in fact, done with Disney Springs for the day. We picked up the bus back to the Dolphin, performed our evening ablutions, and headed to bed. Day one down!
Don't forget, you can follow FRoA on Twitter @fairestrunofall and on Instagram @fairestrunofall. If you have any questions or thoughts, leave a comment or email fairestrunofall@gmail.com. See ya real soon!