Sometimes, I think runDisney is coming for me, specifically: I'll say no, I won't register for that race… then they drop the race theme and I GOTTA REGISTER. (Hello, Figment for this year's Wine & Dine Challenge!)
So I'm signed up for Wine & Dine, and I'm signed up for the Goofy Challenge in 2024. But after that, I'm planning to take a year off runDisney in advance of a hopeful 2024 Dopey run. That's the plan, anyway. I'll run other races. It'll be good to branch out.
But it did get me to thinking… even with this clear and set plan, are there any race themes runDisney could drop that would completely undermine my resolution? I racked my brain, and while I don't think any of my ideas are super likely, I did come up with some that would pull me out of my temporary retirement. Let's review, shall we?
Starting with the furthest out of left field:
THE RACE THEME: IMAGINEERING
Likelihood of coming to fruition: 0/10
The race medals I'd want: Rolly Crump 5K, Mary Blair 10K, Tony Baxter Half, The Imagineering Story Challenge
The race medals they'd probably offer: Joe Rohde 5K, Joe Rohde 10K, Joe Rohde Half, Joe Rohde Challenge (No shade to Mr. Rohde, a deserved legend, but they sure do trot him out a lot)
There's no way they're going to theme a race weekend to actual people. But HOW MUCH FUN would a medal with Tony Baxter's magnificent mustache etched in metal be? Too much fun to exist, I imagine(er). Alas. Anyway, he's my favorite. Someday I intend to name a dog after him.
THE RACE THEME: EXTINCT ATTRACTIONS
Likelihood of coming to fruition: 1/10
The race medals I'd want: Horizons 5K, Dreamfinder 10K, Mr. Toad Half, ExtraTERRORestrial Challenge
The race medals they'd probably offer: Mr. Toad 5K, 20,000 Leagues Under the Sea 10K, Splash Mountain Half, Snow White's Scary Adventures Challenge [Alternately: they wouldn't]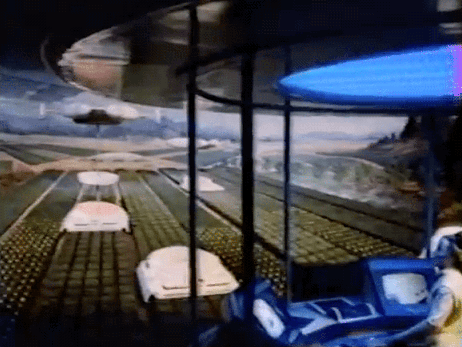 As much as I love this idea and as much as I think runDisney AND regular Disney aficionados would go absolutely rabid for it, there's no way Disney is going to open themselves up to more fan complaints. We hardly ever shut up about bygone attractions as it is.
THE RACE THEME: THE NIGHTMARE BEFORE CHRISTMAS
Likelihood of coming to fruition: 3/10
The race medals I'd want: Mayor 5K, Sally 10K, Jack & Zero Half, Lock Shock & Barrel Challenge
The race medals they'd probably offer: Zero 5K, Sally 10K, Jack Skellington Half, Oogie Boogie Challenge
A Tim Burton-themed race weekend would be more likely, but I can't think of any Tim Burton x Disney films with the same devoted fanbase as TNBC. Maybe Beetlejuice (which would be GREAT) but Disney would have to partner with Warner Bros. for the rights and I don't see them wanting to share. Although I think they now own Edward Scissorhands since they bought Fox? Anyway, TNBC is pretty beloved, so I don't think it's completely out of the question, just highly unlikely for the shallow theme pool.
THE RACE THEME: THE DISNEY RENAISSANCE
Likelihood of coming to fruition: 6/10
The race medals I'd want: Max 5K, Prince Adam 10K (I just think the confusion would be funny, but if you don't like this glib approach you can sub in Iago), Pain & Panic Half, Shenzi Banzai & Ed Challenge
The race medals they'd probably offer: Flounder 5K, LeFou 10K, Hercules Half, Simba & Nala Challenge
They already did a '90s-themed Marathon weekend, but it was just generally '90s. A lot of Disney Afternoon cartoons and bad pop music. Boo. Meanwhile, I was born at the exact right time to enjoy the full Disney Renaissance as it unfolded; it can't be bought, baby! Why shouldn't Disney want to remind us of the boom times?
(As an offshoot, it probably wouldn't tempt me personally, but maybe a Disney Princes weekend could get some traction? Wait, I take it back; if Li Shang is included I'm in.)
THE RACE THEME: THE MUPPETS
Likelihood of coming to fruition: 9/10
The race medals I'd want: Electric Mayhem 5K, Swedish Chef 10K, Sam Eagle Half (stopping in the middle is distinctly unpatriotic), Dr. Bunsen Honeydew & Beaker Challenge
The race medals they'd probably offer: Miss Piggy 5K, Gonzo 10K, Kermit the Frog Half, Statler & Waldorf Challenge
I know that they're not on my "I'd want" medal list, but theme the challenge to Statler & Waldorf and I'm already sold. As it is, I feel like I might be on to something with this one, especially if that Electric Mayhem redesign of Rock 'n Roller Coaster makes it out of the rumor mill and into reality. Disney horrifically underutilizes Muppets in the parks (and generally), so this would be welcome change.
HONORABLE MENTIONS: ONE-OFF CHARACTERS THAT WOULD MAKE ME WANT THAT MEDAL
Maybe the whole race wouldn't be themed to them, but if they were on a medal I'd want it. I mentioned Figment above, and I already have a Mulan medal. Ditto for Chef Louis (although my cat did pee on that one…). I would also give Disney my money for Wall-E, Kevin from Up, Darkwing Duck, Li Shang, Sam Eagle, and Sgt. Tibbs & The Colonel from 101 Dalmatians, just to name a few off the top of my head. I would also go all in for the Haunted Mansion. Or just about anything parks related – to be honest, I'm a parks fan before anything else.
HOW ABOUT YOU?
See anything you like on my blue-sky list? What runDisney race themes would be irresistible to you? Or are you one of those people who guns for a perfect season? If so, you wouldn't be interested in bankrolling me too, would you? Because it seems like every single race is really themed to Scrooge McDuck. 😅
Don't forget, you can follow FRoA on Twitter @fairestrunofall and on Instagram @fairestrunofall. If you have any questions or thoughts, leave a comment or email fairestrunofall@gmail.com. See ya real soon!