The only thing that can heal the heartbreak of the end of a Disney trip is a painstakingly detailed trip report. Here I am again to give you the full rundown of my Wine & Dine Half Marathon Weekend WDW extravaganza, because it is who I am and what I do. Know thyself, etc. So let's do this!
We begin report the best way a trip report can: with the brief anecdote that my flight down was smooth and everything went according to schedule. Hooray! Trip buddy Erika was on a similar schedule to me, and we met up at the Mears bus pickup point for our journey to Pop Century.
Unsurprisingly our room was not yet ready upon our early morning arrival. The race expo didn't open until noon anyway, so there was no great rush. We had a magnificent outfit planned for the day; we changed in the bathrooms by the arcade before settling in the mostly abandoned "business center" (read: spot they put some computers and a printer that formerly housed payphones) to do our makeup. Always pack a hand mirror, folks!
After that we checked our bags and grabbed some lunch in the food court, at which point it was finally time to hop the bus to the expo. Bib and shirt pickups were smooth, and we were soon free to peruse the exhibitor hall. Although not before I forced Erika into some photo ops:
My primary purchase goal was to choose some new Goodr sunglasses, as I had recently lost one of my old pairs to an early morning run and a traitorous leggings pocket. I had my sights set on some aviators this time; while there was a model frontrunner in my mind, I obviously had to try on, oh, all of them. But I was right the first time: Call Me Tarmac Daddy was the winner! Not because of the name but it's a nice bonus.
We also stopped by the Sparkle Athletic booth to consider possible skirts an accessories to plus Erika's tomato outfit (don't worry; all will become clear by the end of this post). She wound up selecting a beautifully leafy green skirt and some super shiny red arm warmers. I kind of want some now too. New goal for next expo!
Clearly we couldn't leave the expo without stopping by the official race merchandise area, but even early on day two the array was largely decimated. There were no race jackets to be had – none! I did like the Figment challenge hoodie BUT the only sizes left were small and medium… and they were both MINISCULE. They looked like they'd be sized for tweens. You would think Disney would've cracked the sizing algorithm by now. Oh, well; good for my wallet, I guess!
The good news is that race photo ops abounded: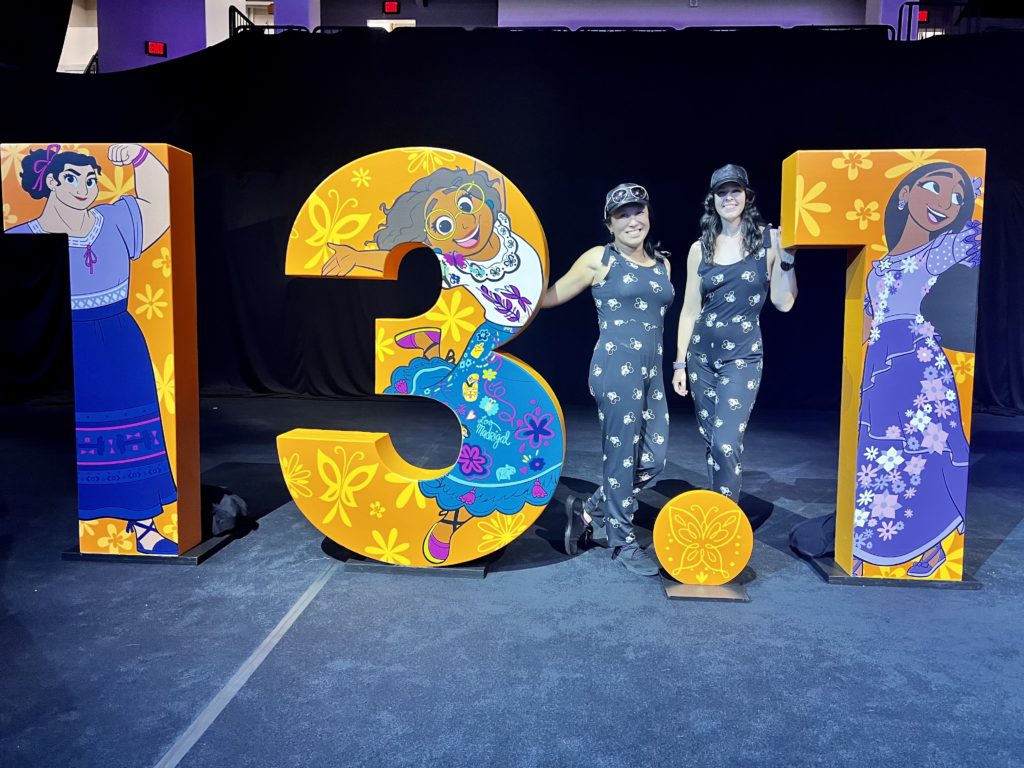 Our existence at the event thus documented, we slipped onto the bus back to Pop to theoretically drop off our stuff. Alas – despite the 3pm check-in time coming and going, our room was still not ready. We decided to cut our losses and just head to Disney Springs immediately. My cousin-in-law Kate was waiting for us there and we didn't want to keep her waiting!
Our first stop was Gideon's – Kate already had a virtual queue spot for us, but we wanted to peruse a menu so that our buy would be properly planned. Our next move was a pit stop at the Joffrey's coffee store for lattes – I might actually prefer Joffrey's to Starbucks? The line was nonexistent, which was nice.
Next up was a thorough exploration of Uniqlo, where I fawned over quite a few things but largely stuck to my shopping list of comfy tank tops. Oh, I did make one impulse purchase in a pair of running pants; I mean, they were on sale and had SIDE POCKETS. I think by this point I don't need to explain how I feel about side pockets (SIDE POCKETS OR BUST).
Kate found us at Uniqlo, and our little band made its way over to Gideon's for our cookie adventure. In addition to my maximized cookie haul, I picked up some cake for after the half marathon. This is my new favorite runDisney tradition!
It was getting a touch late in the day to be futzing out for the night before a race, but I had one more item on the docket: Sephora! I had a 15% off code and every intention of using it. We all mucked around a little with fun cosmetics before making our purchases and trotting back to the buses and our respective resorts.
Upon arrival at Pop, Erika and I dumped our stuff in our room (it had become available shortly after we left for Disney Springs). We grabbed some dinner at the food court, took some showers, knocked out our race prep, and then it was beditme! (But not sleepytime; I notoriously do not sleep well-to-at-all the night before a race. Just wait until tomorrow evening…)
Tune in to my next trip report installment for my Wine & Dine 10K race recap!
Don't forget, you can follow FRoA on Twitter @fairestrunofall and on Instagram @fairestrunofall. If you have any questions or thoughts, leave a comment or email fairestrunofall@gmail.com. See ya real soon!