The Wine & Dine 10K began with step one of any runDisney race: I bolted straight out of bed before 2:30am. Whew, disaster averted. At least I didn't use the in-room telephone wakeup calls this trip; those things are TERRIFYING.
I crept through the room in an effort to not wake Becky (she was not running the 10K and had arrived late the previous night), threw on my Sullen Tomato Girl race outfit, and choked down a pre-race Pop Tart. Erika soon being ready as well, we soldiered off into the night.
There were tons of event buses waiting for us, and we were at the race start in seemingly no time. Naturally we stopped to take the obligatory 4am Spaceship Earth photos. Ya gotta!
It was a touch chilly when the wind blew, but with my arm warmers and woolen hat I wasn't in such bad shape. Erika let me cuddle with her a bit, which helped. A real trooper, that Erika.
Erika and I wanted to run the 10K of our challenge run together, and while the bib checkers in front of corral C gave my B a double-take, there was no resistance (runDisney is historically fine with dropping back, just not jumping forward). The corral was already packed, but we pushed forward as far as we could before setting up camp. When it came time to divvy up the group, the paper divider was directly behind us.
In the meantime, the wait was marked in the usual runDisney way: a mixture of deejay dancing, crowd work, weird video ads, and announcer chatter. But the time did pass, and finally we were off!
Part of the reason Erika and I work as running buddies is that we have a similar pairs philosophy: let's all err on the side of companionable silence. I happened to bring my Shokz bone conduction headphones on this trip, and I turned on some music to fill the first couple miles on the road.
As a rule I don't pay too close attention to the pre-released course maps as I like to be a bit surprised as I go. I was delighted to discover that the 10K course has improved markedly since the last time I ran it – we got to run through Disney's Hollywood Studios!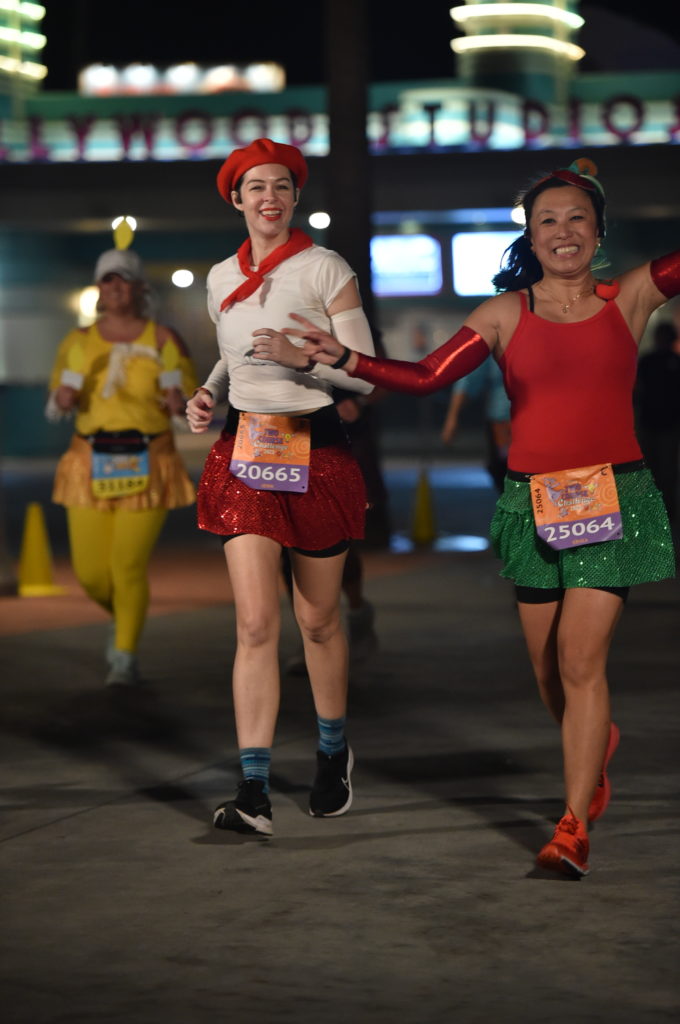 Another thing that has improved since last time: spacing. Yes, runDisney races are increasingly congested the further back the corral, and yes, most of the character lines were too long to even consider dealing with, but we didn't run into nearly as many running-in-place boxed-in tangly messes we did during our last 10K jaunt. Admittedly this was corral C, not the very last corral like last time, but hey, improvement's improvement! Maybe this multi-wave corral system is helping.
Speaking of characters, we stopped for a nifty photo op in the Studios – I can't believe there wasn't a longer line for these Beauty & The Beast stage musical dancers!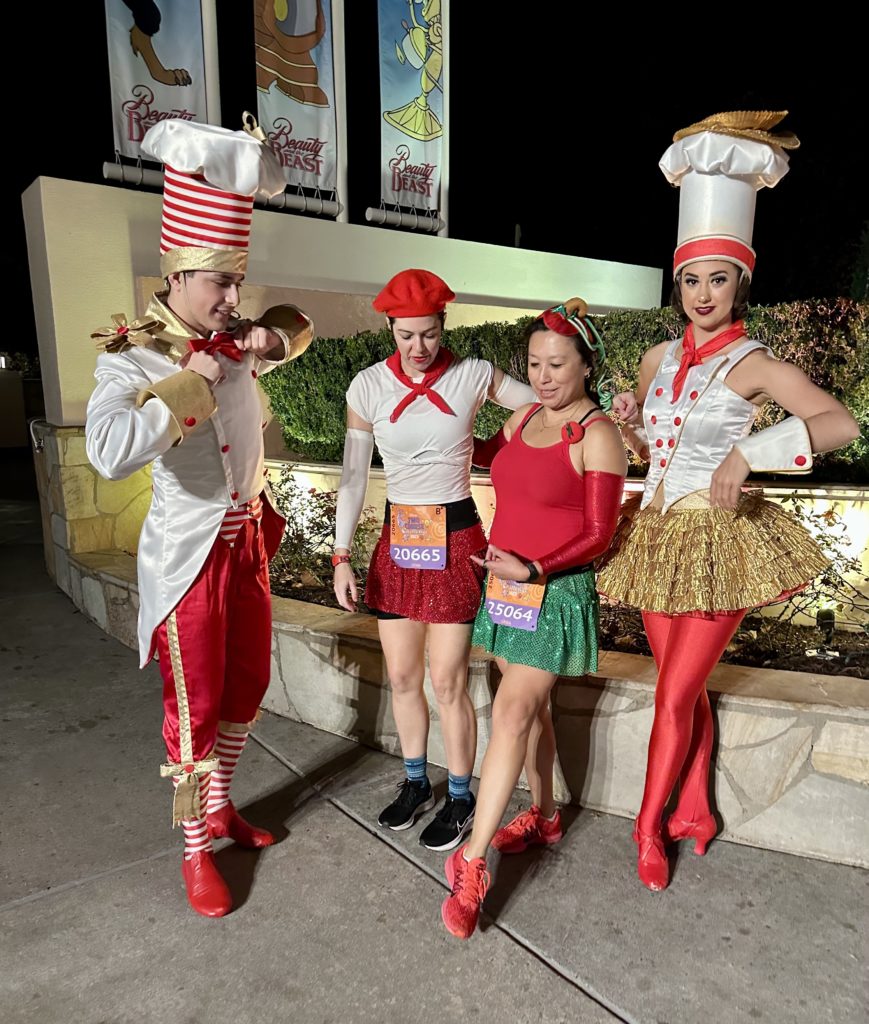 After traipsing through Toy Story Land, Batuu, and Sunset Boulevard, we were forced to bid goodbye to the Studios and spill back out onto the road. We settled for a selfie of two caballaros by the gondola station; the line was simply longer than the cared to deal with. Luckily we didn't spend too much road time here, quickly finding ourselves on the Boardwalk and soon after that back in Epcot!
The whole time I had been keeping our pace pretty chill in light of the half marathon that awaited us the next day. Erika was feeling her oats, though – I kept having to call her back to me! Sorry, Erika; I ruined your PR attempt. 😅 I mean, a Sullen Tomato Girl can't be without her tomato! But the good news is we felt nary a trace of fatigue that whole time. Conversational pace (minus the conversation).
Epcot is always a fun finish, although we did skip World Showcase almost completely which was a bit of a bummer. No matter; it was still inspiring as always to see Spaceship Earth loom into view! We took the opportunity to stop for Lewis from Meet the Robinsons, as the line was criminally short. Mind you, I'm happy we didn't have to wait, but Meet the Robinsons is SO underrated. (Incidentally, this is the only time I remembered to be Sullen. runDisney just makes me too happy, okay?!)
And that was just about game! We exited Epcot and found ourselves in the finisher chute. Arms up when you cross; it's the law.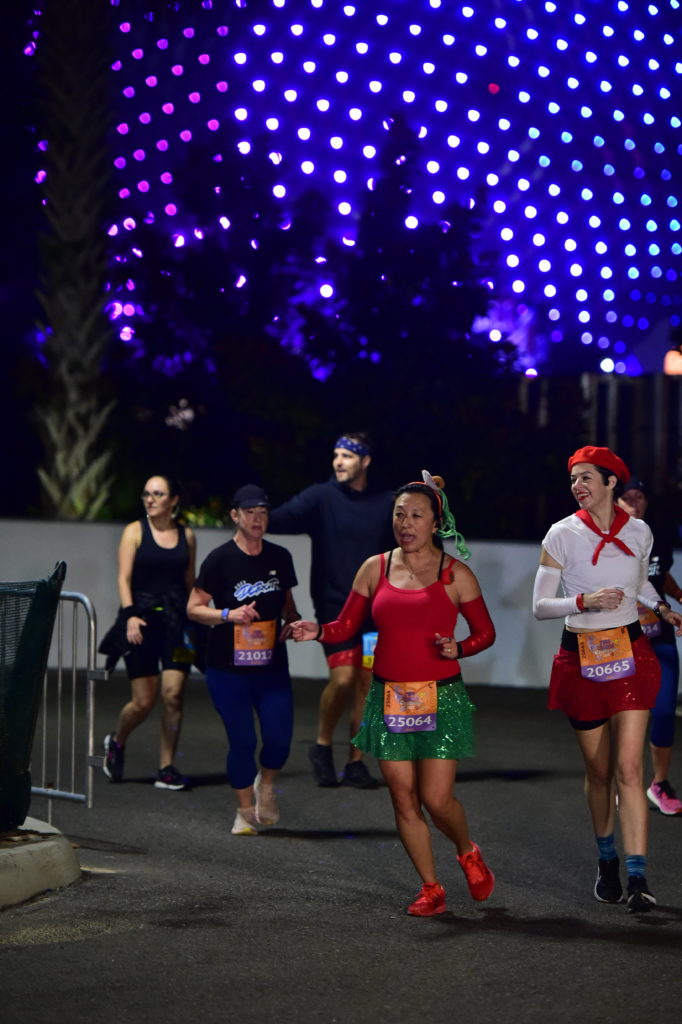 There were no Photopass photographers by the runDisney step-and-repeat banners, so we took matters into our own hands with a selfie. Then we gathered up our snacks and drinks and basically just went straight for the resort buses. It was still dark out and everything!
All in all, a good start to the Two Course Challenge. Tune in next time to find out how we celebrated in Epcot!
Don't forget, you can follow FRoA on Twitter @fairestrunofall and on Instagram @fairestrunofall. If you have any questions or thoughts, leave a comment or email fairestrunofall@gmail.com. See ya real soon!