Hello and welcome back to another pre-Disney wardrobe rundown! If nothing else, it helps me assemble my packing list.
Also back: my terrible photos. I swear, every time I go to shoot these pictures the weather conspires to make my already sketchy lighting conditions ABYSMAL. It was overcast the whole frickin' time. Well, you can still get the idea.
And I hope you will try to get the idea despite my inadequacies, as we have some really fun ideas this time around! Becky and I always try to coordinate our outfits when we go to Disney together, and since Erika is game for anything and everything we'll have some pretty sweet triads going down, sartorially speaking.
Let's take a look at what I'll be shoveling into my suitcase, shall we?
DAY 1: RACE EXPO
Erika and I both have this Cakeworthy jumpsuit AND the same WDW50 ballcap. Twinsies! Neither are currently in production, but the Mickey jumpsuit was so popular I wouldn't be surprised if Cakeworthy brings it back some day. Aren't the shoulder ties cute?
By the bye, you can use this affiliate link if you want $10 off (your first purchase I think) at Cakeworthy. No pressure. They're currently doing 50% off their Halloween stuff, which includes Nightmare Before Christmas and Haunted Mansion IP. They don't sponsor me; I just thought you might like to know.
DAY 1.5: DISNEY SPRINGS
I decided to check a bag this trip, so I'm going crazy with the outfit changes BECAUSE I CAN. I recently picked up the goooooorgeous purple floral tunic dress from H&M, and as I have not really had anywhere suitable to wear it I've decided to make up an occasion; namely, Being At Disney. The walkway is my runway. Vogue, baby, vogue!
DAY 2: EPCOT
I'm putting together my second-ever Disneybound! After the smashing success of Wall-E & EVE, we've assembled some pretty sweet Finding Nemo ensembles. I will be the Dory of the group, as you can clearly see from my color palette.
The dress is still available at H&M. I recommend sizing down; I'd go for an XS next time. Alas, Disney is not currently producing any yellow ears.
DAY 3: DISNEY'S HOLLYWOOD STUDIOS
At last, my Batuu outfit gets its big day out! Bright suns, kids. Ignite the spark or whatever.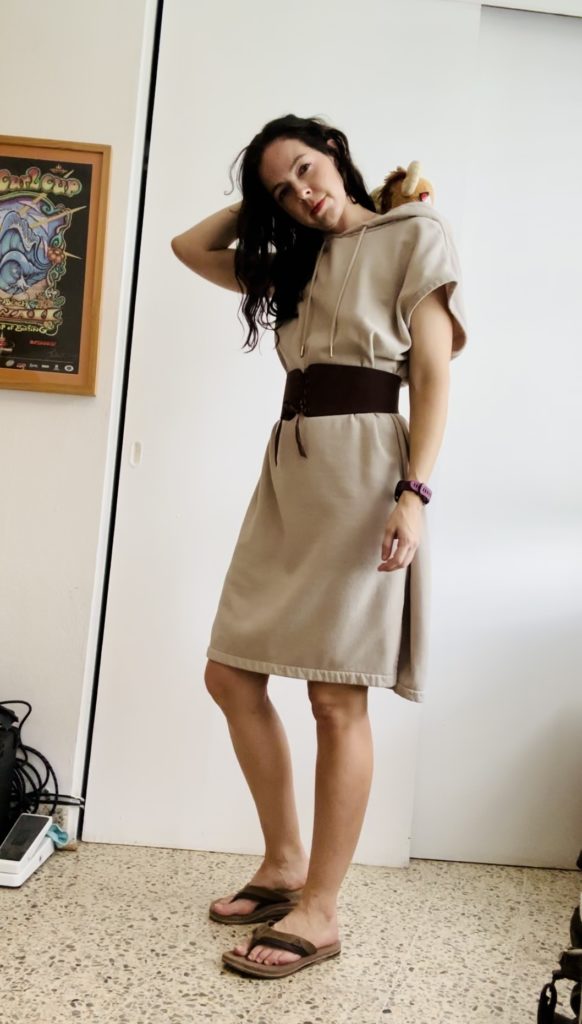 DAY 3.5: WINE & DINE RACE AFTER PARTY
I'm checking a bag and drunk with power!!! With all that extra suitcase space, I'd be crazy NOT to make a costume change. In this particular case, I'll be changing into – wait for it – men's Disney100 pajamas. I know, it sounds crazy, but I flatter myself that I've managed to style it into something more than it individual parts. Bonus points for being very very comfortable. The pajamas are still available on H&M, but they're running low-to-sold-out on most sizes so don't wait if you're into it. I'm still trying to decide if they look best with my rainbow ears, red ears, or my WDW50 hat.
DAY 4: EPCOT
Objective: the new Figment meet and greet. Corollary mission: the perfect Figment outfit. I snagged this super-cute Figment sweater off shopDisney by the skin of my teeth last winter (I literally got THE LAST ONE OF ANY SIZE), although I was still seeing the matching skirt in TrenD as of August. I don't see the Figment ears online right now, but I'd imagine they're still for sale in Epcot?
DAY 5: DISNEY'S HOLLYWOOD STUDIOS
The Great Movie Ride will never die as long as I'm around. On my last trip I wore my Casablanca t-shirt; for this jaunt, we'll be heading over the rainbow with a Wizard of Oz-inspired outfit. I got the blue gingham BB Dakota romper off Thredup a couple years ago, and while I haven't seen the sequined rainbow Minnie ears in a while, Disney's always pumping out more rainbow ears for pride. Or, wait, should I wear the red ears to evoke Dorothy's ruby slippers? Things to ponder. Oh, here's a Thredup affiliate link with 45% off your first order if you want one.
WHAT ABOUT MY RACE OUTFITS?
It's a mystery! That mystery will be solved the day before each race on my Instagram page. They're ride-themed this year and I'm v. excited! Erika and I are doing a doubles costume for the 10K, and my costume for the half involves GLOW STICKS (unless the glow sticks don't work, so please cross your fingers on my behalf). Follow me now! Do it! Do it!
HELP ME COMPLETE MY DISNEY WARDROBE
You may have noticed I'm undecided on which head accessories to choose for some of these ensembles. Want to help me select the right topper? Head on over to my Instagram Stories and vote in the polls. Truly I can't make these decisions without you. Can't wait to see everyone for Wine & Dine!
P.S. Platform Chucks are soooooooo much more comfortable than regular Chucks. If you want the look of Converse in your Disney photos without killing your feet, I recommend you snag yourself some platforms.
Don't forget, you can follow FRoA on Twitter @fairestrunofall and on Instagram @fairestrunofall. If you have any questions or thoughts, leave a comment or email fairestrunofall@gmail.com. See ya real soon!