MOON: Okay, let's do tea!
JENN: We did the afternoon tea in the Grand Floridian's Garden View Lounge for the first time in June of 2008. There have been many changes since then, some positive and some negative, but it is the one WDW restaurant I have returned to more than any other. I think my count is up to… I dunno, five times? Six?
Anyway, Moon and I went again in February, so we figured we'd talk about it, because it is awesome.
MOON: I was just looking at photos of our tea yesterday. Yuuum. 😀
JENN: The Garden View Lounge is located on the first floor of the Grand Floridian, at the back of that vast lobby area. It's scarcely even its own room, just kinda roped off up a few stairs in a vestibule. The walls are almost entirely made of window and the views of the grounds are lovely. I love watching the cast members go by and their adorable Victorian outfits with the caps and the knee pants!
The Garden View Lounge afternoon tea service can be purchased a la carte or in certain pre-set prix fixe menus. We almost always get the Grand Tea, largely because of the dessert options, but we'll get to that!
The first thing you do when ordering said Grand Tea is select your tea. The teas are loose leaf and brewed individually in personal pots. Unfortunately, the tea menu condensed awhile back, deleting my favorite tea, the cassis. Still, the selection is good and the quality is high. I want to say I got the Mad Hatter tea last time? It was a lightly flavored black tea and very good. You're given lump sugar and milk if you want your tea English style.
They put your teapot in a tea cozy to keep it warmer. And cuter.
The little strainer is for putting over your cup as your pour, to keep
the loose tea leaves out.
MOON: I have no memory of what I picked, but I'm pretty sure I would have picked a black tea. So, one of them.
JENN: The Grand Tea also comes with champagne, although you can substitute sparkling cider. This we did on this particular occasion, as we were running the Princess Half in a few days and didn't want to overdo it on the alcohol. The strawberry wedged on the edge of the glass is a nice touch!
Another time, this coulda been champagne!
The Grand Tea comes in three courses, alongside your tea and champagne/cider. The first course is tea sandwiches. These had been pretty much the same over the three or four years I had them – and then on this last tea, they changed!
The most important thing about the finger sandwiches I want to mention, however, is that they are easily customizable to fit certain diets. Moon is a pescetarian, which means she'll eat fish but no meat. The sandwiches include chicken salad as well as duck wrapped in… um… prosciutto? Some pork product. The waitress was happy to sub the chicken salad for a second smoked salmon sandwich and the duck for an extra onion tart.
Other sandwiches include (if memory serves) a cucumber sandwich, an egg salad sandwich, and a pear and gorgonzola sandwich (shrimp salad sandwich wasn't included during this run – maybe it'll make a return or maybe it's been permanently replaced?). I think they'd have to make you something different if you're vegan, but vegetarians should be pretty easily accommodated by doubling up on the sandwiches they can eat. Of course, it never hurts to call ahead! They can probably make completely new sandwich combinations as well with a little notice.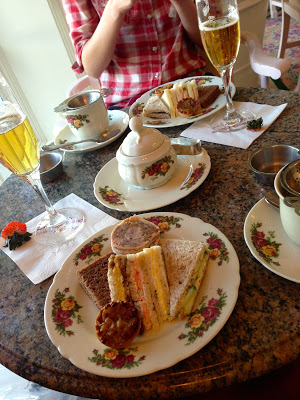 The chicken salad sandwich has curry and is Jenn's favorite!
MOON: The first time I went to tea with Jenn was around four or five years ago and at that time I was vegetarian to the max and I remember not having a lot of options. This is not to say that I did not enjoy it! The tea is really why I'm there, anyway. But yeah, if you're vegetarian you'll probably want to call ahead, and if you're vegan you definitely will.

JENN:  The second course consists of a delicious scone with Devonshire cream and what I believe is strawberry jelly and a strawberry jam tart (again, I'm pretty sure it's strawberry but my memory could be fritzing; let me know if you know it to be raspberry). These are of course exceptionally tasty, but they've changed the presentation of the jam and cream. The latter used to come in a pretty whipped dome shape, and the former used to arrive in its own personal little jam jar. Not that either of these things have any bearing on the taste, but I kinda miss 'em…
The final course is your choice of either two pastries chosen from a little tray or English trifle. We can't really speak to the pastries because we ALWAYS get the trifle, and I'm going to let Moon take this one because she has such an uncharacteristically effusive take!
MOON: I approve of the trifle! As you can tell by my lack of input that I do not have a strongest memory… But I remembered the trifle from our trip a few years back and had to have it again in February. It's delicious – kind of like strawberry shortcake, with cream.
JENN: It has gotten WAY fancier. Formerly they just brought you some trifle in a bowl that had clearly been scooped out of a larger receptacle. Now it's all artistic!
Trifle back in the day up there.

Trifle now below!

MOON: Retrospectively, I think I would have opted for just the tea and the trifle, because honestly, I was pretty full half way through our meal. Jenn, did we finish the trifle?
JENN: We did! Yeah, a la carte might not be a bad idea, although the individual prices are a bit high… the package meals tend to be a good deal by comparison (some of these are smaller; some larger, so you have options). Maybe split a Grand Tea and buy an extra pot of tea and trifle. Great way to save money and have room for more Disney snacking later. But people with hearty appetites may want to buy their own Grand Tea. And be sure to budget a fair amount of time – we average about an hour and a half for the entire meal and lingering over tea.
MOON: I mean, if you haven't had the whole grand tea experience: you should. I think the experience really stands out from what WDW has to offer – from a dining AND ambiance perspective.
Don't forget, you can follow FRoA on Twitter @fairestrunofall and on Instagram @fairestrunofall. If you have any questions or thoughts, leave a comment or email fairestrunofall@gmail.com. See ya real soon!