It's unthinkable. To name a favorite attraction at Walt Disney World is to name your favorite child. You're not supposed to play favorites! It's supposed to be an impossible choice!
But I can. If asked, I can name my favorite thing at WDW. Go on, guess. Of all the rides, shows, and characters, what is my very favorite thing?
I'll give you a hint: if it had been discontinued in favor of the questionable Avatar land, it would have meant the end of true happiness as I understand it.
Here, I'll give you a bigger hint:
Yes. It's the Festival of the Lion King. Of all the things, I love it most. In fact, I often see it twice in a given trip! Let me explain.
I'm not going to go into a long explanation of what it is, exactly, since the information as readily available and I think most readers are avid WDW fans anyway. Suffice it to say, FotLK uses the music and characters of Disney's The Lion King to form the skeleton of a performance. It is NOT, as so many other shows are, a retelling. The loose storyline is that Simba and his friends are holding a festival of sorts, and as such there is much singing and dancing.
Here are some of the reasons I think FotLK is so great:
First things first: what's the ROI on this baby? I think of attraction ROI in terms of wait time vs. experience time. While it's certainly better to get to the theater early so as to claim your preferred seat, audience seating in the theater is HUGE, and since the show is in the round, there aren't really any bad seats. Under all but the most extreme crowd circumstances, if you show up five minutes before the show starts, you'll see it. And that show is a good, solid 35 minutes long.

Since it's not, as I said, a retelling, it's not rushed. Voyage of the Little Mermaid, the Beauty and the Beast stage show, Finding Nemo: The Musical – they're all well done (especially the latter!), but because they're doing 90 minutes of movie in 30 minutes or less, plot points naturally get a bit crunched together. FotLK skips right over the exposition and just does the awesome songs you love with great choreography. It is its own perfect whole.

Which brings us to point three: the FotLK music comes straight from the movie. And, um, if you don't love The Lion King soundtrack I'm going to need you to go to sit in a corner and think about where you're going wrong with your life. Oh, and in my experience the lead singers are always excellent.

The choreography is wonderful too! The dancers are seriously talented and the dancing is a wonderful mix of African tribal dance and more traditional modern technique. There's even some whimsy thrown in, plus some aerial work (which frankly I find to be the most boring part of an otherwise enthralling show, but most people seem to like it) and more atypical performances such as gymnastics and a fire… guy. Twirler? You know the guy I mean.

The performers have great charisma, and many of them go out of their way to interact with you! I mean this is beyond stuff like making eye contact. I was once at a late performance and a girl behind me was sitting alone. When he wasn't performing, the lead singer wandered into the bleachers, sat down next to her, and chatted with her a bit. I've seen dancers make funny faces for cameras, bump fists with audience members, the works. And of course there's the singing along, the hand jive, and the parade of kids.

Therein lies the repeatability of the show. Because of the freedom the performers have to interact with the audience, it is never the same twice. I spend most of my time watching the backup dancers instead of the main characters for this reason.
My FAVORITE incident happened when Moon and I were there in February. We were sitting in My Spot, which is the right hand side of the lion section, on the edge and up a couple rows. One of the Tumble Monkey acrobats came up to the section and started high-fiving the little kids in front of us. We figured he'd stop before he got to us because, well, we're not kids, so who cares about us? Yet he came up to us and high-fived us both – then turned to me, grinned, KNOCKED ON MY FOREHEAD LIKE YOU WOULD A DOOR, and scampered off. It was HILARIOUS. Thinking of it still makes me laugh. And that's the sort of thing that makes WDW for me.
Not convinced? Here are bunch o' photos I've taken over Lord knows how many years and performances. Apologies for the varying quality; I've had a lot of phone cameras in my time. Experience the glory!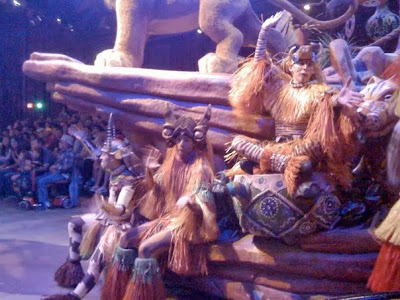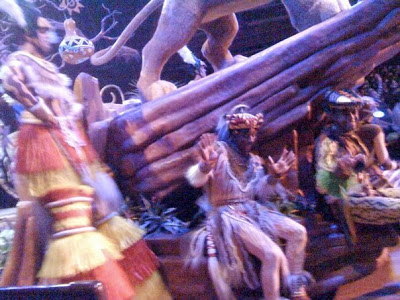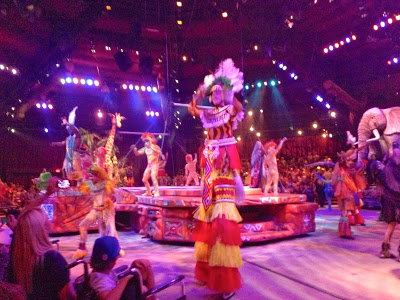 Don't forget, you can follow FRoA on Twitter @fairestrunofall and on Instagram @fairestrunofall. If you have any questions or thoughts, leave a comment or email fairestrunofall@gmail.com. See ya real soon!