JENN: So, running fuel snacks. They're important, one way or another. There are three categories: pre-run, mid-run, and post-run snacks. I'm ignoring mid-run snacks because I'll have a blog post about that next week, but for today I'd like to start with pre-run snacks – Moon has her own take on this!
MOON: Pre-run snacking = >:(. I hate eating before a run. So… I'm a little useless for this topic, but I never eat before I run.
JENN: Regardless of length, regardless of time?
MOON: Yes. For long runs I sometimes cave and eat something in the event that I get low blood sugar, but it is entirely out of fear. When I am close to home I will not eat anything, though.
JENN: Did you eat before the Princess Half? I can't remember. I know I had a Clif bar.
MOON: I had part of a Clif bar. I think I was really nervous, but that's the only time I've ever eaten before a run on purpose.
JENN: Myself, I ALWAYS eat before a run, but I try to avoid it DIRECTLY before a run when I can.

MOON: What's your favorite?
JENN: I usually shoot for an hour out from my run for digestion time, in case my stomach wishes to protest for whatever reason. After much experimentation, I've found that less is more.
Lately I've been eating a handful of semi-sweet chocolate chips and a Perfectly Simple bar. I like them because every flavor has 10 ingredients or less, and they're all pronounceable. Oh, and they're a little less calorific than a lot of other bars. They're also gluten free if you're into that. I find it's enough to keep me going but not so much that it weighs me down.
Brief tangent: I do this with the Perfectly Simple bars, but I've done it with Clif bars too and there's no reason it won't work with others. I often eat a bar after work if I'm going straight to ballet class, and I leave the bar in the car to prevent myself from snacking on it earlier in the day. I've found that, if conditions are right, the heat of the car will essentially bake the bar, and it'll turn warm and soft like a cookie. You've got to work with the weather – keep it out of the sun lest it melt in the summer, and directly in sunlight in the winter – but it works. Don't attempt it with any bar with a yogurt or chocolate coating, though; that's just asking for a mess!
Where was I? Right, pre-run snacks. For awhile I was eating almond butter on a gluten-free frozen waffle and a smoothie but I found that was just too MUCH.
MOON: Smoothies are better after, I find. Although, for me everything is better after…
JENN: Now, you do eat post-run, correct?
MOON: Yes, most of the time!
JENN: Any go-tos?
MOON: I like to drink lots of water and wait about a half hour to an hour before I actually eat anything solid. In a perfect world where I get to run before a meal, I like to have fish with some whole grains. If it's just a snack, I usually just eat some fruit.
JENN: No toast?! [Moon is a major proponent of toast.]
MOON: Well, I can put the fish on toast. 😀 Okay, so I'm sure you have a more interesting after-run snack!
JENN: I actually don't always eat AFTER runs! It depends on how I feel.
Occasionally, if I've pounded particularly hard and/or long, I actually get a little sick and shaky-feeling, and I NEED to eat. Then I usually reach for almonds or another protein bar – something with real sustenance.
For runs of ten miles or more, regardless of how I feel, I almost always drink some coconut water, to replenish carbs and electrolytes. Although I'm starting to wonder if that shouldn't be a pre-run thing.
If I'm feeling only moderately hungry, I'll often make a smoothie of almond milk, frozen fruit, spinach, and orange fiber powder (let me know in the comments if you'd like me to do a recipe post, although I'll warn you that it's a) simple and b) inexact ;). Delicious, nutritious, and hydrating! If I'm not hungry, I just stick with the coconut water. No need to force things, y'know?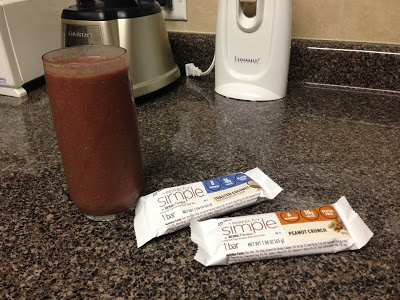 Jenn's favorite frozen fruit for smoothies: raspberries!
Favorite flavor of Perfectly Simple bar: peanut crunch!
MOON: I would really like to have one of those smoothies right now… I would also like to have time to RUN, but we can't have everything. We're going to have a blog celebration when I go on my next run. (I'll think of something fun!)
JENN: Yay! Hoping you can make the Annapolis Light House Half. 🙂
What are your favorite pre- and post-run snacks? Let us know in the comments!
Don't forget, you can follow FRoA on Twitter @fairestrunofall and on Instagram @fairestrunofall. If you have any questions or thoughts, leave a comment or email fairestrunofall@gmail.com. See ya real soon!