JENN: Apologies for the delay in Week In Review-ness! I was in Ocean City for the long weekend and Moon and I were just able to talk today.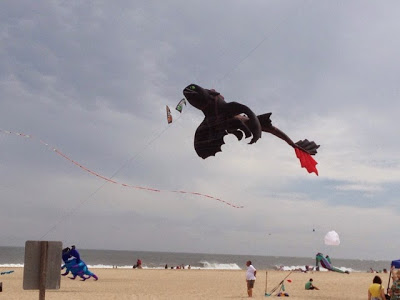 And I know How to Train Your Dragon isn't Disney but I couldn't resist
posting this photo of the Toothless kite I saw on Sunday.
Anyway. How'd the whole running thing go last week?
MOON: It was bland, but steady. No remarkable things happened that I can recall (exciting, I know).
JENN: Me too. Well, I did some longer runs which was good. I know I shouldn't be too reliant on the treadmill but I've done more treadmill runs the last week or so and it's improved my morale. Mind you, still working on the outdoors thing (I ran outside Monday – more on that later this week), but at this point whatever boosts my run-esteem is best! I think I need new sneakers, though.
MOON: Me toooooo.
JENN: I'm debating if I need to go through the whole fitting process again right now. I've been experiencing some mild hip soreness of late but I think that's likely a function of my sneakers being way overdue for replacement. My knees continue to be in good shape and that's traditionally my problem area.
MOON: I've been thinking the same thing because of some shin issues. As much as I hate to think of abandoning my asics…
Any goals for the week?
JENN: I'm taking it quasi-easy… ish… for the rest of this week as I want to pull out an 18-20 miler next week. Then tapering starts for the Marine Corps Marathon. How 'bout you?
MOON: I'm actually hoping to start organizing a team to do the Race for Research 5K. It's November 16th and benefits Multiple Myeloma research
JENN: Ooh! If you don't mind me being crazy-slow because of post half marathon/ballet show fatigue I could potentially do that.
MOON: I have some friends who are not runners who will probably join us, so that's perfect. 🙂
JENN: Awesome. And speaking of awesome – roundup!
– Run Eat Repeat runs early and late.
– Also late – Run Walk Fastpass Repeat fuels up for night racing.
– Peanut Butter Fingers considers the best sports bras for small chests.
– Fairytales and Fitness gets psyched up for the Goofy Challenge.
– Pink Elephant on Parade navigates the Tower of Terror 10-Miler.
– Running at Disney described the ChEARing experience.
– My Glass Sneaker ponders runDisney packing.
– A Pinch of Pixie Dust goes on the Wild Africa Trek in DAK.
– MousePlanet traces the history of the first-ever Disneyland ticket sold.
– Beers and Ears pes into the brews of the Food & Wine Festival.
– And for my fellow locals – Busch Gardens Williamsburg's Howl-o-Scream has begun.
Don't forget, you can follow FRoA on Twitter @fairestrunofall and on Instagram @fairestrunofall. If you have any questions or thoughts, leave a comment or email fairestrunofall@gmail.com. See ya real soon!