Can you run without music? I can – to a point – kind of – but UGH. I also sweat. Therefore, running-specific headphones are a must for me.
Which is why I was so incredibly distressed when I couldn't find my yurbuds last week – they're the headphones with the in-ear twist-lock buds, and then the model I use also has over-ear hooks. I got out my backup pair and it promptly shorted out. Naturally.
Sure, I could buy another pair, but for the immediate future I was in a bit of a bind. So I got clever.
Yurbuds come with multiple bud covers so you can find the best fit for you. I busted out my unused covers, slapped them on some old iPhone earbuds, et voila!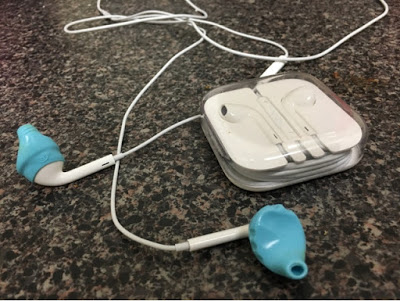 Did my jury-rigged running headphones work as well as the real deal? Eh, not quite – they didn't feel AS secure; they can't twist and there's no hook. Did they work for an hour of running? Absolutely!
I don't want this to be a permanent fix for my headphone problem. Luckily, I found my missing pair and all is now right with the world. But – what if I lose them again? What if they short out too?
I can buy another pair of backup yurbuds, but I've now had two pairs die on me. A Twitter follower suggested Bose Sport headphones, but they're kind of expensive… still, if they actually last, it'd be cheaper to get one pair than to be constantly replacing my yurbuds.
In the meantime, it's good to know I have a stopgap measure in place!
What type of headphones do you use for running?
Don't forget, you can follow FRoA on Twitter @fairestrunofall and on Instagram @fairestrunofall. If you have any questions or thoughts, leave a comment or email fairestrunofall@gmail.com. See ya real soon!