Okay.
So.
This Sunday is the Marine Corps Marathon.
This is my third one, so I should not be nervous.
I am not nervous.
I am NOT nervous. I know I can do it.
In fact, I feel more confident going in than I ever have before. Injuries? None! Training? Solid! 20 mile prep race? Not bad! Weather? Unusually warm which most people won't like but I'm into it and no rain predicted so far! Course changes? May even trick me into a morale boost!
I think, maybe, there might be a PR in it for me.
Just maybe.
Therefore: am I nervous about running this marathon? Not really, no.
Am I nervous because I want to run a PR? Yes.
And that's where I am going into this race.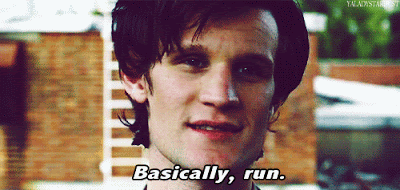 Wish me luck!

Are you running the MCM? Where's your head at?

Don't forget, you can follow FRoA on Twitter @fairestrunofall and on Instagram @fairestrunofall. If you have any questions or thoughts, leave a comment or email fairestrunofall@gmail.com. See ya real soon!