Trip report time! I'll be covering my November 2016 trip. You can read all posts in the trip report here. Onward!
I was lucky enough to have a bus to Pop waiting for me after the half, and I was back in my room and showered in no time flat. A choice was presented to me: did I want to make the wise choice and take a much-needed nap? Or did I want to head to Animal Kingdom and use my Kilimanjaro Safaris Fastpass?
Kilimanjaro Safaris, duh. I changed and bolted for the bus.
Which took foreeeeever to show. Tons of people were waiting so I missed the first one to come along, and then when it finally did it was blocked for several minutes by a race bus offloading in the wrong area. I watched the clock nervously, aware that there was a 15 minute grace period after my FP window closed and there was a good chance I'd need every second of it.
I hit security with a challenge: make it from bag check to the safari in no less than 15 minutes. I was fairly confident that if I explain my bus difficulties and pointed out that I was but a single person the CMs would let me through, but it's so much easier just to follow the original plan, y'know? Anyway, I made it with five minutes to spare, a testament to my speed and crowd dodging skills. If you ever accompany me to the parks, be prepared to power walk.
It wasn't a super great safari – I'd hoped that my early morning FP would translate to frisky, cooler-weather animal antics, but no dice. I did get to see the painted dogs for the first time, which was pretty awesome, and the warthogs were out and about.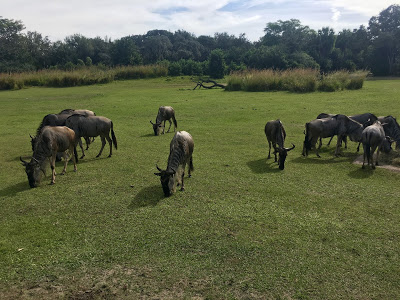 These aren't them.
These either.
My next stop was Expedition Everest, where I used my FP before hopping right back in the single rider line. Then I was off to Nomad Lounge for my drink! Review to come – stay tuned.
I had a sizable chunk of time to kill before my Festival of the Lion King FP, but plenty of ways to fill it. For starters I swung through a few gift shops and picked up a [redacted] my mom had eyed in our December 2013 trip but ultimately talked herself out of buying; figured it'd make a great Christmas present. (I don't think she reads this blog but better safe than sorry.) Love how the Annual Pass discount applies just about everywhere now.
That done, I plunked myself down on one of the stone benches near Dawa Bar and took in a series of shows: the acrobats, who were hard to see behind the crowd but had great energy, and Burudika, whom I have loved every since Estelle introduced me. They've really upped the quality of the dance instruction, with a couple of legit African dancers. Two guys hopped into the dance area who clearly had African dance training too, but they were dressed casually so I couldn't tell if they were off-duty CMs or if it was just coincidence. Made for solid entertainment, either way.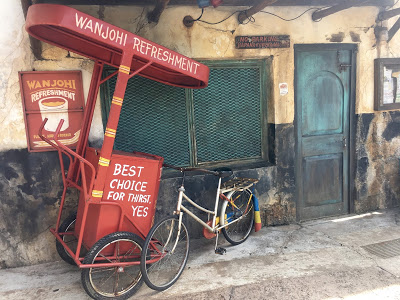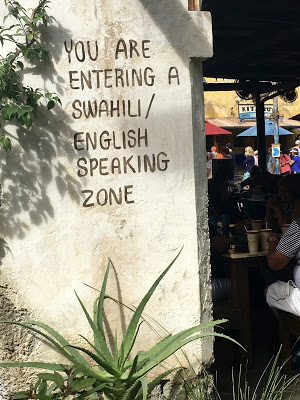 It was during this happy, decidedly chill time that I came to a realization: I think I'm ready to call it. Animal Kingdom is my favorite park. I'll try to explore this in a post at some point, but for now I'll just say that the atmosphere is unparalleled.
Burudika ended just in time for my FotLK FP to open up, although somehow when I got there there were a bunch of people ahead of me? Didn't a giant hoard get wise to the 5-minutes-early rule, or do CMs let you through in advance for show FPs? Hmmm. I managed to get my favorite spot (on the end next to the Simba float in the lion section) all the same, and enjoyed the show immensely. As is for some reason per usual, I was messed with and high-fived by tumble monkeys, which always enhances the experience.
I scooted out of the park then and picked up a bus to Epcot. No good FPs made themselves available to me, so I headed directly to World Showcase for some lunch at the Food & Wine Festival. It was cooling off a little as the sun began to set, opening me up to the purchase of mac and cheese and elderberry cider from Farm Fresh and – finally! After years – cheddar cheese soup from Canada, which was… okay. In it for the pretzel roll, really.
It was coming up on my reservation for one of those wine tasting things in the Festival Center, so I headed over there. I wandered through the Ghirardelli chocolate display and browsed the shops a bit more before getting in line behind a girl who turned about to be from Baltimore. I chatted with her and the Texan lady behind me, and before you know it we were let into the wine seminar area. Review of that experience to come!
By that point it was coming up on 6:30am and I was working on maybe eight hours of sleep over two days. I was tired – but I was NOT DONE. Step one of my Do Not Fall Asleep Initiative was a much-wanted photo with Baymax.
Pro tip: fistbump with your left hand, or whatever arm is closest to the photographer. Rookie mistake; I got flustered. I'm gonna need a redo in January.
My next act was to ride Figment, mostly to see what kind of Figment merch was currently available in the gift shop (yes, I know you can enter without riding but it was a walk-on and anyway I still LOOOVE Figment, just not his ride so much anymore). Gift shop offerings were not tempting, which is just as well but Figment deserves more.
Back to World Showcase for more foodstuffs! No, wait, scratch that; this time around it was all drinkstuffs. I got a whiskey stout from the Scotland booth (good!), followed by the Shipyard milk stout from craft beers (very good!), and then sparkling pineapple wine from Hawaii, which was too sweet but hey, bubbles.
While imbibing, I indulged in one of my favorite WDW activities, made all the easier by being alone: Aimless Wandering. I stopped short at Alberta Bound and watched the rest of their show; they're no Off Kilter but I'll take it. And then as I stepped away I could hear the dulcet tones of Queen, which I followed to the UK pavilion to catch the end of the British Revolution's set. While there I investigated the gift shop (Doctor Who!) and checked for Pooh character photo ops, but they were already done for the day. That's okay; I was repping Eeyore just fine by myself.
As I walked by the International Gateway I happened to notice a line of people waiting to check in for the race after party. I figured it was an inevitability so I went ahead and jumped into the fray. I'm glad I did it first chance I got because the lines I saw later in the night were waaaay worse. Plus I got to live out the Scrubs Coffeebucks double-line scene in real life as I found myself turning around and entering a new, separate line without even moving. Normally it is not good to find yourself the Ted Buckland in a given situation, but it saved me a few minutes.
Duly wristbanded, it was time for more food! I picked up some pork belly from Brazil (not as a buttery as I would've hoped/expected), and then the butter chicken (MORE CURRY SPICE, DAMMIT) and Jam Jar shiraz (pretty good; not too sweet) from the Africa booth.
Then I did something stupid. Illuminations was starting, and, well, I know this is sacrilege, but – I'm not all that into Illuminations. Don't get me wrong, it's good, but I don't feel a deep need to keep my eyes glued to it, y'know? I decided my time would be better spent in line for Frozen Ever After, which would hopefully be experiencing a fireworks-induced lull.
This isn't the stupid part. The stupid part is that I decided to walk around the wrong way, because, oh, yes, I am SUCH a great power walker.
Well, I am. I am indeed very speedy. But starting from I think France I still barely made it to Norway as Illuminations was ending.
I was greeted by a posted 90 minute wait for the Frozen ride, but I was willing to gamble that it was residual from before official park close. Admittedly a CM was setting up extra stanchions as I arrived, but I had come to far to turn back (back! Over the falls! … Too soon?). And I think my risk paid off – I waited, by my internal clock's estimate, about 25 minutes, which isn't too shabby, and the queue is quite adorable – it definitely serves as a worthy distraction. I think maybe they re-appropriated the old fishing village? Bonus points to Wandering Oaken's sauna.
As for the ride itself? SPOILER ALERT! Okay, well, see, I'm a lukewarm (ha!) Frozen fan at best. I've seen it once. It was cute. I liked that the true love was between sisters and not with some guy. But I can't say it does much for me beyond that. Maybe it's my own personal lack of sister? I haven't seen any of the sequel shorts nor do I feel a deep need to, although I think that does take away a bit from my appreciation of some scenes, especially the ogre-replacing snow giant thing at the drop. I guess I should see them…
Anyway. The scenes were cute. Still miss the Maelstrom. But I will say this: the arguable showpiece of the ride, Elsa singing "Let It Go" in her ice palace and sending you backward as she hits the chorus, is stunning. I'm still thinking about that one.
I was starting to really feel the lack of sleep, but I wasn't about to quit yet. I dragged myself over to Soarin' and did that again, then Test Track, which turned into a bit of an ordeal when the lab doors didn't open and the CMs didn't notice until it was pointed out to them. Not that it matters, because I zombie-built an extremely substandard fake car and then zombie-rode the ride in a weird dissociative haze made extra trippy because, well, Tron Track.
Then I rode Spaceship Earth and almost dozed off three separate times, at which point I had to begrudgingly admit that, despite the remaining hour of after party, it was time to call it. I didn't like it, mind you, but there was a very real chance I might collapse on a poor Norwegian if I attempted another Frozen ride and I can't afford to get banned from the park; I have an AP now!
Sad but secure in the knowledge that I was doing the right albeit annoying thing, I boarded a midnight bus, headed home, and went to sleep.
Next up: one more day in the place where dreams come true.
Don't forget, you can follow FRoA on Twitter @fairestrunofall and on Instagram @fairestrunofall. If you have any questions or thoughts, leave a comment or email fairestrunofall@gmail.com. See ya real soon!