The trip report proper is over, but we're not done yet – I've still got lots of thoughts, including food reviews and photos! You can see all the posts in this report here. Onward!
Our first and only real Advanced Dining Reservation of the trip was at none other than the California Grill, way high up there atop the Contemporary Resort, where the food, the view, and the prices are all equally killer.
But that wasn't enough for us. Oh no. We extended the experience by leaving the hot, crowded Magic Kingdom early and taking the resort loop monorail to the Polynesian for a couple drink in the patio at Trader Sam's.
This, my friends, was oh, such a good choice. The drinks were good, but the atmosphere was what rocked my world. And I say that having not gone inside. I KNOW, I KNOW – Trader Sam's is famous for its goofy innards. But the patio was so relaxed we couldn't bear to leave it. Pat and I chilled outside under an umbrella with lovely view of the Seven Seas Lagoon.
Our server was very nice – spread a bit thin over many tables, but we could flag her when we needed her. For round one, Pat got a Dark & Tropical Stormy, essentially a dark and stormy with the addition of something called "falernum." Neither of us had the slightest idea what that is, but he loved his drink so much that he has vowed to find a bottle for home use.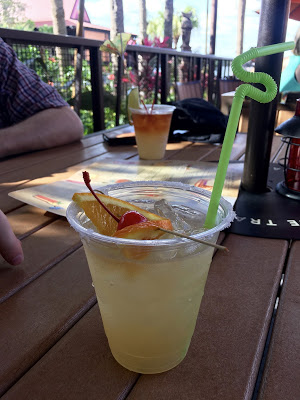 I got Rosita's Margarita. This was a margarita. I have no complaints. It also had falernum in it? I don't know what that does.
Round two: Pat got a HippopatoMaiTai, which came in a Very Happy Glass. This did not contain falernum, but it did contain something called "orgeat (almond)." It must have worked because Pat raved about it. Look how happy he is!
My second drink was the Tahitian Torch, a very fruity concoction full of tropical juices and something called "Dragon Fire Spirit." Perhaps this is another name for "falernum." Either way, I liked it – it was sweet and pleasant without being cloying.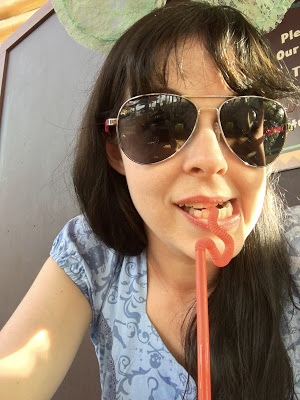 Twisty straws for everyone!
We could've happily hung out for a third or even fourth round, maybe gotten a few appetizers even, but that California Grill ADR was calling us. Post about that coming soon!
Don't forget, you can follow FRoA on Twitter @fairestrunofall and on Instagram @fairestrunofall. If you have any questions or thoughts, leave a comment or email fairestrunofall@gmail.com. See ya real soon!