The trip report proper is over, but we're not done yet – I've still got lots of thoughts, including food reviews and photos! You can see all the posts in this report here. Onward!
One of the perks of upgrading to a moderate resort is expanded food options – for the most part, the resorts one tier up have additional bar(s) plus sit-down restaurants. To that end, let's talk about what kind of food experience you can expect at Port Orleans Riverside.
It is… okay.
Let's start with the food court. I'm gonna go out on a limb and say that value resorts are actually better when it comes to counter service. Pop has clearly delineated food bays and queues, with stanchions and everything. POR has smushed together bays and unclear lines. I get the idea that POR was not designed to handle the magnitude of crowds it now enjoys, whereas Pop was made with that in mind.
The end result in the confusion and the assembly-line food preparation is that the food is generally served in the lukewarm to cold area, with little quality control. My Mickey waffle, while adorable, somehow managed to be both a touch overdone and room temperature at best. The bacon was decent but the sausage was kinda gross. The bananas foster sauce was a nice touch, though.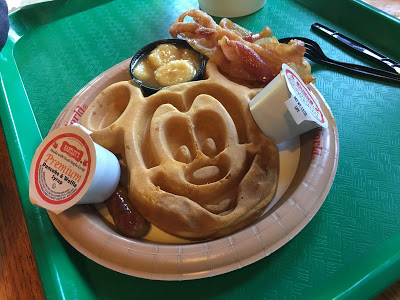 Do not even MENTION Pat's biscuits and gravy. Just… why? Even Pat, who voluntarily ordered it for some reason, agrees this was a mistake.
The only other thing we got was my pre-race pasta kids' meal. This was also basically cold. I think POR's food court could use a redesign.
Another food option is the River Roost Lounge bar. Important note: you cannot order food from Boatwright's here. They have their own specific bar menu, consisting of sliders and nachos and suchlike. We got both of these options (although Pat ate most of them since it was pre-race and I didn't want to risk any spice-induced indigestion) and they were both fine. Nothing to write home about.
Major River Roost bonus, though: they offer Abita Purple Haze on tap. On tap! It's SO GOOD on tap! And yet kinda underwhelming in bottles. Why?
I hear tell Yeehah Bob performs here, but I've never seen it. SLANDER AND HEARSAY.
Then there's Boatwright's itself, the resident full service establishment. Cool decor here in the boat skeletons, pleasant waitstaff, mediocre food. My jambalaya was decent – they didn't skimp on the shrimp, which was nice – but Pat's steak didn't sit well with him. Add to this a chocolate cake with NO FROSTING(?!) and this is not a restaurant to which I am clamoring to return. Admittedly it is nice to have the on-site sit-down option, but I'm not sure it's worth the increased price.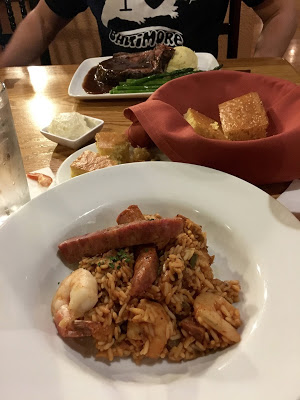 Points for the cornbread and butter, though!
We never went to the pool bar because based on the online menu we thought they only served drinks and we wanted food at the time. But there are banners on some lampposts advertising it that show sandwiches? MYSTERIOUS.
So our POR dining experience was meh at best. Yet another reason we're not jazzed ('cause it's New Orleans!) to return, but we'll talk about that more in another post.
Have you eaten at POR dining establishments? What did you think?

Don't forget, you can follow FRoA on Twitter @fairestrunofall and on Instagram @fairestrunofall. If you have any questions or thoughts, leave a comment or email fairestrunofall@gmail.com. See ya real soon!