The trip report proper is over, but we're not done yet – I've still got lots of thoughts, including food reviews and photos! You can see all the posts in this report here. Onward!
Pat and I have now stayed at Port Orleans Riverside twice. We are unlikely to do so again.
Oh, I'm being histrionic – but the gist is accurate. Having considered our experience at POR and compared it to alternatives, we have come to the conclusion that it is not the resort for us. Indeed, almost all moderates are not good fits. (Click here to find out how we decided to stay at POR in the first place.)
The primary reason is the bus situation. There is, of course, the issue of multiple bus stops, which we don't love, but that's not the main issue. The biggest problem is the crowding. As far as we can tell, 50% of everyone at WDW is staying at POR at any given time, and 30% of them are waiting for a bus.
Histrionics again. But seriously, this resort holds a lot of people. At one point a bus driver used the intercom to make this precise point to us, urging us to linger in the Magic Kingdom after closing time to avoid massive bus lines. And we did find massive bus lines, at pretty much all times of day.
So there's that. On a related note, there's the food court. This is also crowded – duh. They generally are. But as I noted in my food review, POR seems to handle the crowds poorly. Unlike, say, Pop, where corrals and clearly marked and separated bays keep lines in place, POR's food court is a badly organized free-for-all.
One nice perk often noted about POR is the on-site table service restaurant, Boatwright's. But having dined there twice now, we find it to be mediocre at best. We would just as soon hightail it over to Disney Springs and go restaurant hopping if we want to eat outside the parks.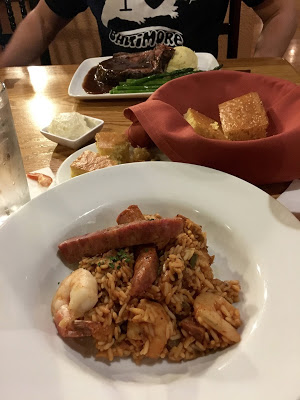 Just okay – although points for the cornbread.
These are all nitpicks, mostly, not vacation ruining problems. We had a lovely time at POR, but considering that it cost us almost twice as much to stay there over a room at a value resort, we find the upgrades don't warrant the cost increase. I understand that Caribbean Beach and Coronado Springs are similarly sized and crowded (I'll – sigh – find out soon enough). The only possible exception is Port Orleans French Quarter, which, with its small size and single bus stop, would eliminate a lot of the above annoyances.
But I find it far more likely than on our next trip we will swing one of two ways: be cheap and stay at Pop, or go all out and splurge on the Polynesian, which Pat unexpectedly fell in love with on our visit to Trader Sam's (sorry, Contemporary, you've been demoted to #2 on his favorites list).
This ends my April 2017 trip coverage. Boo. (Nothing like finishing on a negative note.) Thanks to all for reading – I always enjoy dissecting my WDW trips! Guess it's time to start pestering Pat to go again…
Have you stayed at POR? What do you think of moderate resorts? Are they worth it to you?

Don't forget, you can follow FRoA on Twitter @fairestrunofall and on Instagram @fairestrunofall. If you have any questions or thoughts, leave a comment or email fairestrunofall@gmail.com. See ya real soon!