Hey guys! I had an amazing long weekend at the wedding of a couple friends, and it was glorious even if I did let my face get a little sunburnt and I didn't get any running done at all. It's cool, though, because I prepared with a frontloaded training schedule. Look, I can prove it!
Sunday | ran 10.17 miles outside in 1:50

Monday | walked 2.19 miles outside in 35 minutes; 55 minute workout class

Tuesday | ran 7.33 miles outside in 1:20

Wednesday | walked 2.3 miles outside in 40 minutes; 55 minute workout class

Thursday | ran 7.33 miles outside in 1:20

Friday | rest
Wedding weekend shenanigans!
Saturday | rest
Actual wedding shenanigans!
In WDW trip planning news, you are no doubt aware that Disney recently announced more narrators for the Candlelight Processional, including the dates my mom and I will be there. It's… Whoopi Goldberg again! Who you may recall my mom LOOOOVED as narrator last time. I asked her if she wanted to see it again and got a resounding "Let's do it!"
This means we need a CP dining package, because I don't fancy sinking an hour or three into waiting in the standby line. But now I have a bit of a conundrum.
On the day we can see CP, we also have a 4:30pm reservation for the Behind the Seeds tour. All the dining package lunch ADRs come with a ticket to the 5pm CP, so that won't work – but none of the dinner ADRs are later than 5:30pm. Even if I take a later ADR, I need to change my BtS tour time… but if I'm doing that, I could just as easily also maneuver the schedule so that we can a late morning BtS tour, lunch, and then the 5pm CP… and any way I slice it, I'm looking at one hell of a jam-packed day, so maybe we should do BtS on our Epcot morning instead…?
I dunno. I'm still working through it. Meanwhile I grabbed a dinner dining package ADR for safety. At least WDW planning problems are my favorite kinds of problems!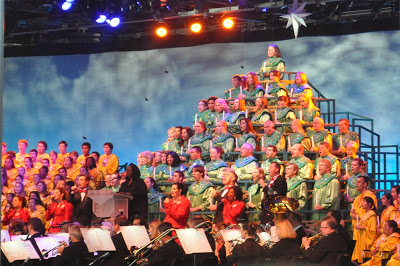 Anyway, GUINAN.
And blog roundups are my favorite kind of roundup:
– The Runner's Guide to WDW walks us through runDisney costume creation.
– Disney In Your Day recaps D23's Lion King panel.
– This Fairy Tale Life takes us inside Disneyland's exclusive Club 33.
– Parkeology rides it's a small world eclipse-style.
– The Main Street Gazette has the jump on Epcot Food & Wine Festival recommendations.
– easyWDW eats at Boma and I am jealous.
– WDW for Grownups eats at Be Our Guest and I am not too jealous because I have an ADR for December!
– Disney Nerds checks out the (non-alcoholic) bars of Disneyland.
Don't forget, you can follow FRoA on Twitter @fairestrunofall and on Instagram @fairestrunofall. If you have any questions or thoughts, leave a comment or email fairestrunofall@gmail.com. See ya real soon!