I alluded to this in my last round of random product reviews, but to make it official: a couple years ago I went strictly cruelty-free when it comes to makeup. Medical testing, in my opinion, is a separate ethical debate, but I see absolutely no reason why we should make animals suffer purely for the purposes making select portions of my face a different color. I just don't need it.
Mind you, I do sometimes want it, and luckily there are plenty of cruelty-free companies out there who can help me out. My personal code is that if a company is cruelty-free but its parent company isn't, I will still consider it cruelty-free since I'm still voting with my dollar. I'm also not as concerned with veganism in my products, just that no one is mean to them during any part of the process. Your own standards may be more strict or more lax than mine. It's up to you!
If you are interested in making some part of your cosmetics consumption cruelty-free, here's an important thing to know: companies can be pretty tricky about it. Even if the company itself never tests its products on animals, that can be rendered moot in two ways: they can get components of their products from companies that aren't cruelty-free, or they can sell in China.
That's right, ANY cosmetics brand that sells in China is NOT cruelty-free. China has a post-market animal testing policy, wherein any product on a shelf in a store in China can be pulled and tested on animals. Yes, even though it's already been approved for sale. No, I don't get it either.
There are a couple loopholes as I understand it – I think maybe airports don't have the same requirements? – but generally speaking, if a brand sells in China it's not cruelty-free and that's all.
Why am I telling you all this? Because cruelty-free beauty is the theme of this round of random product reviews! Every one of the below items is kind to animals and it makes me happy. So let's start off with…
HAIRCARE
Maple Holistics Argan Oil Shampoo. DISCLAIMER! I received a bottle of this shampoo for free, but with no obligation to give a good review. I can assure you I strive to be fair and balanced when I review anything, regardless of how I got it.
Now, on to the argan oil shampoo! Despite being sulfate-free, this shampoo lathers easily, with a pleasantly robust texture and no scent worth noticing. It made my hair soft soft sooooft – I'd consider a great dupe of the classic Morrocanoil shampoo, only Moroccanoil isn't cruelty-free so eff 'em.
Here's the thing, though: my hair is fine, and by consequence already pretty soft. Softening it further kinda sucks the life out of it, and certainly deflates my naturally wavy texture. If you have something similar going on, I'd recommend the tea tree oil shampoo instead (I like how it gets rid of scalp buildup that can weigh down hair). If you have a coarser texture that could use some softening up, or if you like to add your volume products post-shower, go for it.
Not sure? No worries! Maple Holistics offers an impressive sampling program that'll let you try just about anything as far as I can tell. Have at it. 
**All other products listed below were NOT sponsored or gifted in any capacity and I have no relationship with any of their parent companies. I bought this stuff of my own accord, kids.**
Not Your Mother's Dry Shampoo. Hooray! A cheap, easily accessible cruelty-free dry shampoo! NYM's version comes both unscented and in a "warm sugar" smell that makes me think of vanilla with a hint of chalk. You need a pretty thorough spray down to get the full effect and your hair is gonna have a white cast to start. Don't panic! By the time you brush it all through it'll be invisible. Trust me; I dye my hair as close to black as brown can reasonably get and I've had no troubles after a good brush-out.
SKINCARE
Sheet masks. Who doesn't love a good sheet mask? They're extra great for when you're traveling solo and want to schedule a brief relaxation period. I believe these originated in Korea, and many would argue that the Koreans have perfected the genre. Thing is, a LOT of Korean brands sell in China. One that doesn't? Creme Shop! I recently found this brand in CVS, tried their egg white sheet mask, and loved it. I need to try more!
More readily accessible: the Miss Spa face masks I see at Target seem to be cruelty-free. I wasn't impressed with the bee venom one but the hydrate version is always good. A little research suggests the whimsical Animalz face masks are cruelty-free too, but I haven't tried any yet. Maybe for next time?
MAKEUP
Foundation with SPF. I've been playing around with some drugstore SPF foundation options, because I find them extremely useful when touring Walt Disney World (or any outdoor activity, for that matter). No one wants their vacation ruined by a painfully sunburnt face! 
This has been a somewhat more challenging adventure, as a lot of the BB creams with SPF I've used in the pass are owned by companies that test on animals. (Looking at you, Maybelline Dream BB Cream. D:)
I found the e.l.f. BB cream with SPF 15 to be entirely too dark for my complexion, and Sonia Kashuk's version felt too thick. I briefly landed upon a Physician's Formula cushion compact with SPF 50 (!!!!), and while I like it for its high protection powers it's so sheer it's barely worth wearing. Also, it seems to be on clearance everywhere so we may never be able to buy it again. 
Right now what's working for me is e.l.f.'s Beautifully Bare Foundation Serum with SPF 25. The fair shade works on my skin, and although it's sheer it's also buildable up to a low-medium coverage as needed. I love how it sinks into my skin weightlessly and makes my skin soft with vitamin E and goji berry among other things. It's a little price-y for e.l.f. but at $8 it's still not an investment.
All that being said – I'm open to more SPF foundation suggestions? Cheap, cruelty-free suggestions, naturally. I see Wet 'n Wild has a cushion compact with SPF too…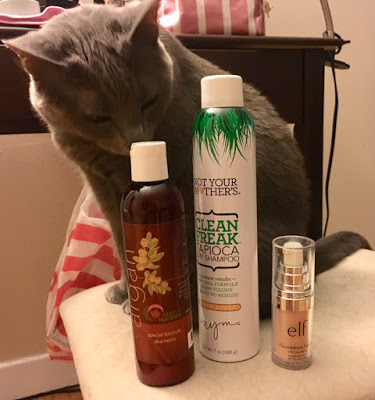 It is a truth universally acknowledged that if Ruffian becomes aware of
anything ever she will assume it's for her.
As always, if you'd like me to expand any of these reviews or product topics into a full post, let me know! I'm thinking I might do cheap running gear next… 
Don't forget, you can follow FRoA on Twitter @fairestrunofall and on Instagram @fairestrunofall. If you have any questions or thoughts, leave a comment or email fairestrunofall@gmail.com. See ya real soon!