I have two modes: I don't know you that well so I'm not gonna talk much and HERE ARE MY OPINIONS ABOUT EVERYTHING. Since you're reading this, my blog, presumably of your own free will and with at least a passing interest in my inner workings, allow me to present: a bunch of opinions. 
A couple notes. First, the below items are included because I feel that a mini-review might be of some assistance to like-minded folk. I am not going into any great depth, but if you'd like a more exhaustive report, leave a comment and I'll either expand the topic into a full blog post or respond with additional information.
Second, no one is paying me to mention any of these products. All opinions are 100% my own. I only got one thing free, so for simplicity's sake let's start with 
HAIR CARE
Maple Holistics Tea Tree Shampoo. LEGALESE!!! I was sent a bottle free to try, but with no pressure to give a good review.
Maple Holistics Tea Tree Shampoo is a natural, sulfate-free, cruelty-free formulation. These are all good things! Natural for avoiding weird chemicals, sulfate-free for not stripping your hair of good oils, and cruelty-free for being nice to animals.
Here I am pretending Oswald threw it to me.
Thanks, Oz!
I detected little to no smell, and it didn't really cause any tingling or similar when used.
This shampoo promises to improve scalp clarity and banish blemishes. I don't suffer from a ton of scalp issues myself, but I was coincidentally suffering from a few small – zits? Ingrown hairs? Something like that – on the side of my neck next to my hairline. After a few uses those bumps disappeared! Nice! I seem to have less dead skin on my scalp, too. 
As for what it did to my hair – it successfully kept it clean. My hair is very difficult – fine but long and wavy – and I didn't notice anything extraordinary about its condition while using the tea tree shampoo. But it didn't get worse either, so, score.
I would recommend this shampoo to anyone suffering from scalp problems or hairline acne. The great news is you can try it yourself risk-free, because Maple Organics offers a sample program. As far as I can tell you can try just about anything that tickles your fancy. Check it out!

Now, with that out of the way, I am in no way affiliated with any of the below:
SKIN CARE
Differin. The only physical change I have noticed so far in my 30s is a fresh new fight with acne. Rock on. After going through the usual frenzy of trying and rejecting anti-acne products, I tried the flavor of the month: Differin. And, as the ads promise, it pretty much worked. But the claim that you may see improvement in 2 weeks? HA. It took three months to get through the purge period, with my skin throwing up flare after flare. If you suffer from moderate adult acne and no regular solution has worked, you should still try it – but be prepared.
Burt's Bees Cleansing Oil. My savior in this trying Differin times, this soothing cleansing oil improved texture and dryness enormously. I've tried some other brands but this is my favorite.
Vaseline. Top notch eye cream. Look, just try it, okay?
MAKEUP IN THE PARKS
My parks makeup philosophy. I've kinda already covered it here, but I personally find I'm much more likely to enjoy looking at my park photos if I'm wearing makeup. Vanity, thy name is me, but there it is. I'm constantly curating a park makeup strategy that's cheap and long-wearing, with the added stipulation that everything should be cruelty-free. We can debate the merits of medical testing on animals some other time, but I don't see any argument for why a bunny should suffer so that I might enjoy the privilege of changing the colors on my face.
Anyway, here are some recommended products:
Milani Prime Shield. Matte primer with a nice texture. Nyx Shine Killer is good too but I like the slip on this one just a touch more.
ELF Gel Eyeliner Pot. Surprisingly long-wearing! Don't forget primer. 
Wet 'n Wild Balm Stain. These lip crayons have staying power, but when they do fade, they do so very naturally. No pressure to reapply until you're ready.
FOOD & BEVERAGE
Quest Bars. These are not the holy grail many claim from a taste perspective. But from a ratio of calories to protein perspective, they're pretty great. I detect a hint of fake sugar in every flavor, but not as bad as some protein bars I've tried. The S'mores flavor is probably my favorite.
Halo Top Ice Cream. As Ted Danson so wisely says on The Good Place: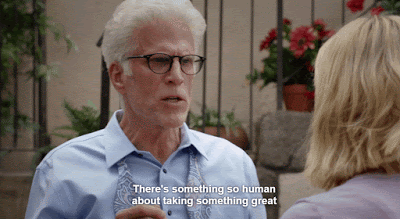 And that, I think, is a perfect descriptor for Halo Top. It's no Ben & Jerry's but if you're looking to eat a pint of ice cream at once without feeling terrible afterward it's surprisingly tasty and satisfying. I recommend Mint Chip, Oatmeal Cookie, S'mores, and Pumpkin Pie (while you can get it). 
PB2. You're never gonna mistake it for real peanut butter, but it'll successfully scratch your PB itch without risking eating half a jar at once. Also a good mix-in for smoothies. 
Sparkling water. I have always been obsessed with seltzer water, so believe me when I tell you that Target's Simply Balanced cans are the BEST. They have awesome flavors like cucumber mint and tropical cherry and the price is good. Dasani is also enjoyable, but Aquafina gets a pass; it's not bubbly enough.
RUNNING GEAR
Running fuel. They may laugh, but I swear by Watermelon Sour Patch Kids. Get 'em in one of those single-serve theater boxes. I like to eat them both before and during a race. Simple sugars and carbs and easy on the digestive system. And much cheaper than the fancy stuff that never did much for me anyway! 
Kinesio Tape. People rave about Rock Tape but I didn't find it to be anything special. Plain ol' KT Tape has been fine for me for years. BUT. When on a KT Tape run at CVS the other day I discovered CVS makes their own knockoff kinesio tape for like half the price. I've been trying it out and so far it seems to work fine!
Running clothes. C9 by Champion has always been fine for me, but I've been really into Under Armour lately. Down for recommendations!
Hit me with your opinions in the comments!
Don't forget, you can follow FRoA on Twitter @fairestrunofall and on Instagram @fairestrunofall. If you have any questions or thoughts, leave a comment or email fairestrunofall@gmail.com. See ya real soon!