The first time I went on an adult trip to Walt Disney World, I didn't care how I looked. I was in the most magical place on earth; what did it matter? It didn't! Until I saw the photos – and hated them.
Vanity, you may say, thy name is Jenn – for since then I have slowly developed an increasing interest in "looking cute" in the parks. This is in the name of the aforementioned pictures, of course, but also – and this is just me – the self-esteem boost of feeling my look makes my happy place even happier.
I started by merely dressing to flatter my shape and slapping on a little makeup, but over the last couple years I've gotten pretty into dressing in Disney clothes. I'm not sure if this counts as Disneybounding since my understanding is that's more dressing to evoke Disney as opposed to straight-ahead Disney stuff. Either way, I have amassed a bit of a collection.
Sometimes people in the parks ask me where I got my dress/shirt/headband, and 90% of the time my answer is this: Hot Topic. Look, I know: Hot Topic has a reputation for being where the goth/punk/emo/scene teenagers shop. But have you seen their Disney collection? There are PAGES of Disney items on their website. Clothes, accessories, costumes, toys – the works. If you love Disney stuff, you need to peruse their collection, stat. Bonus: there is never NOT a discount code available.
Aside from that, you can pick stuff up here and there. Graphic tees aren't hard to come by – I've seen 'em at Target, at Forever 21, even Five Below. Dare I even add that the Ocean City, MD boardwalk offers a copious number of Disney princess mug shot t-shirts – piercings! Tattoos! – if that's your bag.
Naturally the Disney Store sometimes has some more fashion-y offers, but I find them hit-and-miss. I'm of course SUPER excited about the new Dress Shop in Disney Springs! Disney + retro = LOVE.
Anyway, I thought it might be fun to share my planned wardrobe for this month's trip! I'll be there five days, so I've assembled five outfits plus a backup outfit (bottom).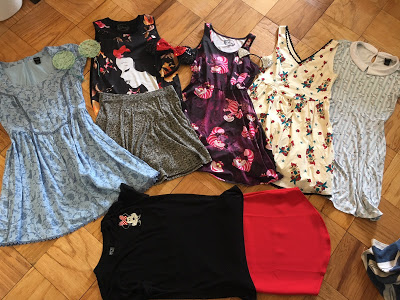 Multiple angles for maximum scrutiny!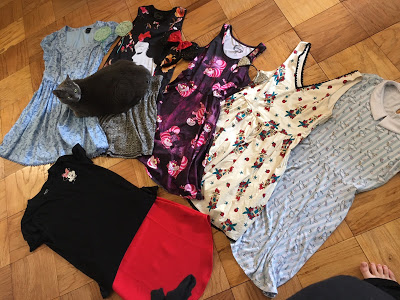 Now with added Ruffian!
Snow White tank (no longer available at Hot Topic; I didn't see it on Amazon after an admittedly cursory search but I did see it on ebay)

Sequined Minnie ears (I got these in WDW but if you can't wait to get to the parks you can get a pair in the online Disney store)

Chesire Cat print dress (no longer available but I've seen it pop up on ebay and Amazon)

Ariel tattoo icon dress (no longer available at Hot Topic but I've seen it on ebay and Poshmark; this is a similar pattern)

Black Minnie pocket shirt (no longer available at Target)
Shoes will be Chucks, as a rule, because they go with everything. Some people with low arches find these have insufficient support, though; as always, roll with what works for you.
It's funny, dressing Disney has created a lot of memorable moments for me. There are the compliments, of course (people are WAY into my Ariel dress), but it's more than that. I've had fun chats with Cast Members, and even made friends with a little girl in the Pirates line. I may be vain, but I'm having fun with it!
Do you like to dress up for Disney? Where do you get your stash?

Don't forget, you can follow FRoA on Twitter @fairestrunofall and on Instagram @fairestrunofall. If you have any questions or thoughts, leave a comment or email fairestrunofall@gmail.com. See ya real soon!