It's trip report time! You can see all the posts in this report here.
Remember when Sanaa was a hidden gem and you could waltz right in? Those were the days. Now word has gotten out about how awesome this restaurant in Kidani Village is, and an ADR is a must. Since my mom raved about our visit there in 2013, I made sure to make a reservation for this trip as well.
As you know if you read my trip report, we arrived late and a bit cranky to boot. Thanks to my phone call ahead during the bus debacle allowed the hostess to hold our ADR, and they even accommodated our request for a table by the window. By the time we settled into our seats we were already feeling better.
Our first act was obviously to order the bread service. I initially selected the three accompanying dips options, but our server was moved by our tragic tale and brought us all nine gratis. Sampling was of course a delight, with the pickles being a surprise favorite. I was also pleased to find that they only bring you soft naan breads and such now – none of that crunchy cracker nonsense.
We also ordered some mango lassi, a yogurt-based drink of smoothie-like consistency. It's a little icier than, say, a milkshake, and very refreshing.
Since we were already starting to fill up on bread service, so we elected to order some appetizers for our meal. 
I went with the Boerewors sausage with spiced eggs (our server told me how to pronounce that but it has already gone wooshing out of my head). I enjoyed this immensely – I love curry, and both the sausage and egg were nicely spiced. If anything I could've gone with a slightly more intense flavor profile, but as it is I would definitely order it again. Protein, baby!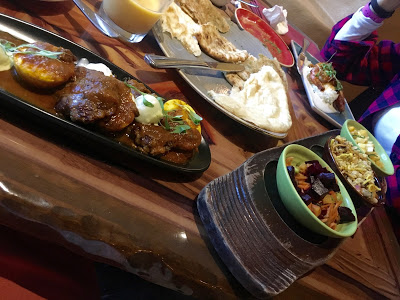 My mom picked out the shrimp tinashe, sauteed shrimp with season pap and nhopi (whatever that is). I didn't get a taste because my mom wasn't about to share it, so I'd say if you like shrimp it's safe bet.
We also ordered the salad sampler, but to be honest we barely touched it – we had enough food as it is and nothing I tasted really warranted a second bite. The ingredients are unusual compared to your average restaurant salad but I wasn't wowed.
Sadly we didn't have room for dessert, but since the chai cream is long gone, who cares? I may have to try the Spice Trade Candy Bar sometime, though.
As always, the ambiance was top notch –  while we dined we viewed Watusi cattle, giraffes, cranes, and more. 
I almost hate to say it, but: BOOK SANAA. (But don't book the ADR day I want.) 
Have you eaten at Sanaa? How did you like it?
Don't forget, you can follow FRoA on Twitter @fairestrunofall and on Instagram @fairestrunofall. If you have any questions or thoughts, leave a comment or email fairestrunofall@gmail.com. See ya real soon!