Psst. I'm going to tell you a secret. It's related to being a Disney Dandy. If you aren't already aware, I am one – I loooove to dress up Disney-style in the parks. Of course, good Disney outfits don't necessarily come cheap. That's where my secret comes in. 
Enter Thredup.* I'm sure you've already heard of it, but just in case: it's basically an online thrift store. You can send in your clothes for a small profit, and/or you can browse the one-of-a-kind offerings after the fashion of a garage sale. If you're willing to wear used clothing, you can nab some very impressive deals. 
(Note, though, that the quality of the site experience and customer service are about as good as you might expect at a garage sale. Think incorrect listings, a poor search function, and annoying shipping and restocking fees. Go in with the knowledge that you are taking a risk, and mine those deals accordingly.) 
Anyway, my point is that of course Thredup has Disney clothing! I can't tell you what Disney clothing exactly, because in true thrift store fashion there is generally only one of something and once someone buys it, it's gone. But I have a permanent search out on the term "Disney" and it's shown me all sorts of things – parks merchandise, cute Mickey t-shirts, a Bambi skirt, Peter Pan leggings, Jack Skellington sweatshirts, even my exact Lion King dress.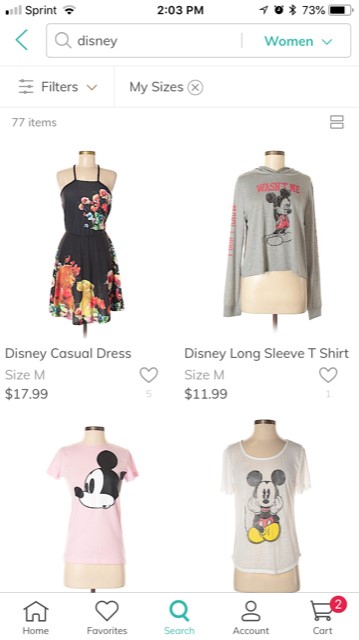 One thing I've noticed as that the term "Disney" seems to be applied across brands – for example, that Hot Topic Lion King dress referenced above comes up in the search, even though it's not sold through by Disney directly. So you probably don't need to do separate searches to look for, say, Dooney & Burke or LeSportsac collaborations. Mind you, if that's what you're hardcore searching for, you might want to try separate brand searches too. I haven't seen anything like that come through, so I can't be sure.
So if you, too, are a Disney Dandy, definitely check it out.* But don't buy the things I want. They're MINE MINE MINE MINE MINE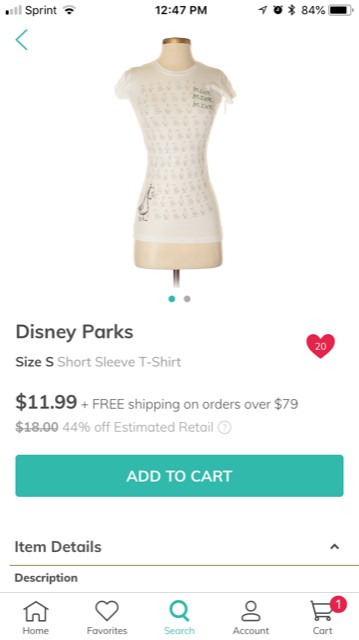 *Affiliate link. If you use it, we each get $10 to spend on the site. But I'm not partnered with them or anything. You can also just open a new tab and search it fresh; no hard feelings!
Don't forget, you can follow FRoA on Twitter @fairestrunofall and on Instagram @fairestrunofall. If you have any questions or thoughts, leave a comment or email fairestrunofall@gmail.com. See ya real soon!