I know Wine & Dine Half weekend is coming up first, but I can't help but peek ahead just a bit to my next WDW trip – the one in January for the Walt Disney World Marathon. Despite not planning on any park time, I'm super excited to stay at Kidani Village. Only deluxe accommodations for me this time around!
Outside the race itself I plan to take time to relax – check out the savanna observation areas, hang by the pool, book a massage and chill in the spa area… and EAT ALL THE FOOD??????
It started with an innocent Sanaa advanced dining reservation. You can't stay at Kidani and not eat a Sanaa, right? And what better way to carb up than with some Indian bread service.
So I had that. But then I thought, you're there. You're running a marathon. Why not treat yourself to a post-race early dinner at Jiko? So I booked that too.
And yet, later, I began to doubt myself. I've been to Jiko once before, admittedly a pretty long time ago. On the other hand, I've never done breakfast at Boma, and when will it ever be more convenient? Buffet breakfasts are time consuming, but when you're already at the resort in question and don't have any FastPass times to make, the situation is ideal. 
So I started leaning toward cancelling my Jiko ADR and picking up breakfast at Boma. Of course, if there were no Boma breakfast ADRs available, the point would be moot – so I checked. There was one at 10:50am for one person, and, because this isn't my first rodeo, I grabbed it just in case.
But… I didn't cancel my Jiko reservation. 
Yes, as of this writing, I currently have an ADR for Sanaa, Jiko, AND Boma. Over the course of three days. Naan and African wines and French toast bread pudding can be mine!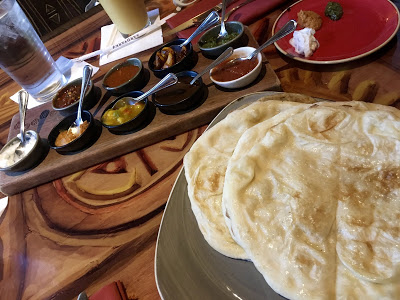 NAAAAAAAAN
Will I cancel any? I dunno. If I do, it'll probably be Sanaa – I've been there many times and the bread service is so big I'd probably never order anything else. Yeah, I should probably cancel my Sanaa ADR.
… But I haven't. There's something strangely satisfying about having all three. Now, somebody tell me if there's anything worth eating at The Mara…
Am I crazy? What's your favorite AKL restaurant?
Don't forget, you can follow FRoA on Twitter @fairestrunofall and on Instagram @fairestrunofall. If you have any questions or thoughts, leave a comment or email fairestrunofall@gmail.com. See ya real soon!