While we apartment-hunt for a permanent place, Pat and I are staying in a little place by the beach in Ocean Park, in the northern part of San Juan on the coast. It's not a proper hotel and there's no gym… but like any good addict, I'm not about to let my training just drop, y'know? Mama needs her mileage! … Ew. Why did I say that? I mean, it's true, but why did I say it like that?
Anyway. So it's hot here in Puerto Rico (WUT) and humid, and even in the middle of the night it's 75 degrees. But I'm a warm weather person so that's okay. The first week I did a series of 3 milers, and then a series of 4, and it's working out fine.
The routes are a little weird, though. I mean, not weird, just not ideal. The neighborhood we're in is compact so I do a lot of doubling up around blocks and stuff. A nice feature, though, is a park about a third of a mile away from our place. I mean, can't hate on that view, can you?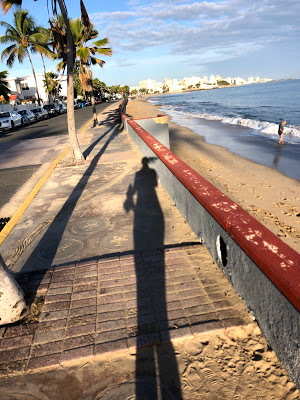 And this sidewalk… embossing? Or whatever. It's pretty cute.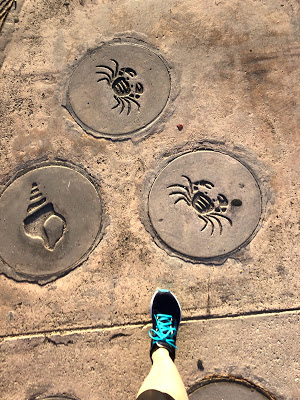 There's even a track in the park, although I'm not a huge track fan. I've used it once or twice but I prefer the neighborhood streets.
The sidewalks are rough, though, man. There are uneven curbs and potholes and random uneven bits. All throughout my ballet career my teacher has told me to stop looking at the floor, but in running this particular skill has served me well. You gotta keep your eyes on the ground or you're going down. Hell, I almost broke my ankle this morning while walking. Thank God I have flexible joints.
I'm still hoping to snag an apartment with a treadmill when the time comes, but for now, this is working out fine. Now if I can only find a good race series…
Don't forget, you can follow FRoA on Twitter @fairestrunofall and on Instagram @fairestrunofall. If you have any questions or thoughts, leave a comment or email fairestrunofall@gmail.com. See ya real soon!