See, what happened was, Becky of Disney In Your Day very kindly allowed us to horn in on her Wine Bar George post-half marathon brunch ADR down in the Disney Springs, despite the fact that she had only the internet's authority that I am a real person. Thanks for accepting me on faith, B-Gees!
Like many restaurants in Disney Springs, Wine Bar George doesn't have a theme per se, but it does have a nice airy feel with clean lines and lots of wood. The island bar (by which I mean the bar is an island in the center of the room, not to conjure tiki connotations) looks nifty indeed, but with our larger party we were sat at a high top in the corner.
WINE BAR GEORGE DRINKS
Despite 3/5 of the assembled group having a marathon to run the next day, we were all quite determined to order Alcoholic Beverages. I initially ordered a frose at our server's suggestion. But then Becky ordered a frozcato, which uses Dole Whip, and when the server offered her a prosecco floater I knew I had to switch to that.
It was good, with a sort of slushy orange-y pineapple taste, but I think if I came back I'd try the frose; I think the frozcato might be just a touch too sweet for my preferences.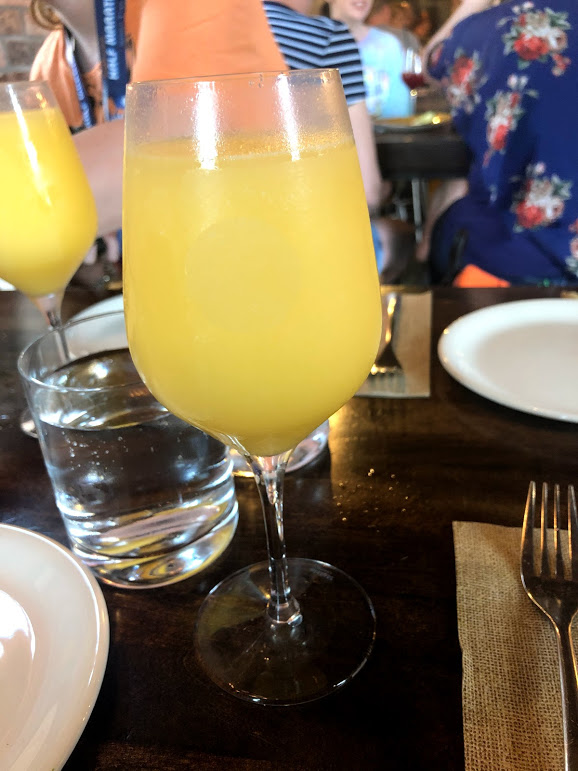 …AND FOOD
For my entree I went with the burrata, which was essentially avocado toast with a giant freakin' hunk of burrata which, if you've never had it, is like a softier, creamier mozzarella. This was AMAZING. The bread was griddled, the avocado perfectly ripe, and the bacon thick cut, all of which combined in a winning open-faced breakfast sandwich. Well, I say combined; if I had one complaint it would be that it's quite difficult to get a single bite with all the components, but since they're delicious in smaller combinations it's no big deal. Perhaps they could add an egg?
Erika got the steak and egg frites plus some breakfast potatoes on the side, all of which she said was good but not bowl-you-over good. Stick with the burrata, I say.
Two funny things happened during our meal – first, Becky's husband's order came out a bit later, and was ultimately delivered… by George himself! The waiter confirmed that he's there five or six times a week.
Secondly, and less exciting for… just about everyone else on earth, but our waiter was from the next town over from where I grew up and went to the same high school as me! Not at the same time, but still. Funny old world and all that.
Ultimately I found brunch at Wine Bar George to be lovely for a quieter, park-free morning. I may just have to swing back through for that frose.
Don't forget, you can follow FRoA on Twitter @fairestrunofall and on Instagram @fairestrunofall. If you have any questions or thoughts, leave a comment or email fairestrunofall@gmail.com. See ya real soon!