The full trip report is over, but the details still need filling in. Read on for more May 2021 WDW fun!
Not that you'd know it by reading this blog, but there are actually other restaurants in Galaxy's Edge aside from Oga's Cantina. You might not patronize them under the glorious shadow of DJ Rex, but they are various levels of interesting all the same. Let's make like Luke Skywalker and a tauntaun and get into it, shall we?
GALAXY'S EDGE <3s MILK
How about we start with the drinks, the myths, the legends: blue and green milk. Obviously we had to get both, because we have both an aesthetic and a complex. Having tasted them, I can tell you that they are different; at the same time, I can describe both with a single word: bland. Controversially, my preference was for the green milk for its slightly floral aftertaste, but I realize my flower flavor obsession places me in the minority. By all means, get them for the pic, but know that what you will be drinking is the coconut milk equivalent of a LaCroix.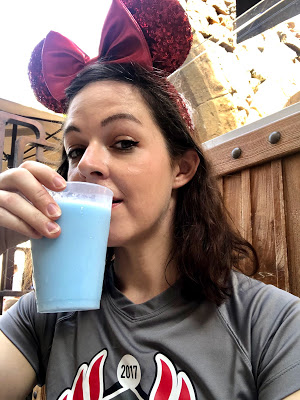 Behold, a snob
ALSO, A BREAKFAST SNOB
Now that I've sucked all the fun out of that, let's move on to Ronto Roasters. I've had the standard breakfast wrap before, and find it very enjoyable in my capacity as a breakfast sandwich aficionado. This time around, I mixed it up and tried the new plant-based version. The Rising Suns Breakfast Wrap comes with plant-based egg, smoky chickpea-onion slaw, and roasted tomato sauce on a pita.
This was good! The plant-based egg had an acceptable texture, and all the smoked vegetables provided a great flavor profile. The pita was soft and pillowy, which is how I liked it. I do wish it had a vegan sausage or some such to add a bit of umami flavor, but I would potentially order this again.
DOCKING BAY 7
Finally, we have my meal at Docking Bay 7, the main counter service restaurant on Batuu. Once again I chose the vegan dish of the menu, but it legit sounded like something I'd be into: the Kelufian Kefta and Hummus Garden Spread comes with plant-based meatballs, tomato cucumber relish, and pita.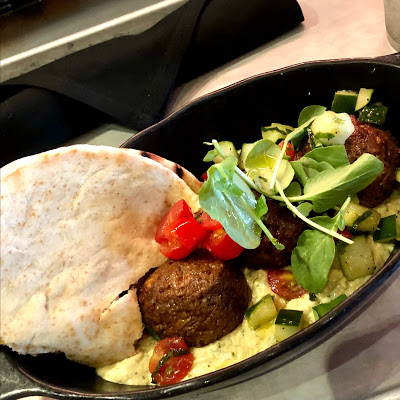 This one was good but not noteworthy – the pita, which I assume is the same one from Ronto Roasters, was nice and soft, and the meatballs, while noticeably vegan, had a nice spiced flavor. The hummus and relish were both unoffensive, but bland.
Oh, I don't know if this is a WDW thing or a Docking Bay 7 thing, but I decided to splurge and get a Coke Zero with my lunch. Guys, the soda I received was ENORMOUS. Like, American-restaurant-in-Little-Britain enormous. Holy cow. Next time I ask for ice water I'm asking for it in a soda cup because yowza.
But back to Batuu. There are many serviceable eating establishments in Galaxy's Edge; still, if you ask me, there are betting dining establishments elsewhere in the Studios. Then again, a lot of the fun is probably eating inside the Star Wars bubble. I'm sure I'll be back – if nothing else there's a Darth Vader cupcake other there with my name on it…
Don't forget, you can follow FRoA on Twitter @fairestrunofall and on Instagram @fairestrunofall. If you have any questions or thoughts, leave a comment or email fairestrunofall@gmail.com. See ya real soon!