It's trip report time again! Read all posts in this trip report here.
Well, you ask, how was the Wine & Dine Half Marathon this year? How was the first in-person runDisney event since February of 2020? Well. Let me tell you.
To start, and I'm sure this is an unpopular opinion, I wish the race didn't occur during a time change. The extra hour of sleep is great in theory, but it just makes me anxious that something will go wrong with the tech and I'll oversleep. Yes, I recognize I am a crazed paranoiac, but here we are.
Anyway, I put in a wakeup call request with the automated phone alarm system for 2am. I figured Disney would probably have it all figured out, right? Not exactly – they called me at 1:56am. The first one. Four minutes later it was 1am again. Doh! I got back in bed for like 40 minutes but never really fell back asleep again because how could I? 😂
Around 1:45am I gave up the ghost, rolled out of bed, and rolled into my race outfit. I knew it was going to be chilly out and brought a throwaway top, but it was still pretty brisk as I stepped out into the Caribbean Beach night. I wound up hanging out with one other race guy in the Centertown building before finally fording the cold dark night and jumping on a race bus.
It was no warmer at the race staging area, and with over two hours to kill before race start, I did the only thing I could do: found a group of people waiting for something and huddled in among them. Yes, I shamelessly leach body heat. I'll do it to you too!
As it turned out, they were waiting to be let into the race corrals. It seemed pretty early to me but I wasn't about to leave my heat source. The deejays at the staging area stage were trying their darnedest to get everyone to come party, but I think everyone agreed with me about the huddling thing. At least it wasn't the WDW Marathon 2017. That one was rough.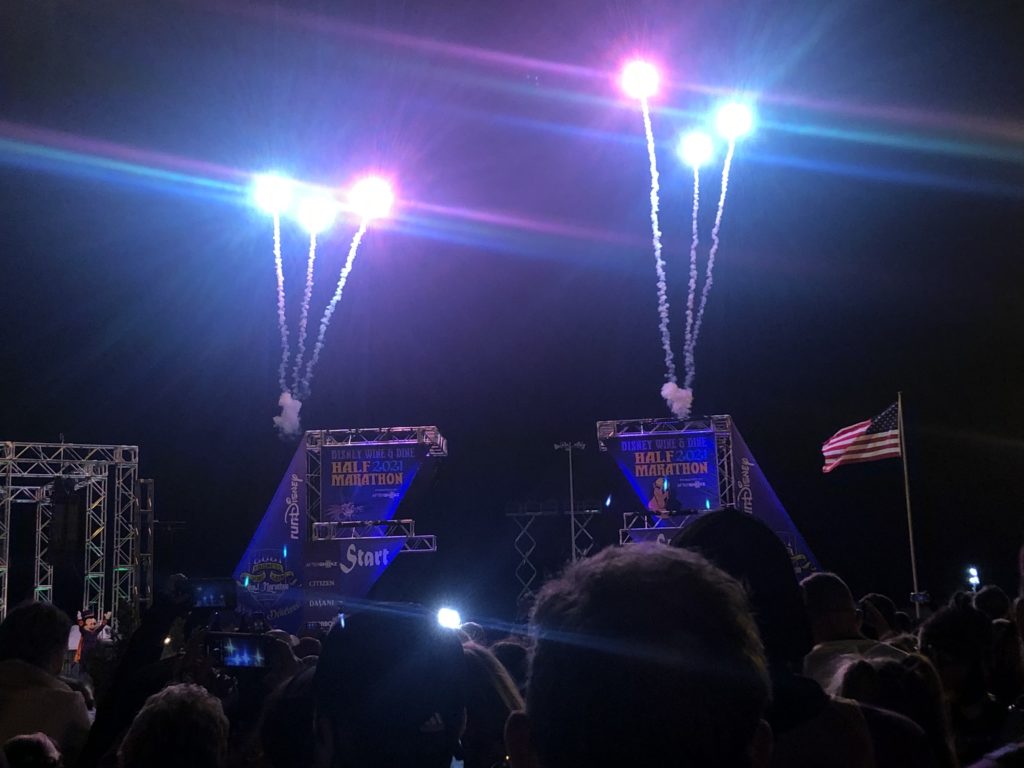 Gosh, this is already a lot of words for not even starting the race yet. Um, announcers said stuff, race sponsors, national anthem, wheelchair start, fireworks, and we're off! I'm not sure how the new wave start worked for other groups, but my S2 wave took off about 7 minutes after official start time.
We opened the race with the usual dash away from Epcot onto the backroads. Yes, this included the waste treatment plant – always a highlight. 😉 The runDisney team jazzed things up periodically with the usual characters, plus ominous music, colored lights, and even smoke and bubbles to go with the Villains theme. I guess the bubble part was for Flotsam and Jetsam?
Now that we're on to the race itself, I can tell you: it didn't start great for me. Oh, I wasn't injured or sick or anything, but I was weirdly slow. At first I thought, well, at the beginning it's always crowded; maybe that's the problem? And I did stop for a photo or two. But I was decidedly not clocking my usual numbers and it was bothering me.
Oh, speaking of photos, the photo stops were very little different from pre-pandemic. The characters were distanced from the people, so no arm linking or anything, but that didn't impact photo quality. Most Cast Members weren't doing cell phone photos, but a couple still did. The changes were hardly noticeable and certainly not upsetting. I stopped for Pain and Panic and surprisingly felt neither!
What I did notice and found to be a bummer was the lack of Cast Members out cheering. I don't fault anyone for this; we all know Disney is woefully understaffed right now. But as we entered the Animal Kingdom through the back, I found it just wasn't the same without the long string of CMs cheering. And of course high fives were strictly verboten the whole way. I understand all of this, of course, and I don't say it to complain, but it will be interesting how long it will be before the full spectator experience is restored.
We dashed through DAK, where I took a bathroom break because REAL BATHROOMS. Which reminds me, a few miles earlier we passed a single porta potty with a giant line. Why? The line was enormous. Just run to the REAL BATHROOMS. That is my #1 piece of runDisney advice: there will be REAL BATHROOMS. Use them.
Where was I? Ah, yes, Animal Kingdom. We ran through Serka Zong, Pandora, past the Tree of Life, and Dinoland – much of it very deja vu-y if you're familiar with the marathon course. Normally leaving the park is detrimental to my adrenaline rush, but somehow my mile times started getting better. This surprised me in the moment, but in retrospect I really think is just took me six whole miles to warm up. I assumed my hot Puerto Rican training would make me an instant speed monster in cooler weather, but as it turns out there's a lower limit. Drat!
Anyway, it was back to plain ol' roads, where I found Captain Hook. Captain Hook is a pirate. Pirates of the Caribbean. I live in the Caribbean. Hence this photo. Or something. Look, I often don't know why I make the in-race decisions I do. Am I mocking Hook? Is this pose in solidarity? He seems fine with it either way.
This road segment wasn't so bad – I was picking up speed the whole time, and as we entered the Studios behind Tower of Terror, I remember thinking "Now we fly!" (For me, anyway.) This whole section – Studios->Boardwalk->World Showcase – is my FAVORITE. I didn't get my all-time biggest dopamine rush here (see WDW Marathons 2018, 2020), but the Studios definitely gave me a little boost as I powered down Sunset Boulevard and out of the park.
I felt like that Boardwalk was a little quieter than usual, possibly because of the Cast Member shortage too? But I would've expected more friends and family out spectating. Oh, well. There was a deejay with an AMAZING Yzma costume; I saw some people pop off course to get a photo with her, even though I don't think she was Disney official, costume-wise.
Of course next we entered Epcot for our romp through World Showcase and the home stretch. As always, this was my favorite part of the race. Yet again, I deeply felt the lack of Cast Members – specifically international Cast Members. I love how each country traditionally has CMs out waving their flags and cheering. I miss you, CMs! Come back soon!
Still, I was feeling the Disney magic as I whipped around the lagoon, alternately repeating "The well is deep" and "Al Haynes!" as my mantras; my negative splits continued but admittedly I was starting to feel it.
And then, a last-minute power up!
This being a Disney Villains-themed race, most of the character stops had been villains or henchmen of some kind. The two characters I went into the race most hoping to snap a pic with were Dr. Facilier and Bowler Hat Guy/Goob. This late in the race, with maaaybe half a mile to go, I figured I was SOL on both.
UNTIL, just before the bridge to what my brain still stubbornly insists on calling Future World…
I frickin' love Goob-cum-Bowler Hat Guy and his incredibly weirdness; I firmly believe Meet the Robinsons is underrated. There was no one in line, and when I ran up all excitedly he seemed genuinely pleased, at least as far as arm gestures indicate. And sans line I still clocked my fastest mile of the race. Holla!
Then it was the race to the finish!
I kinda wish they were piping in Disney music like they've been doing for the full marathon, but there were finally lots of Cast Members out cheering and urging us on. I managed to eke out for final burst of speed as I blazed for the finish.
Note to self: don't look down at the timing pad next time.
And that was it! I picked up a space blanket and was handed my medal before I funneled through the beverage station. A nice volunteer sang me the original Figment song and then gave me double bottled water, which was fantastic! The snack boxes this year were abysmal, though. At least we got our tortilla chips and cheese, but I do wish Disney would get back in bed with Clif.
My #1 runDisney tip was about bathrooms. My #2 runDisney tip: go to the merch tent after the race. They'll give you a plastic bag into which you can dump all your drinks and snacks and stuff. Makes it much easier to handle. I myself did exactly that, before hopping on a waiting bus back to Caribbean Beach.
So yeah, that was my race! It wasn't my all-time best runDisney race experience, but it wasn't my worst either. I'm rather proud of how I was able to kill the negative splits on the back half even though the first half my race was pretty slow.
My number one takeaway is that after the parks and characters, what makes a runDisney race is the Cast Members. I hope they're restored by the time the marathon rolls around.
Next up: a long nap and some rising and resisting!
Don't forget, you can follow FRoA on Twitter @fairestrunofall and on Instagram @fairestrunofall. If you have any questions or thoughts, leave a comment or email fairestrunofall@gmail.com. See ya real soon!