Trip report time! I'm covering my April 2022 trip for the Tower of Terror 10 Miler. Read all the posts in this report here. Onward!
Every Walt Disney World trip absolutely mandates an ex post facto food debrief. This year's Epcot Flower & Garden Festival food booths had so many interesting offerings, I determined they deserved their own post. And now here we are!
Read on to see how I felt about the snacks I tried. Since this year's festival runs through July, it might even help you assemble your own to-eat list.
Tupelo Honey and Sweet Corn Spoon Bread with jalapeños, bacon, and house-made whipped honey butter, The Honey Bee-stro – I have loved spoon bread since my first encounter with it at Busch Gardens Williamsburg, prepared after the fashion of the early colonies. This was not it, being entirely too solid, but it was still tasty, with a strong corn flavor. If you like cornbread, this'll work for you, and who was ever upset about bacon and/or butter on top?
B. Nektar New Wave lemonade mead, The Honey Bee-stro – What I personally enjoy about mead is that it is often bubbly from fermentation, and this mead was indeed bubbly, with a subtle lemon flavor. So I loved it! If you don't enjoy seltzer and similar sparkling drinks (you philistine), steer clear.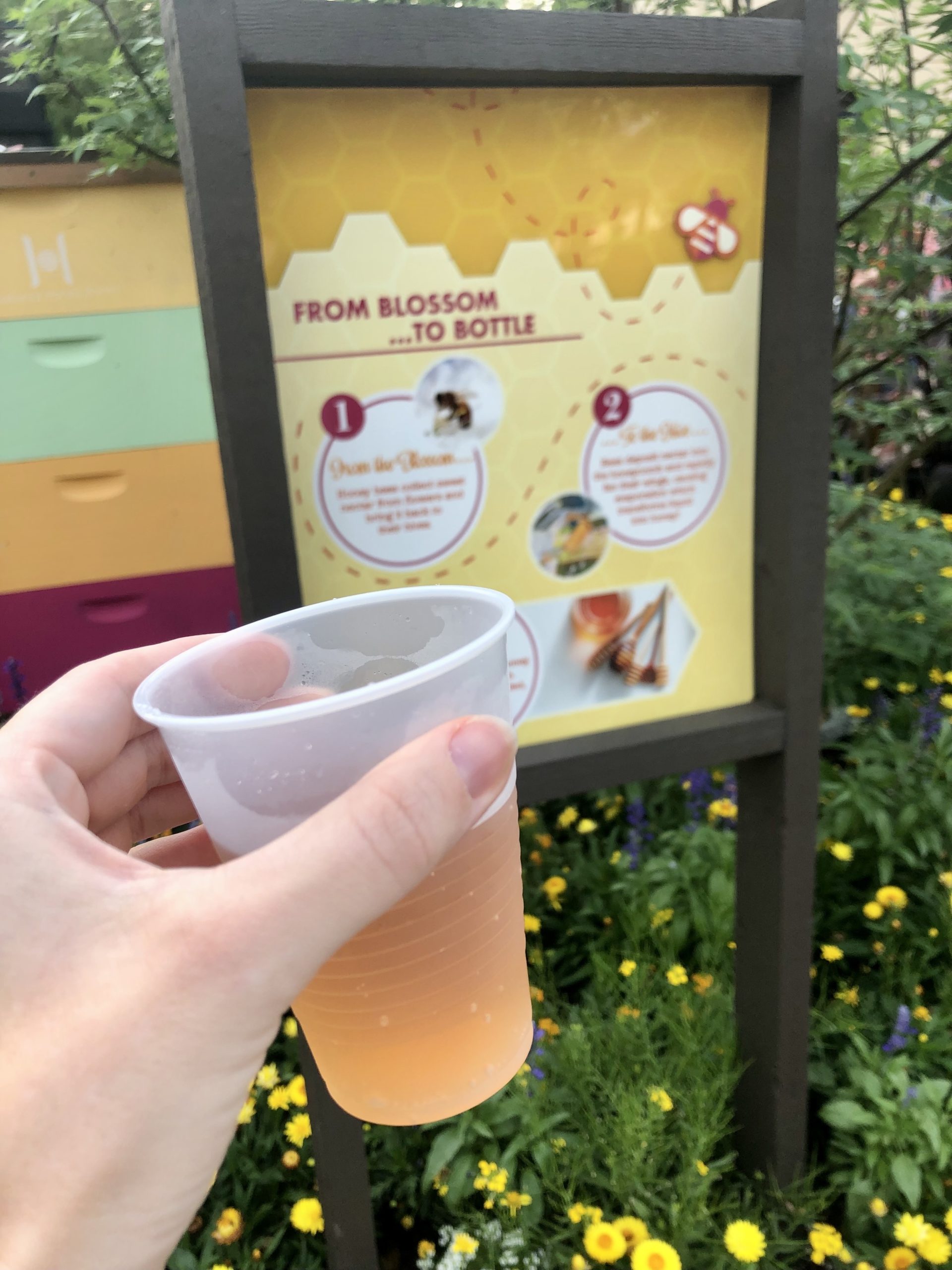 Poppy Flower Margarita: Tequila blanco, hibiscus flower tea, cucumber juice, aperitivo, and blackcurrant liqueur with a chile salt rim, Jardin de Fiestas – Tasty, fruity, a margarita. It was good but I wish the more interesting advertised flavors (cucumber, hibiscus) had come through a little more. If you like margaritas you will not be unhappy, but it wasn't memorable.
Ozeki pinapple nigori sake, Hanami – Nigori sake is sake that hasn't been filtered, and the remaining particulates give it a more robust mouthfeel. It tasted like pineapple as advertised, and had the consistency of sake if sake were also milk, if you know what I mean. Personally I liked it, but it might not be to everyone's taste. Booth guy gave me one heck of a pour, which was nice.
Croissant with goat cheese, herbs, and roasted garlic, Fleur de Lyse – This is just what it sounds like: herbed cheese in a croissant. It tastes exactly like you imagine it does. Either you're into it or you're not.
Vanilla, Rosewater & Pistachio Panna Cotta, Tangierine Cafe – Panne cotta can be a divisive dish, with not everyone 100% loving the jelly-ish texture. I'm not put off by puddings and associated smooth desserts, but I was disappointed by the lack of floral flavor. That being said, share buddy Seth said he found it very floral, so it might depend on your preference for botanical tastes.
B Nektar Blackberry Mint Mead, Tangierine Cafe – Not minty enough, but again, bubbly! And very sweet. If you like a dry cider, this won't do it for you. But the bubbles do cut through the sweetness nicely. I just wish the mint had been a more assertive flavor.
BLT Scone with Nueske's applewood-smoked bacon, sundried tomato, and basil, Cider House – I wanted to love this. I really did. But it was SO DRY I barely took more than a few bites. Yeah, I know, scones tend toward the drier side by default, but this was like eating a desert. I understand the accompanying bacon jam moistened things up a bit. I don't know; if you really like scones, try it anyway and tell me what you think.
Cider flight (Pink lemonade, watermelon, triple jam), Cider House – Similar to the cheese croissant above, this is what you think it is. Either you like cider or you don't. If you like cider, nothing is upsetting here. If you don't like cider, it won't convert you. If you just want one cider, watermelon is the winner, as it always is.
Char-grilled Bison Ribe-Eye with creamy leek fondue, roasted carnival cauliflower, Romanesco and port wine-goat cheese butter, Farmer's Feast – Disney's bison cut is meaty, but above all it is salty. If you do not enjoy heavy salt, you won't be into this. I'm a salt fiend, so I liked it, but people with heart problems might want to steer clear. I didn't find it to have a game-y taste, myself. If you're after some savory meat, this'll do it. The accompaniments were very tasty too.
Goat cheese creamsicle, Farmer's Feast – Interesting and surprisingly enjoyable! The signature tang of goat cheese is apparent, and while it's actually not all that sweet it does manage to pass as a dessert. Goat cheese enthusiasts can partake without reservation.
(Also pictured above.)
Fried cinnamon roll bites with cream cheese frosting and candied bacon – Okay, listen. I bought these because the description said they came with cream cheese frosting, and I LOVE frosting. What I did not realize is that the frosting is INSIDE the fried cinnamon roll bites. So you chomp down on this pillowy, sugary dough, and hot melty cream cheese frosting is inside. It is glorious. If you like dessert even at all, you must buy this. YOU MUST.
Plant-based Tres Leches cake, La Isla Fresca – For a dairy-free tres leches cake, this was pretty good. It was very dense, though, and not as saturated as I feel like traditional tres leches cake ought to be. I kinda like a sticky dessert, so I wasn't mad at it, but if your hopes tend toward what you're familiar with in the realms of tres leches, you might be disappointed. Just keep an open mind.
Arepas topped with queso fresco, La Isla Fresca – I don't know if I've ever had arepas before, but based on this experience, I would describe them as kinda like pupusas only with the filling on top instead of inside. I love pupusas, so this absolutely worked for me. If you're not into doughy textures, you might not like it, but if that's not a problem for you I recommend getting some arepas.
There you have it – that's all the F&G food I tried! There's nothing like a casual stroll around World Showcase when a festival is on; I highly recommend it. See you in November for the Food & Wine Festival!
Don't forget, you can follow FRoA on Twitter @fairestrunofall and on Instagram @fairestrunofall. If you have any questions or thoughts, leave a comment or email fairestrunofall@gmail.com. See ya real soon!