I've used compression socks before. A couple years ago I won a pair, and then got another as a Christmas present. I was pretty excited about it – after all, compression socks (and calf sleeves) are supposed to improve your running by – hold on, let me check the marketing copy…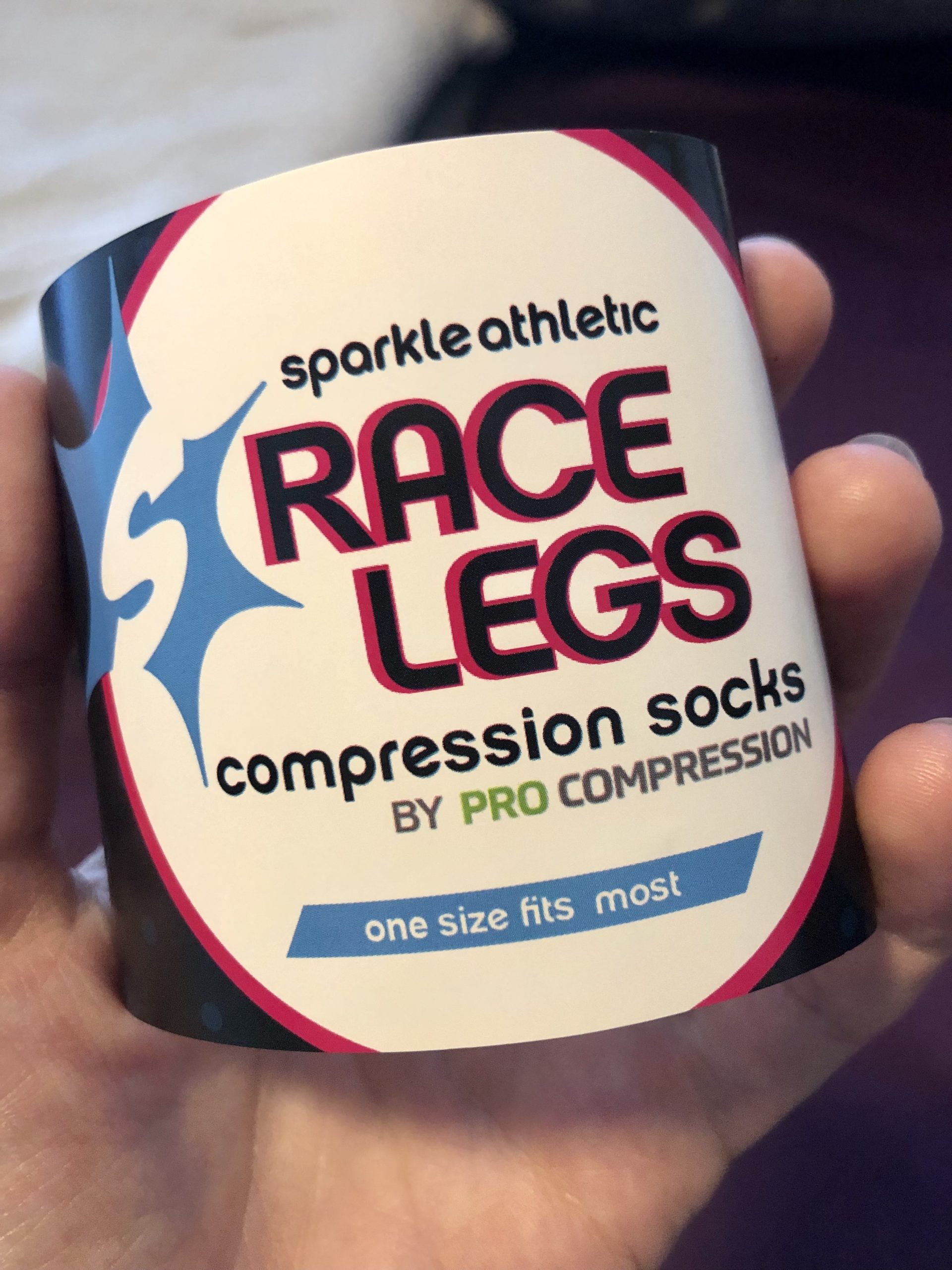 Ah, yes, there it is: increased vascular efficiency (so, better blood flow) and faster recovery.
I'm not here to debate the accuracy of these statements on a macrocosmic scale; my concerns are microcosmic. But before we get into that: if you're not familiar with this particular piece of running gear, try this Runner's World article. It addresses how compression socks work, the reasons why you might them, and what, if anything, they do.
Basically it all boils down to what it always boils down to: it depends. For some people, compression socks are helpful during the run; for some people they're helpful after the run; for some people they do nothing at all.
Wait, how did I open this blog post? Oh yeah, I was talking about my first foray into the compression sock world. At that time, I found them super annoying to put on, didn't notice any improvements, and abandoned the notion shortly after beginning.
You might think that the question is asked and answered, then – do I like compression socks? Not particularly. And yet the thing is, I didn't really give the socks a fair shake. Approximately three times wearing compression socks under randomized conditions does not an experiment make. But you know what does an experiment make…
An experiment!
The Grand Compression Socks Experiment
Okay, folks, here's how we're gonna play it!
I found these freakin' adorable Sparkle Athletic compression socks by Pro Compression on sale, (remember Sparkle Athletic?) and they were so dang cute I was inspired to give compression socks another go. But I'm not just wrestling them onto my feet and hoping for the best. No, we're getting scientific.
PHASE 1: Do compression socks help when worn while running?
I'll wear my compression socks for every other long run for the next 8 weeks. Each long run will be 10 miles, give or take. As I said, I'll shift back and forth between normal, ankle running socks with no compression and my rainbow compression socks on this long run. The switch will occur every other week.
PHASE 2: Do compression socks help when worn after running?
After phase 1 is completed, we move on to phase 2, where I will wear my compression socks for approximately 12 hours post-run to see if this has any impact on my next run. There are a couple ways I could do this but ultimately settled on wearing them after another series of 10 mile runs and then evaluating a 5 miler a couple days later. A second 5 miler later in the week will be performed with my normal running gear. Phase 2 will last 4 weeks.
Evaluation & Controls
The objective will be to look at performance indicators in my Garmin app – time, obviously, but also individual mile times, positive/negative splits, etc. – to see if there's any correlation between my performance and the socks. For Phase 1, data collection will be from the run during which the socks were worn. In Phase 2, data collection will be from the run after the socks were worn.
My controls are imperfect, but I'm going to do my best to make each run as similar as possible: same course, same outfit (outside the socks themselves, I'll largely keep the shorts, sports bra, shoes, etc. the same), same sports drink the night before, and such. I've also run a few 10 milers in recent week to establish a baseline.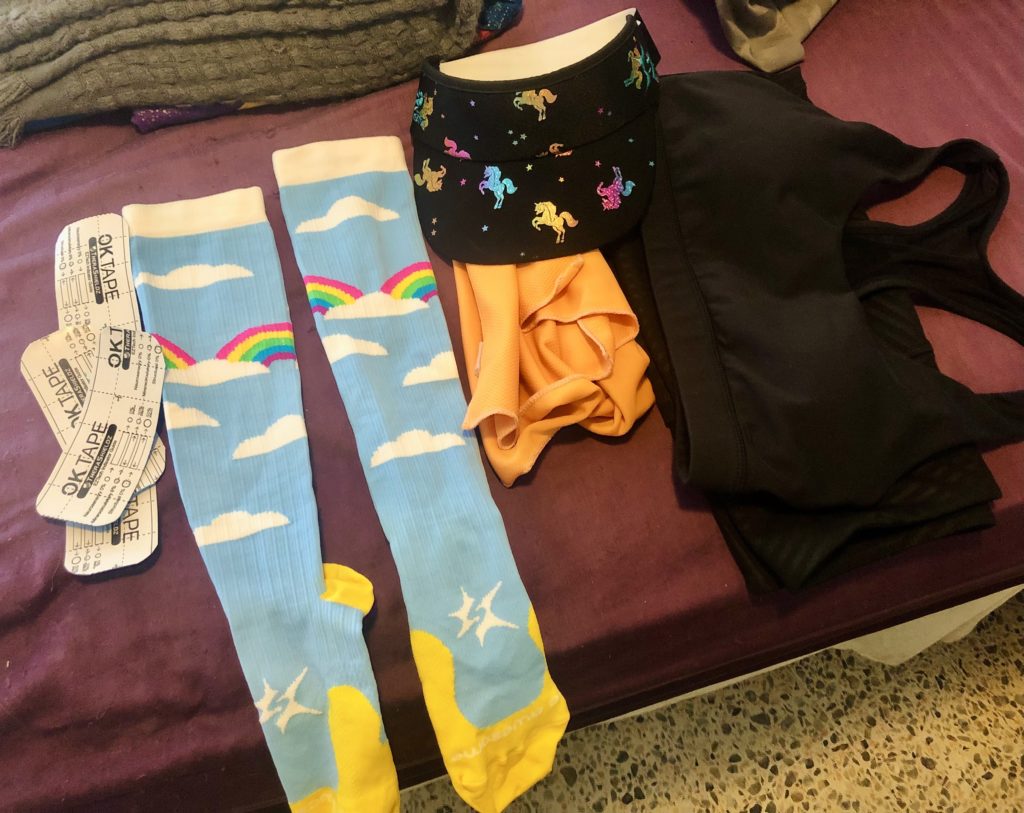 Prior to the official experiment's start, I took the socks on one shorter run to make sure there are no hot spots, chafing, rubbing, etc. that might kill the test in advance. There weren't, so all systems are go!
Will that be the final say?
Of course not! I'm just one person, and honestly, my experiments probably aren't of long enough duration to be truly definitive. But my hope is that it will at least give me an inkling of how the socks work for me, and help me personally determine if more pairs of should be in my future.
I'll be documenting my findings on Instagram, but I'll also put together an overarching blog post here when the experiment is complete. Come back to the blog in 3 months for the final rundown if you're interested. See ya then!
Don't forget, you can follow FRoA on Twitter @fairestrunofall and on Instagram @fairestrunofall. If you have any questions or thoughts, leave a comment or email fairestrunofall@gmail.com. See ya real soon!