Trip report time! I'm covering my April 2022 trip for the Tower of Terror 10 Miler. Read all the posts in this report here. Onward!
One more post from my April trip and then we can wrap this up, I promise. Real quick, let's talk about what I ate!
I know what you, a dedicated reader, are thinking: You already told us what you ate. Ah, but that was just Flower & Garden Festival items! I have some non-festival food and drinks to review as well. Let's get to it!
Breakfast Sandwich Redux at the Friar's Nook
Hey, remember that croissant breakfast sandwich I really liked from The Lunching Pad in Tomorrowland? Well, according to Mobile Order, it's not there anymore. But! It now lives at the Friar's Nook, and comes with tater tots besides.
Unfortunately, while it was still a decent breakfast by Magic Kingdom counter service standards, this iteration of the sandwich wasn't as good. The contents were basically the same – egg product, bacon, and cheese – but the croissant itself was way overdone. It was still edible, but the hard outer crust took away from the experience. Not sure if this was a fluke or the system at Friar's Nook isn't as good. More testing needed!
As for the "potato barrels," they were salty and tasty, but I would've liked a crisper outside. These weren't soggy but they could've used more time in the oven, ironically. Maybe the instructions for the tots vs. croissant got switched?
Yeah, I Got A Salad At The Polite Pig
And I regret nothing. Nothing!
Okay, maybe it's a bit weird to get a salad at a barbecue joint, but it was the day before my race and I didn't want to get bogged down. (I kinda did anyway, but that's another story.) With that in mind, I selected their Chipotle Cobb salad, with their grilled chicken on top.
Holy smokes, guys, this is good and huge. Although it was smart to add some extra protein, I would've been fine with just the salad without the chicken. The ingredients are not revolutionary – it's basically just a Cobb salad with a spicy dressing – but they were all fresh and delightful. The bacon is the real highlight: it is THICK cut and toothy.
I would absolutely order this again, sports-adjacent or no, and am adding it to my repertoire of go-to quick service meals. I mean, if you don't like Cobb salads, you won't like this, but if you do, get this one!
Is It Even A WDW Trip Report Without Bread Pudding?
I suppose I don't always get bread pudding, but as one of my favorite desserts it pops up often. I love it! So when I found out that Sommerfest in the back of Epcot's Germany pavilion had a new PRETZEL bread pudding, I was in. I was SO IN!!!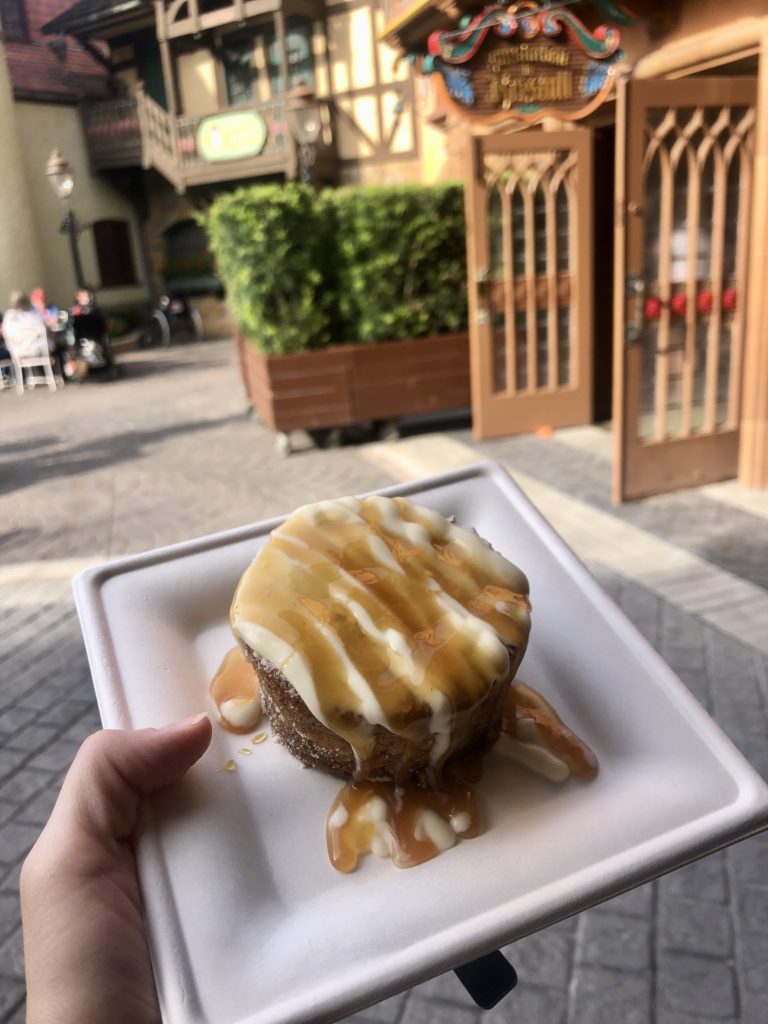 Pretzel bread pudding. What a genius idea. I've made it with waffles before, so I suppose pretzels are the logical next step. With the creme anglaise and caramel on top, how could this miss?
The answer is: it couldn't. The pudding wasn't entirely made of pretzels as far as I could tell; it was more that there were pretzel bits woven throughout a more standard bread pudding. Those chunks were enjoyable, however, bringing an extra salty little pop to each bite. Did I mention I like salt? Admittedly maybe you wouldn't like this if you're not big on salt.
One other criticism: I wish the texture was juuuust a bit softer, but that comes down to personal preference. If you like bread pudding or are on the fence, try it! As of this writing it's not on the official Sommerfest menu, but if they have it there's a little sign on the register to signal it's available.
Ronto Roasters Plant-Based Breakfast Wrap Redux
Look, I'll add more variety to my breakfast food selections when WDW start giving me better counter service options. ;D
To be honest, I don't have a ton to add outside my initial review – the wrap offers plant-based eggs, smoked veggies and chickpea slaw, and a spicy, tangy sauce that is all delicious.
I'm only including it again to note that out of the Batuu breakfast options and even the Studios in general, this is one of the best. The traditional, sausage wrap is of course delectable too, but it doesn't always sit well. Even if you're an omnivore, give the plant-based wrap a shot!
One Of Your More Expensive La Cava Margaritas
The Lily margarita isn't on the posted La Cava del Tequila menu – you kinda have to be in the know. Allegedly it does appear on the menu if you use the posted QR code, yet judging by the reactions of people around me after I ordered one, the Lily largely flies under the radar.
Initially debuting as a kiosk drink during the Festival of the Arts, the Lily margarita has made its way to La Cava permanently from what I've read. Designed by Lily Aldridge, it contains blanco tequila, cranberry-lime juice, and house made rose petal and shimmering violet essence, plus a rose-hibiscus salt rim. Given my penchant for all things botanical, I had to give it a try, excessive pricing or no.
The interesting part is that the floral infusion occurs under a glass dome, so it's a legit infusion, not just the equivalent of liquid smoke or whatever. The rose petal rim is really beautiful, but be warned – the petals mix with the condensation to drip pink-dyed water over time, so watch your clothes and stuff.
As for the margarita itself, it was good… but as always, I wish the floral elements were more forward! The cranberry-lime was dominant for me. Not that there was anything wrong with that, but it was a bit more pedestrian to my tastebuds than I might have hoped. I did get a nifty plastic glass out of the deal, though. Tons of people stopped me to ask me where I got my drink!
Goodbye, Sweet Trip Report
Here ends my April 2022 trip report. Always a little sad, ending trip reports, especially considering my next WDW jaunt isn't until November. But don't worry, I've got plenty more Disney and running content to fill the ensuing months – stay tuned and hope to see ya real soon!
Don't forget, you can follow FRoA on Twitter @fairestrunofall and on Instagram @fairestrunofall. If you have any questions or thoughts, leave a comment or email fairestrunofall@gmail.com. See ya real soon!