It's time for my all-time favorite type of post: the trip report! See all the posts in my 2022 Wine & Dine Half Marathon trip report. Onward!
After a very successful character breakfast last year, I was thrilled to be able to try out Topolino's Terrace for dinner! It's a tough ADR to snag, but well worth the effort. Let us discuss.
WHAT'S TOPOLINO'S TERRACE?
Topolino's Terrace is located at the top of Disney's Riviera Resort, a deluxe DVC property on the Skyliner. This makes it a convenient place to grab food from any Skyliner resort; you can even walk to the Riviera if you're staying at Caribbean Beach. (Indeed, some Caribbean Beach rooms are closer to the Riviera than the main areas of CB itself!)
Topolino's has a nifty character breakfast in the mornings, but pivots to high-end Italian fare at night. Sadly, the scaled-down menu has yet to rebound to its more expansive pre-pandemic offerings, but it still manages to be absolutely worth your time for a couple reasons:
TOPOLINO'S TERRACE IS LITERAL & HAS A VIEW
Okay, the eponymous terrace at Topolino's would be impressive under any circumstances. There are lovely vistas all around you, including of Epcot and the Studios.
Think, though – what comes along with a killer Epcot view? Duh: Fireworks! You can see Harmonious from up here, and what's more the restaurant pipes in the music from the show.
Well, I say see. And the fireworks specifically, yes, you can largely see them. The projections on the barges are mostly hidden, but as long as that doesn't bother you it's still a great experience. If you're a very visually-driven person, you're going to want to watch Harmonious from World Showcase as intended. Yet if, like me, you're more into the soundtrack than anything else, you'll be perfectly happy seeing Harmonious from Topolino's.
We were called to our table about 15 minutes before Harmonious started; we told our waiter we wanted to watch it, and he was happy to hold our food orders while we were out on the terrace.
TOPOLINO'S ALSO HAS A BAR
By which I mean there is a separate bar area where as far as I can tell you're welcome to avail yourself without a reservation so long as it isn't too crowded. And, shockingly, it absolutely wasn't. Indeed, it almost seemed to be clearing out ahead of Harmonious? Which is interesting. That makes it a potential worthy alternative to trying to get into California Grill's bar area. Don't tell anybody, okay?
Rather than hang around twiddling our thumbs while waiting for our table, we elected to grab a drink. I went with the French Rose, which the menu says is Ketel One Citroen Vodka, Combier Crème de Pamplemousse Rose Liqueur, Raspberry, Agave, Lemon, Soda Water. You know me, I love floral flavors AND soda water, so this was a no-brainer order.
As per usual, the rose liqueur part didn't punch hard enough for me – I would've liked something more botanical. The citrus flavors largely dominated. That being said, it was suitably effervescent and well-balanced, and I was by no means unhappy with my choice.
During my meal, I also tried the Champagne Cocktail, left below, described as Moët & Chandon Impérial Brut, Carpano Antica Formula Vermouth. Once again, in it for the bubbles, and on that front this drink did not disappoint. As the name would suggest, you have to like champagne to be into this one, but it was fun to drink my bubbly with an interesting twist. It does have a hint of bitterness thanks to the vermouth, so keep it in mind if you're not into that.
OH, RIGHT, THE FOOD
Your meal begins with some really beautiful twisted baguettes and olive oil. Full disclosure: I didn't end up eating any of the bread this time around, but it appears to be the same bread they serve in the pastry basket for the character breakfast, and I can confirm it was delicious then! Do kinda wish the olive oil was herbed, but that's a personal preference.
We made it easy on our waiter: we all ordered the same thing! I mean, if there's house-made pasta on the menu, ya gotta order it, right? There are two pasta options on the menu, and we went with the one without the lobster: Rigatoni with Braised Chicken Sugo, Broccolini, Pancetta, Wild Mushroom, Parmigiano-Reggiano.
This is a beautiful dish – hearty but not heavy, with an earthy umami flavor from the mushrooms in particular. The chicken was tender, and while I don't remember noticing the pancetta, the cheese was generously dispensed. The broccolini was cooked well, although largely there so you can pretend you're also being healthy. I kinda wish there was a pasta option with marinara as I am a fan, but ultimately I would not hesitate to recommend the rigatoni.
Finally, dessert! I went with the cutest option: Caramel-Chocolate Mousse with Hazelnut Cheesecake, Apple-Walnut Cake, Chocolate-Sea Salt Crumble, Cherry Foam. Look how adorable!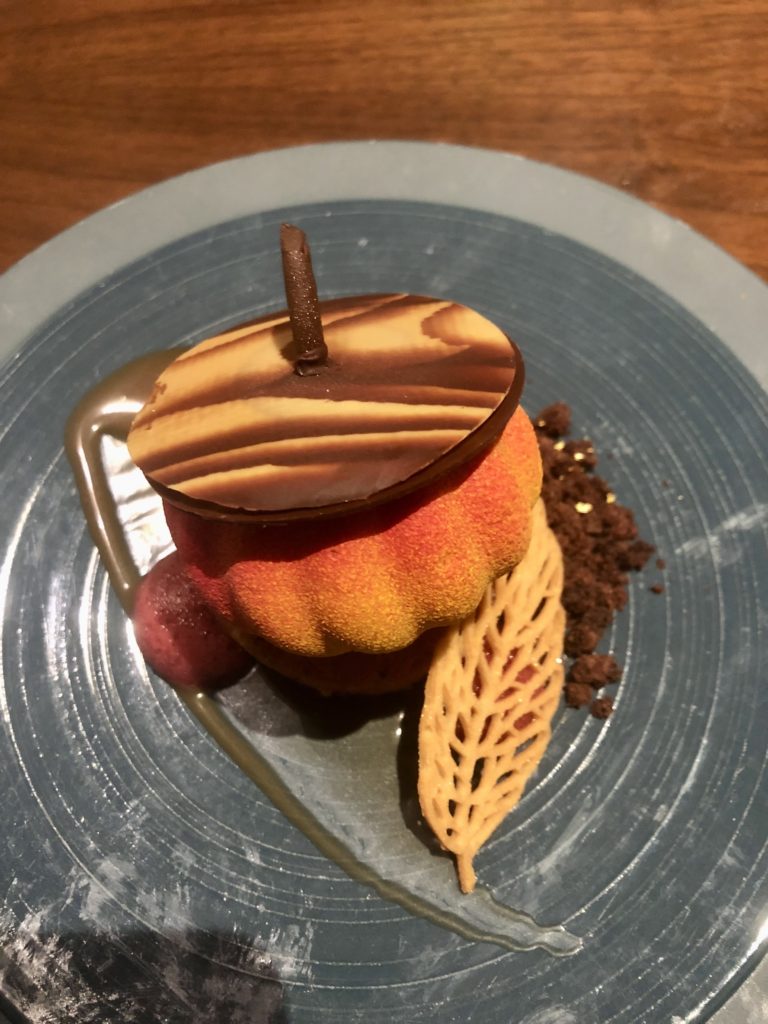 Alas, the flavor could not live up to the aesthetic; I thought it was okay at best. The mousse was very good, but the apple walnut cake was dry and frankly not that tasty. The chocolate topper didn't have a ton of flavor either. I'd try something else next time.
THE STAFF IS TOP-NOTCH
Our bartender was excellent, not effusive but friendly enough and brilliant at the business of fancy drink construction. Similarly, our waiter was perhaps a bit reserved, yet his service was exemplary (see above note about his willingness to hold our meals).
Interestingly enough, a man I assume was the general manager also came over to speak to us. I'm guessing he tries to make it to every table, which is a commendable goal. He was the most personable of the three, and made a bit of small talk about my Minnie ears before asking us about our meal. We had no complaints to impart, but I'm sure he would've taken any seriously. Thanks for stopping by, Kyle!
SO YEAH, GO TO TOPOLINO'S TERRACE
Here's a major endorsement for a blogger: I would absolutely go to Topolino's for dinner again. I could totally see putting together a good meal with an assortment of antipasto alone. And with good drinks and fireworks + music? I'm in! Just order a different dessert.
Don't forget, you can follow FRoA on Twitter @fairestrunofall and on Instagram @fairestrunofall. If you have any questions or thoughts, leave a comment or email fairestrunofall@gmail.com. See ya real soon!