It's time for my all-time favorite type of post: the trip report! See all the posts in my 2022 Wine & Dine Half Marathon trip report. Onward!
I did it! I did it! Why, I took a bad headspace and turned it into the best trip ever, just like I said I would!
Okay, well, "best trip ever" would be difficult to qualify/define, but it was certainly up there. And I'm excited to tell you all about it, so let's get started.
I had a direct flight and it went smoothly, landing just about right on time. I don't check bags anymore, so I hustled directly over to the Mears bus area in Terminal B for my first ride since the untimely death of the Magical Express. We boarded and drove off quickly, but I was the last stop of 5 and didn't make it to Art of Animation until about an hour later.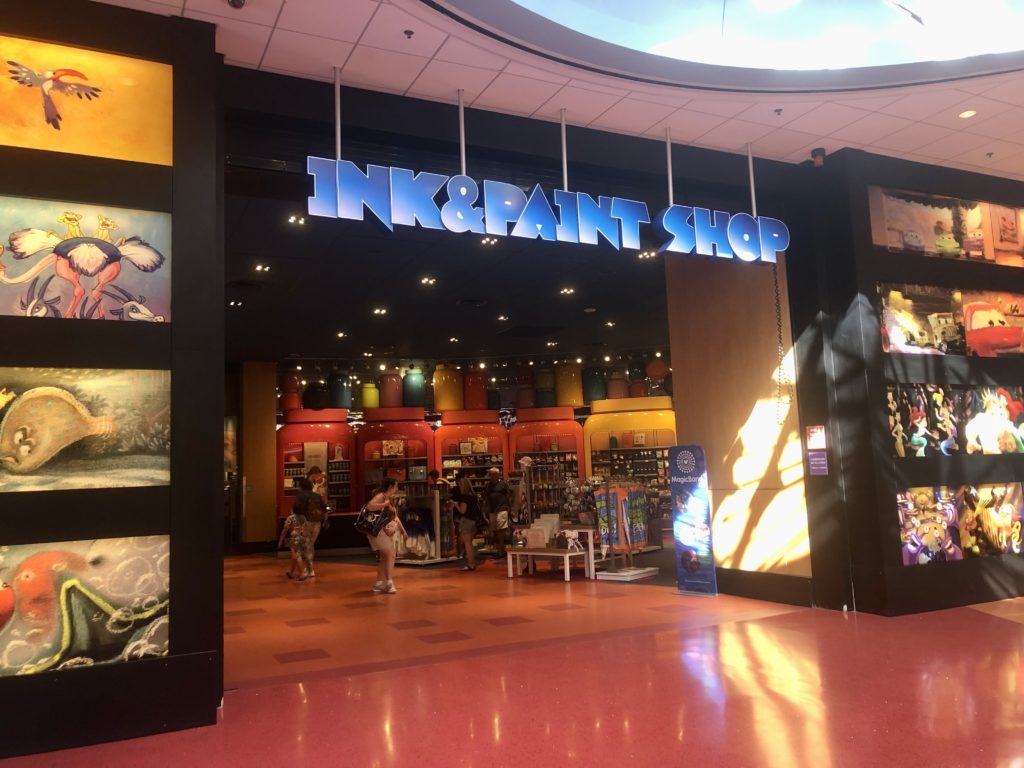 Not a huge deal – our room wasn't ready yet anyway. I slipped into the bathroom to slap on some makeup and make some minor wardrobe adjustments, then checked my bags at bell services before heading to the food court. As usual, food reviews will get their own post, but lunch at Landscape of Flavors was, well, fine.
Erika was running a few hours behind me, so I had some time to kill before heading to the expo. I wandered the gift shop a bit, then found a weird computer corner behind the DVC kiosk with a bunch of plugs for phone charging. It appeared to be where the pay phones used to be; now it houses a couple computers for boarding pass printing and general internet usage. Remember when you could check your email at Innoventions? Good times, good times.
Oh! Random item: I swear I saw a Jasmine face character go by at one point. When did characters start showing up at resorts? There was also a live musician at the pool bar, which I don't think I've ever seen at a value resort before. He was playing "Wagon Wheel" by Old Crow Medicine Show as I walked by, which pleased me immensely.
Our room number finally popped up in the My Disney Experience app, so I grabbed my bags and trotted over to Finding Nemo building 4. I stayed in this room type once before, but it was so long ago the novelty had regenerated. I busied myself taking pictures of all the cute details, and as I was finishing up, Erika texted that she had arrived. Hooray!
We took a sec to snag her some much needed lunch, then grabbed a bus for the expo. Step 1, obviously, was picking up our bibs. There was no line and we checked that to-do off the list in no time.
Step 2, equally obviously, was to run over to the exhibitors hall to get our race shirts and do a very minor amount of shopping. We successfully avoided most temptations, but did get sucked into the multiple displays of cute sunglasses. Erika ended up picking up the same pair of Goodrs I got last trip, so now we're sunglass buddies!
The final step was to check out the official merchandise building, but nothing there really did it for us; another buck saved. But also, what's a girl got to do to get a dang ceramic runDisney coffee mug? A generic one would do!
At least there's always a worthwhile photo op in this area. No good characters out this time around, though.
Once upon a time I entertained delusions of jamming in a trip to Gideon's, but in this moment I realized that at 5pm on a Friday there was no way a lengthy virtual queue wasn't in place. Instead we hopped on the bus back to Art of Animation and returned to the room to chill a bit.
Shortly after, Becky arrived, and we helped her make a beautiful video of our Finding Nemo suite. I can't wait until she posts it because I have a marvelous cameo in which I demonstrate how incredibly terrible I continue to be at unraveling Disney's pull-out couches. Pay no attention to the cute little instruction illustrations claiming one person can do it wearing heels – this is a two-man operation. Or I am weak. Or both!
Shortly after, we made a fun discovery: when bell services dropped Becky's bags off at the room, they also dropped off some bags that were not hers. The tags said they were to be picked up at 10pm, so I don't think they were missed before bell services came back for them? Always an adventure around here.
A bit of unpacking and general relaxation, and it was time for a graceful glide on the Skyliner over to the Riviera Resort for our Topolino's Terrace dinner reservation. We arrived early a) because I like to arrive early but also b) to take some pictures. Riviera is so pretty! (Topolino's dinner review coming next week, so stay tuned.)
After (spoilers!) an awesome dinner, we just barely squeaked onto the Skyliner back to Art of Animation before it closed. It was getting late and we had a 7am alarm set for the Cosmic Rewind virtual queue, so we headed off to bed shortly after. All in all a victorious Day 1.
Tune in next week for the Topolino Terrace dinner I promised, plus more days of the trip report. Can't stop, won't stop!
Don't forget, you can follow FRoA on Twitter @fairestrunofall and on Instagram @fairestrunofall. If you have any questions or thoughts, leave a comment or email fairestrunofall@gmail.com. See ya real soon!