It's time for my all-time favorite type of post: the trip report! See all the posts in my 2022 Wine & Dine Half Marathon trip report. Onward!
Ready to talk about all the snacks and beverages I got my paws on during this year's Epcot Food & Wine Festival? Admittedly the 2022 festival has ended, and so you might wonder: why bother to post a review of the foods I tried at all? Well, I'll tell you:
1. Many of these items come back from year to year, and even cross over to other Epcot food festivals, and
2. I want to.
The criteria having been established, let's dive in! Starting with some things I drank…
SHIMMERING SIPS | Berry sour ale mimosa (left) | Too much sweet, not enough sour. That's probably a personal preference, though.
FRANCE | Strawberry Rose Mimosa: Pol Remy Sparkling Wine, orange juice, and Monin Strawberry Rose Syrup (right) | All sweet, no sour. I swear the CM poured Rosa Regale, though, not Pol Remy, which could be why. Rosa Regale is glorified sparkling juice. Buy a bottle for the college freshman in your life today!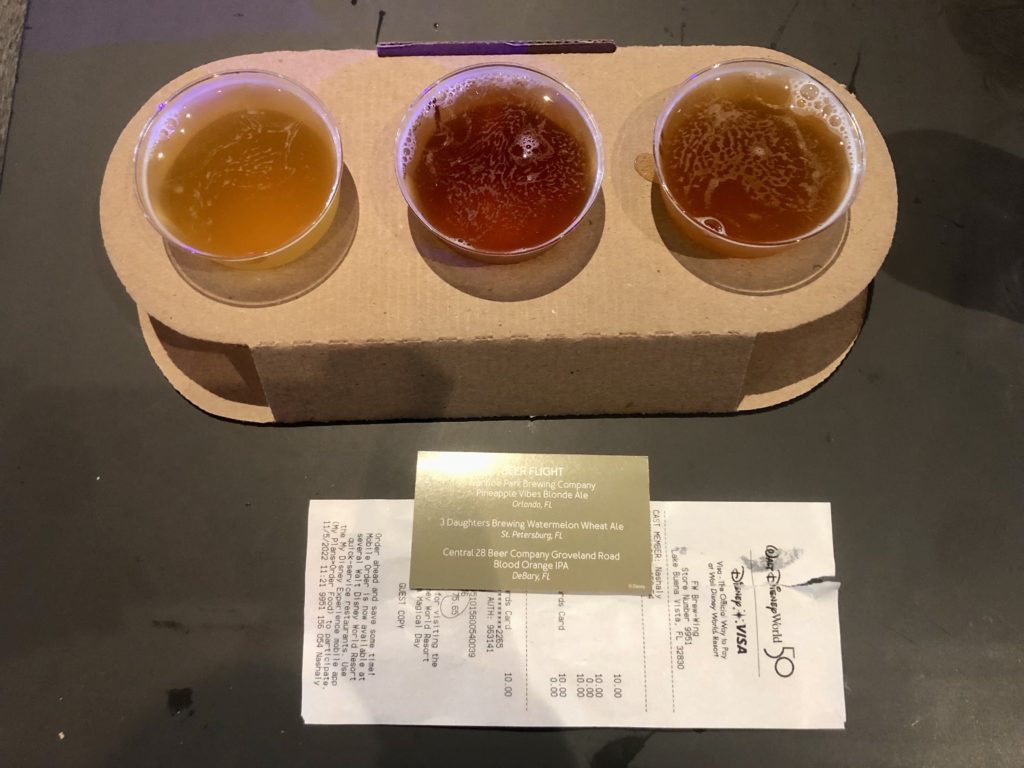 BREW-WING | Beer Flight | The surprise winner in this particular trifecta? Pineapple! I usually find pineapple beers a bit too sweet OR too hoppy, but this one was just right. By contrast, I wish the watermelon flavor were a bit more forward in that beer. The blood orange was fine, but not good enough to overcome my natural aversion to IPAs.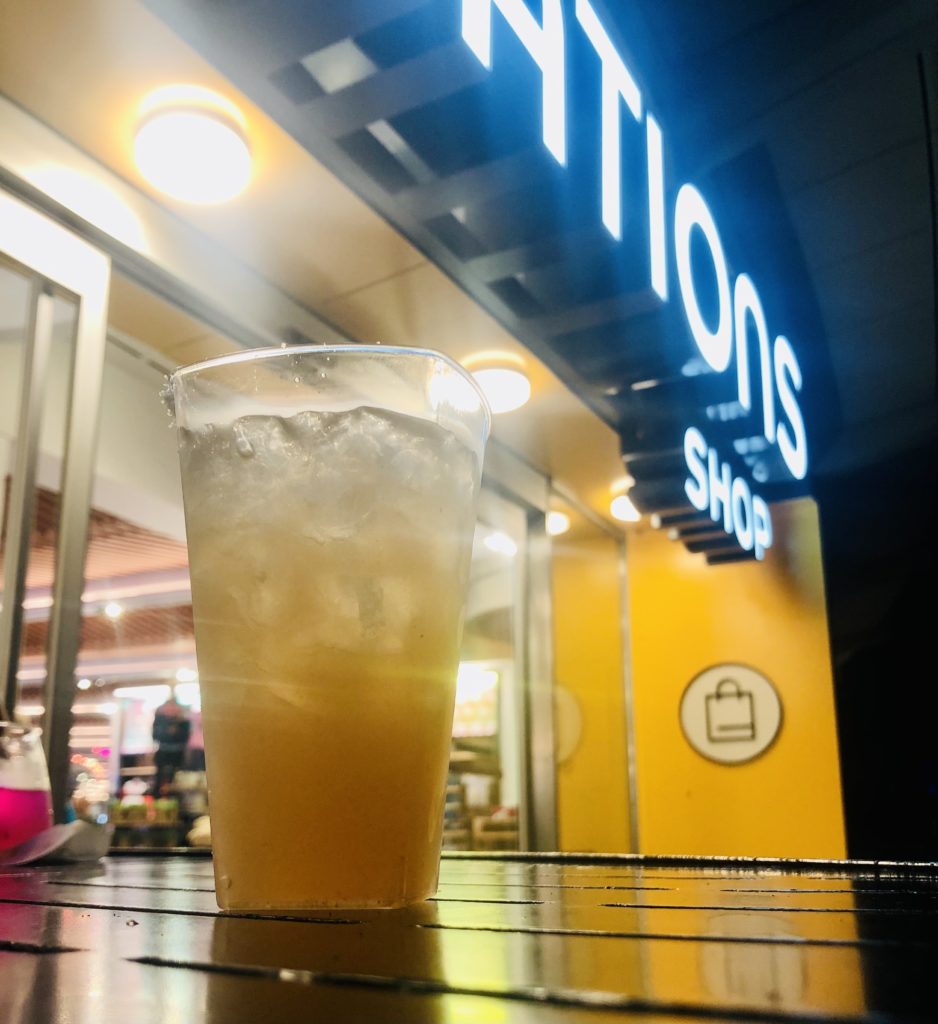 THE FRY BASKET | Salty Dog Cocktail: Boyd & Blair Vodka with grapefruit juice, ginger, simple syrup, and lime with a salted rim | Oh my gosh, such a disappointment. Not nearly enough grapefruit. Kinda watery, actually? The mix was off.
HOPS & BARLEY | 81Bay Brewing Co. Strawberry and Lime Wheat Ale (right) | This was… fine. It was a beer. Faintly strawberry-and-lime-ish in the way that seltzer water is flavored, but a pleasant enough drinking experience.
This next thing is also a drink but it is pictured with a food, so we transition with…
INDIA | Mango Lassi with Sōmrus Chai Cream Liqueur | Holy smokes, this was AMAZING. I love lassi anyway, but with the chai cream liqueur? Exquisite. Would get again. Heck, would get twice in the same festival year if I had the opportunity. If you like a good chai latte, this will render you speechless.
Festival trash can photos FTW!
Now some stuff I ate:
INDIA | Chicken Tikka Masala with fennel-spiced yogurt and naan bread | I could've gone with some more aggressive spices, but I realize Disney likes to treat us all like we have the palates of three year olds. Still good! I liked the naan especially.
BRAZIL I Pão de Queijo: Brazilian cheese bread (left) | Brazilian comfort food at its finest. Not complex but I love the doughy texture.
MOROCCO | Stone-baked Moroccan Bread with hummus, chermoula, and Zhoug dips | Gorgeous. Love it. The bread is soft and warm, with a beautiful chewy texture. The hummus is just hummus. I must confess I don't really remember the Zhoug dip but I recall it was only okay. The chermoula was earthy and rocked my socks.
MOROCCO | Cider Flight | The fig hard cider was a little too, well, figgy for me, and the hibiscus too sweet, but the ginger turmeric – oh yeah. Amazing! The ginger's a given, but the turmeric gave it an extra little aromatic spice thing I was really into. Next time I'd get a bigger size of just that.
EARTH EATS | IMPOSSIBLE Burger Slider with wasabi cream and spicy slaw on a sesame seed bun (left) | Not enough wasabi, but I'm probably more into it than the average person. The IMPOSSIBLE flavor was good if you like that sort of thing, which I do, but I don't think it would fool an avowed carnivore.
HAWAII | SPAM Musubi Nigiri with sushi rice, teriyaki-glazed SPAM, spicy mayonnaise, eel sauce, and nori | I think I know what was wrong with this dish: they didn't cook the spam correctly. You've gotta really crisp it up, give it a good sear, or else it just tastes like bland ham fat and salt. Also, as Erika rightly pointed out, that's not nigiri, that's sushi!
MEXICO | Capirotada de Chocolate: Abuelita chocolate bread pudding served with a chocolate crème anglaise | Magnificent. The chocolate in the bread pudding, the texture of the pudding itself, the all-over pour of ganache – unparalleled. It's not complex but I love it. Could probably do without the powdered sugar, though.
Let's finish it out with a bunch of steamed stuff, 'cause I love stuff that's steamed!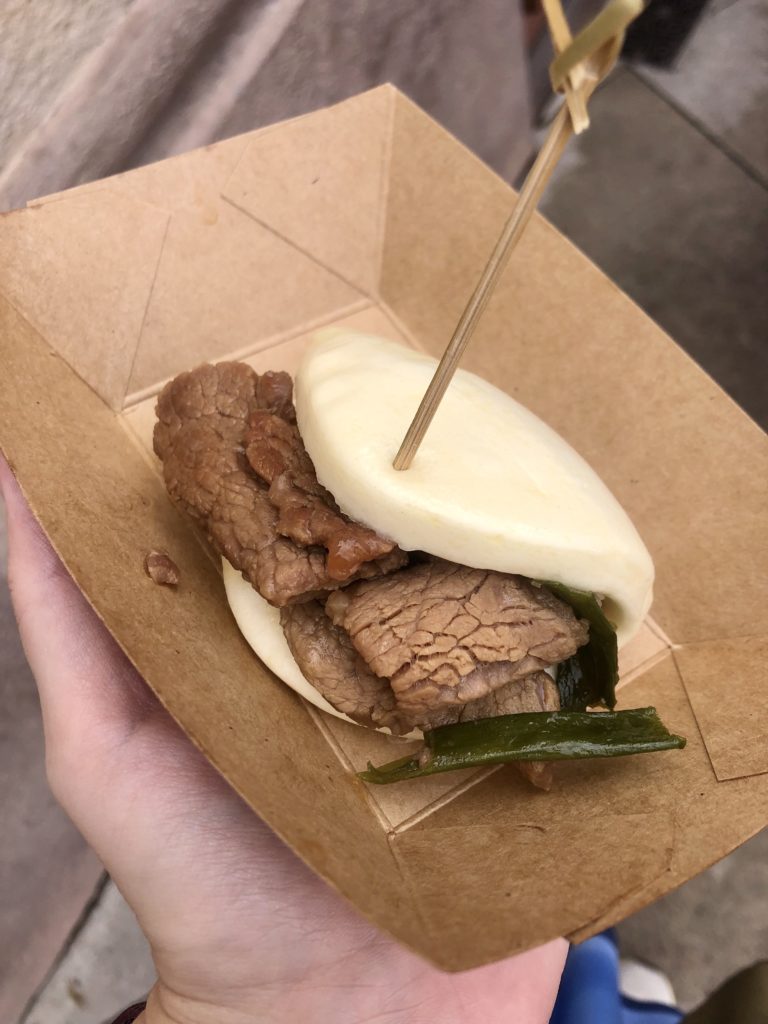 In all three cases, as I often complain, the buns were just a teeeeeensy bit stale. That's the risk you take with these festival foods, the way they sit out. A long line helps with that, I guess?
FLAVORS FROM FIRE | Banh Mi Bao with char-grilled Asian skirt steak, chicken liver aïoli, pickled vegetables, and cilantro | I wasn't entirely in love with the chewiness of the beef, but it was overall acceptable if you like bao buns as much as I do (which is a LOT).
JAPAN | Teriyaki Chicken Bun: Steamed bun filled with chicken, vegetables, and teriyaki sauce | The sweetness of the teriyaki dominates, so if you're not into that sauce you won't like it. I think it's worth it for the dough part, but then I would say that.
CHINA | Mongolian Beef Bao Bun | My favorite of the three! The steak had really good flavor and wasn't chewy at all. I was surprised by how rare it was, but I prefer my steak rare anyway.
And that's that on that! I definitely could've used an extra day or two of festival time to explore more dishes, but I'm pretty pleased with what I accomplished given the time constraints. I can't wait to see (and eat) what next year brings!
Don't forget, you can follow FRoA on Twitter @fairestrunofall and on Instagram @fairestrunofall. If you have any questions or thoughts, leave a comment or email fairestrunofall@gmail.com. See ya real soon!