It's time for my all-time favorite type of post: the trip report! See all the posts in my 2022 Wine & Dine Half Marathon trip report. Onward!
When we last left, uh… me & co, we were taking a pre-After Party siesta. Thus fortified by a little rest and a quick costume change, we jumped back onto the Skyliner and sauntered into Epcot via the International Gateway, the way all the cool kids do it.
Commence snacking! It being Sunday night, the Food & Wine Festival lines were a little nutty, but that's just the way of it – accept it or no food for you. If I recall correctly, we were in Japan when Harmonious started, and I watched rapturously to the end for the very first time. (Usually I bolt for the Skyliner during the finale to get out ahead of the hordes.) Disney Enchantment can suck it, but when it comes to the retiring fireworks shows I for one will miss Harmonious. The soundtrack alone…
There was a brief lull while the park pretended to shut down so the regular, non-awesome-party-people had time to go away. Then at 10pm, the Wine & Dine Half Marathon After Party was on!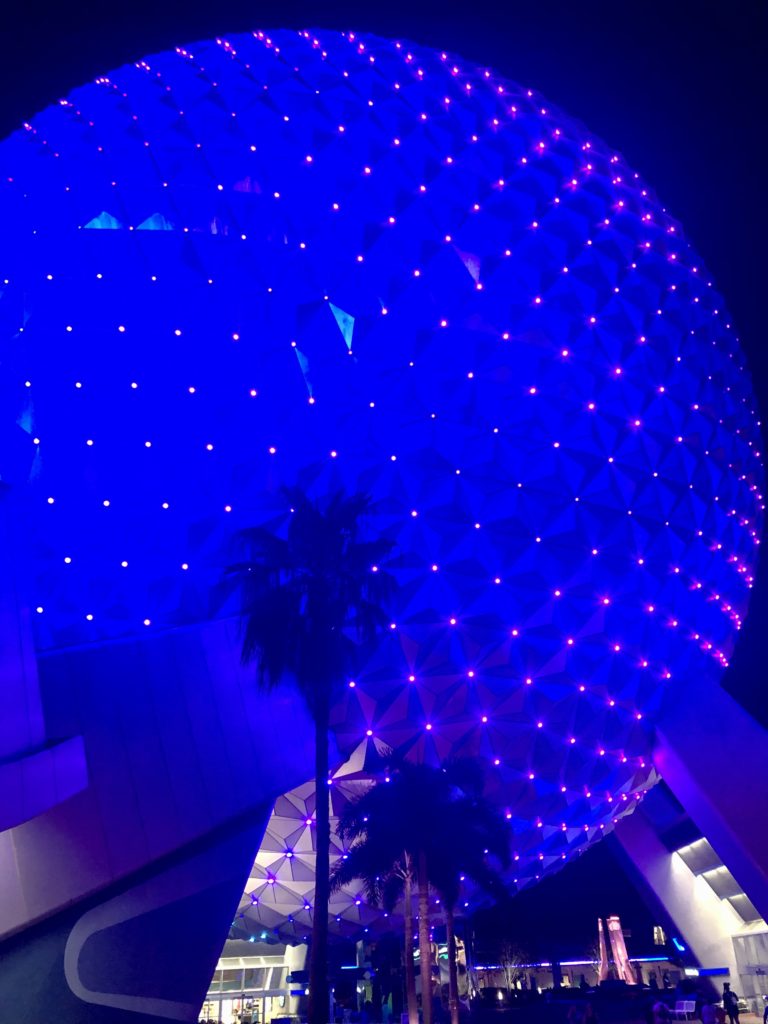 "Do ALL the Food & Wine booths stay open?" asked Becky, new to the race. Why yes, kiddo, they do! So we… kept snacking and drinking, the idea being that ride lines would shrink as the night wore on.
Ooh, and we caught a show from Mariachi Cobre! This was the first time I had ever seen them perform during the party – usually it's just a DJ and that's it. We still had the DJ, but we were also treated to some awesome mariachi music because mariachi bands are always awesome. Seriously, I think if you play one wrong note they kick you out of the band immediately. It's the only explanation.
After a happy, epicurean spin around World Showcase, we rolled over to Cosmic Rewind to see what the line situation looked like. The Cast Member stationed at the entrance claimed 90 minutes, which in retrospect sounds suspect, but at the time we took it at face value and reconsidered our next move.
Becky decided hers would be back to the hotel for sleep, which is always respectable. But I was, for once in my after-partying life, ready for more! Erika, a trouper through and through, elected to stay with me, and we marched back to World Showcase with a purpose.
Did I say marched? I probably should've said dance. I was, as they say, high on life. Really! Like all right, yeah, I'd had some drinks, but WDW is hardly known for their heavy pours. I was just legit having a really freakin' great time. I was awake, I wasn't cold and/or wet, the music was bumpin' and the rides were open. Listen, half the Cast Members were doing synchronized routines in front of their kiosks; that was the vibe. So I danced my way down the World Showcase path too, like the true weirdo I am. It. Was. AWESOME.
But wait – it was about to get AWESOMER. That's right: so awesome I'm out here mangling grammar. How, you ask? Try this one-two-three-punch on for size:
Okay, so. It's like 12:15am. We've got 45 minutes of park time left. I'm looking at the wait time board, and it says 25 minutes for Remy's Ratatouille Adventure. I figured 25 minutes wasn't too bad, the line was very likely a bit shorter than that, and if we hurried we could still sneak into the Cosmic Rewind line before the party ended. Let's go!
Guys, when I say there was absolutely no line for Remy, I mean absolutely no line. We didn't even bunch up at the seat assignment CM. It was a straight shot from entrance to rat to ride. Lightning Lane couldn't have done it any better.
Well, thought I, if the Remy line is a round zero, I wonder if Frozen Ever After… and we walked over there next. Sure enough, it was the same deal: enter line, walk through line, climb into your boat, done. World record!
We exited Frozen with a solid 17 minutes to walk over to Cosmic Rewind. No sweat. Why, we even had time for Erika to take a picture with Mariachi Cobre on the way over.
Unfortunately, when we got there, we found said line unmoving: Cosmic Rewind was down. Curses! We saw multiple parties walk back past us; one guy said, "The Cast Members aren't saying anything, I'm just tired of waiting." Which actually felt like good news to me, as if the ride was truly down for the count, wouldn't they just send us home?
After oh, ten, fifteen minutes, our patience was rewarded: the line started moving again and we were ready to save the galaxy! Another ten-to-fifteen of steady movement later and we were back on that beautiful, beautiful ride, letting Terry Crews tell us to get off our dang phones and Drax talk about cake. AND we were in the very front row!! We did get "Disco Inferno" again, not a new song, sadly. OH WELL GUESS I HAVE TO GO BACK. 😀
And if you'll forgive me some brief and very subjective commentary, I think I like Cosmic Rewind even better than Rise of the Resistance. Yes, they are two completely different types of experiences, but the music- and darkness-driven setup gives Rewind the edge. I can't wait to get every song.
By the time we got off the ride, the party was over. For the first time (in forever… had to), I had so much energy in reserve; I could've gone another two hours. But this was not the glorious night race of days past, and I had to accept that the 2022 Wine & Dine party was over. You know that all good things must come to an end.
And to that end, we jumped onto a bus back to Art of Animation. Well, AoA among some other resorts nearby, but luckily the bus driver asked where everyone was headed and we didn't have to make every possible stop. We made it safely back to our room and were back in bed in short order.
Which means… I did it! I shut down the after party, just like I always wanted!
That's the good news. The bad news is, that means only one more day of trip report to go. All good things strikes again.
Don't forget, you can follow FRoA on Twitter @fairestrunofall and on Instagram @fairestrunofall. If you have any questions or thoughts, leave a comment or email fairestrunofall@gmail.com. See ya real soon!