Today we're going to pivot a little: I want to talk about the gratitude I have surrounding my Disney parks experiences. I'm not gonna lie to you guys – it's about to get a little sappy up in here. 😅
Don't get me wrong – there is still plenty to complain about when it comes to Disney, especially in the last few years. (Dammit, Bob.0, bring back Magical Express already!!!!) But after coming dangerously close to having to skip a WDW trip, I find a have a new perspective on things. Maybe you could use one too?
MY NEW DISNEY PHILOSOPHY
I say that because I think my readership is, perhaps unsurprisingly, a lot like me: Disney parks obsessives who have been going for years and pride themselves on their breadth of knowledge and effective organization around Disney trips.
By consequence, when things go wrong, my anxious little brain can fall into a tizzy right quick. A simple setback – accidentally grabbing the wrong FastPass, say, or missing a bus, or getting shut out of a performance – deals psychic damage. I should know better. I should be able to avoid and/or fix this! And when I can't, it really bums me out.
Not this last trip... and, dare I say it, never again?
When I thought COVID might derail my WDW Marathon trip last month, I brushed up against devastation. I know, I know, first world problems. Poor kid might miss her thousandth theme park excursion; boo hoo. Still, the WDW Marathon is really, truly, sincerely, the highlight of my year. ALL my runDisney races are important to me, but that one in particular. For a hot second, it was slipping through my fingers.
And then it DIDN'T, and I WENT, and I was SO HAPPY. Honestly and truly, I was thrilled just to have made it, to be there. My resort is the last Mears Connect stop? Whatever; I'll get there eventually! Room isn't ready? I can wait! The Disney Springs bus isn't showing up? I can go later! I forgot my sunglasses on the Mears bus? A great excuse to buy new ones at the race expo! Weather a little chilly? Still beats a northern winter. NONE OF THESE THINGS ARE REAL PROBLEMS. Imperfect, yes, but not really problems. Nothing is ruined. I can deal.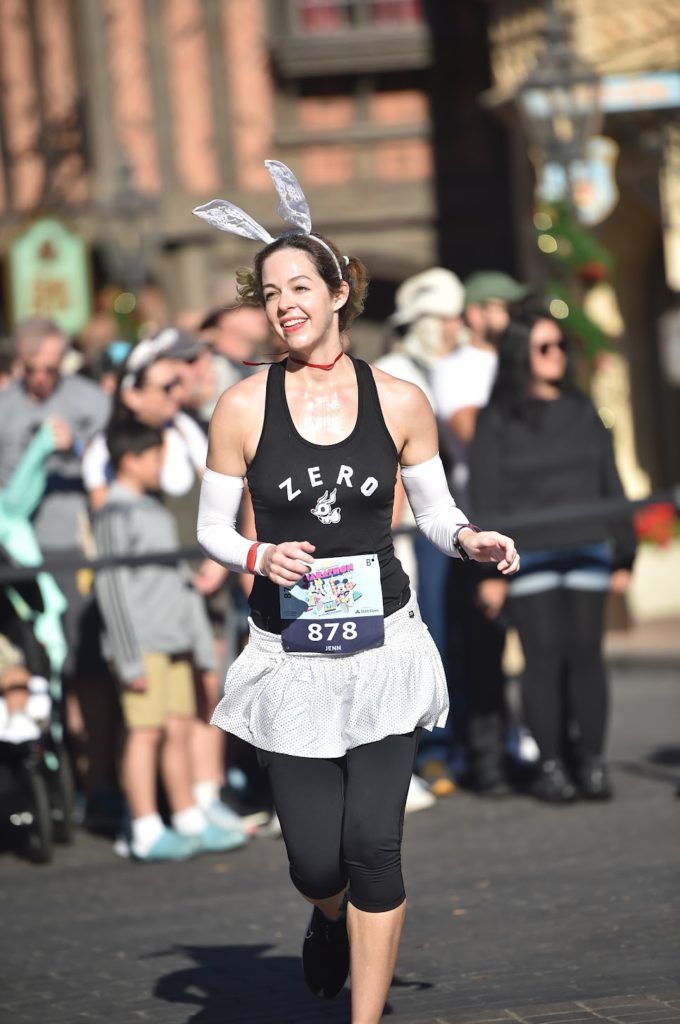 THIS CRICKET'S A LUCKY ONE
And seriously, how frickin' lucky am I? No, I'm not the sort of rich where I can go to WDW whenever I want however long I want and do all the things I want. I am, however, in a position to be able to make short trips with some reasonable frequency and do a fair amount of stuff, including a couple of runDisney races a year. If I miss something, I can say to myself: next time! Because I always know there will be a next time. How many people can say that?!
So I am hoping to carry this feeling forward with me, this recognition that to be in Walt Disney World is a privilege in and of itself. To be clear, I can and will still be critical of the company where it is warranted. (I'm still a little irked about my hair towel. 🤪) But not everything needs to go exactly as I imagined every time. Sometimes I make mistakes; sometimes they make mistakes. At times the universe simply does not align for us. What can ya do.
IN CONCLUSION: C'MON, GET HAPPY
With a deep breath and a smile, I can pull a fantastic Disney experience out of almost any setback. After all, I hear I am the magic. As long as I made it to Disney, I'm doing great!
Don't forget, you can follow FRoA on Twitter @fairestrunofall and on Instagram @fairestrunofall. If you have any questions or thoughts, leave a comment or email fairestrunofall@gmail.com. See ya real soon!