Behold: proof that I am insane! BUT ORGANIZED.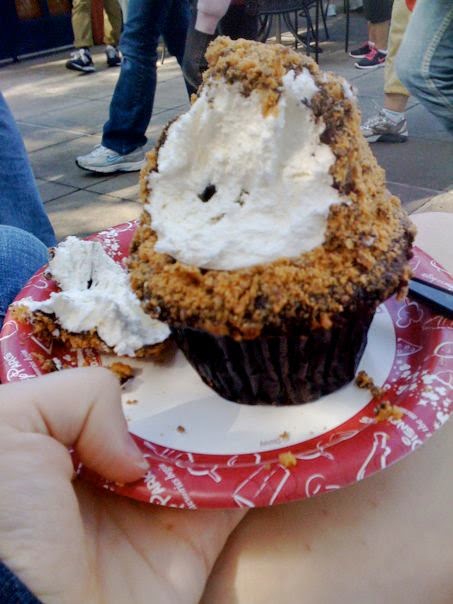 Butterfinger cupcake from Starring Rolls.
It all started when it became official that I was going to be returning to Walt Disney World in November (for the Wine and Dine Half) AND January (for Dopey). Immediately my thoughts turned to one of the most important aspects of any WDW trip: the food. I started pondering what delicacies I wanted to make sure to sample… and then I thought, well, I don't want to forget. So I started formulating a list.
And then I thought, I know! I'll go back through the Disney Food Blog and Eating WDW archives and see what delicious items should go on the list. I mean, I don't want to miss anything, right? So I skimmed through the last two years' worth of posts. My criteria: things that interest me, that are unique, and/or that are iconic.
Tonga Toast and pineapple macadamia nut pancakes from Kona Cafe.
My list now stands at an even 100 foods. Of those foods, I have already tried a whopping 17.
I can knock out the rest in, oh, I don't know, what do you think? Ten more trips? Fifteen if I want to lower my risk of diabetes?
No Way Jose sundae from Beaches and Cream (and you can see the top of
Betty's Frozen Sunshine in the back there).
And this doesn't even count all the Flower & Garden Festival and Food & Wine Festival offerings (the latter will get its own post when menus emerge, never fear), plus whatever new and exciting dishes they'll be introducing in the future. Oh, and this doesn't take into account general restaurant interest, either – for example, I too would love to try Victoria & Albert's someday, but since the menus change all the time none of its offerings make the list. And don't even mention Disneyland!
I have work to do.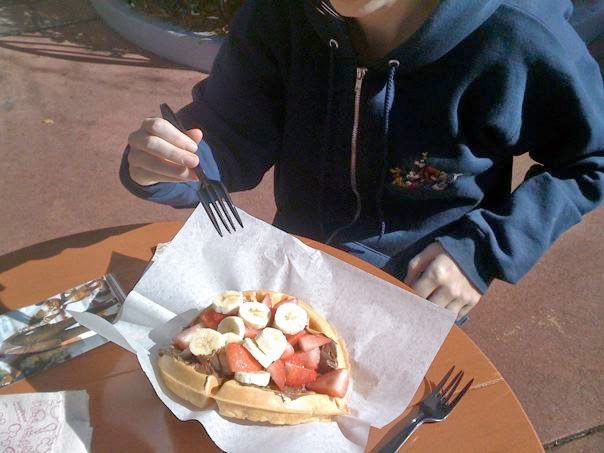 Nutella and fruit waffle from Sleepy Hollow.
NOW I NEED YOUR HELP. Like I said, I compiled this list by going back through two years of archives. Even during that short time I was running across defunct restaurants and menu items. For the most part I tried to weed these out using my own brainpan, but I'm sure I've missed some. And I have other questions too. Basically what I need to know is as follows:
Do you see any items here that no longer exist? I need to remove them.
Do you see any items here that, no matter how exciting the description may make them sound, actually kinda suck? I might want to consider removing them, or at least lowering their priority.
Do you see any items here that you LOVE LOVE LOVE? I should probably try them first!
Do you NOT see any items here that really ought to be? I should add them!
What's on your Disney To Eat List?
And now, in no particular order except by location and without further adieu, I give you:

My Disney To Eat List
Check!
Park/Resort Area
Location
Item
Notes
x
AKL
Boma (Dinner)
Zebra domes
I was actually not bowled over by these… is that wrong?
x
Art of Animation
Landscape of Flavors
Build your own smoothie
x
Beach Club
Beaches and Cream
No Way Jose
A sharer. Glorious.
x
DHS
Starring Rolls
Butterfinger cupcake
x
DHS
Writer's Stop
Carrot Cake Cookie
I would do this again in a heartbeat.
x
DTD
Earl of Sandwich
Brownie creme
Still only tried the vanilla. There are chocolate and PB flavors to ponder…
x
DTD
Raglan Road
Bread and butter pudding
x
Epcot
Kringla Bakeri og Cafe
School bread
x
Epcot
La Cava Del Tequila
Avocado margarita
Preferred the cucumber margarita, myself. LOVE the chili salt rim on either.
x
MK
Aloha Isle
Dole Whip float
x
MK
Columbia Harbour House
Lighthouse sandwich
Love!
x
MK
Crystal Palace
Breakfast lasagna
Woah. Crazy sweet.
x
MK
Sleepy Hollow
Waffle sandwiches
Breakfast, ham, Nutella versions down – only spicy chicken to go.
x
MK
The Confectionery
Pumpkin fudge
x
Multiple
Multiple
Homemade ice cream sandwich
x
Polynesian
'Ohana
Bread pudding
x
Polynesian
Kona Cafe
Tonga Toast
But I liked the macadamia nut pancakes better…
AKL
Boma (Breakfast)
Pecan caramel bread pudding
AKL
The Mara
Peanut butter brownie
x
Art of Animation
Landscape of Flavors
Make your own pasta
Art of Animation
Landscape of Flavors
Pumpkin pecan tart
Beach Club
Beach Club Marketplace
Oreo bon bons
Beach Club
Beaches and Cream
Chocolate cake
It has SO MUCH FROSTING.
Beach Club
Beaches and Cream
Kitchen Sink
Not without multiple assistants. But sort of a WDW rite of passage, no?
Beach Club
Beaches and Cream
Grilled banana bread
Boardwalk
Boardwalk Bakery
Oreo Bon Bon cupcake
Boardwalk
Boardwalk Bakery
Peanut butter cupcake
Boardwalk
Boardwalk Bakery
Chocolate peanut butter cake
Boardwalk
Boardwalk Bakery
PB, banana & bacon pie
Boardwalk
Boardwalk Bakery
Salted caramel ganache tart
Boardwalk
Boardwalk Bakery
Cheesecake brownie
Boardwalk
ESPN Zone
PB&J burger
I just want to try it. Definitely something I'd share with others who were intrigued.
Contemporary
California Grill
Tuna Four Ways
Contemporary
Chef Mickey's (Dinner)
Caramel bread pudding
Contemporary
The Wave
Sweet potato pancakes
Coronado Springs
Pepper Market
Creme brulee French toast
DAK
Anandapur Local Food Cafes
Banana pudding
DAK
Dawa Bar
Sugar cane mojito
x
DAK
Kusafiri Coffe Shop & Bakery
Paw print brownie
DAK
Kusafiri Coffe Shop & Bakery
African spice cake
DAK
Kusafiri Coffe Shop & Bakery
Yule log
Seasonal
x
DAK
Mr. Kamal's
Falafel sandwich
DAK
Tamu Tamu
Vegetable curry
DAK
Yak & Yeti
Fried cream cheese wontons
DAK
Yak & Yeti
Dim sum
Billed as an appetizer for two but I bet it could be a meal for one!
DHS
50's Prime Time Cafe
PB&J milkshake
x
DHS
Sci-Fi Dine-In
Picnic burger
Someone's going to have to share it with me. Maybe two or three someones. That thing is insane.
DHS
Starring Rolls
Red velvet cheesecake cupcake
DHS
Starring Rolls
Chocolate peanut butter cupcake
DHS
Starring Rolls
Marble cupcake
DTD
Bongo's window
Cuban sandwich
I love Cuban sandwiches!
DTD
Earl of Sandwich
Holiday turkey sandwich
DTD
Ghirardelli
Cookie bottom sundae
DTD
Goofy's Candy Kitchen
Make your own treat
Pretzel rods with Reeses Pieces. No question.
Epcot
Crepe kiosk in France
Nutella crepe
x
Epcot
France ice cream shop
Brioche ice cream sandwich
Epcot
France ice cream shop
Ice cream martini
Epcot
Holiday kiosk in Germany
Hot salted caramel
Seasonal
Epcot
Japan pavilion (several places)
Chocolate ginger cake
x
Epcot
Joy of Tea stand
Tipsy Ducks in Love
Epcot
Juice bar in Morocco
Ice creams
So many interesting flavors!
Epcot
Kabuki Cafe
Ice creams
Green tea, caramel ginger, strawberry azuki flavors!
Epcot
Karamell Kuche
Chocolate-covered salted caramel
Epcot
Karamell Kuche
Caramel apple cookie
Epcot
Kiosk in The American Adventure
Pumpkin spice funnel cake
I think this might be seasonal. I'm not even a huge funnel cake fan – I just LOVE pumpkin.
Epcot
Kringla Bakeri og Cafe
Lefse
It's been a quiet week in Lake Wobegon, my home town, out there on the edge of the prairie.
Epcot
Kringla Bakeri og Cafe
Troll horn
Epcot
Kringla Bakeri og Cafe
Rice cream
Epcot
Kringla Bakeri og Cafe
Veiled maiden
Epcot
Le Cellier
Pretzel rolls
I know. Of all the things they have, I want the bread basket. WHY IS THERE NO CANADIAN COUNTER SERVICE?
x
Epcot
Pretzel place in Germany
Soft pretzel
Epcot
Refreshment Port
Cronut (a la mode?)
Epcot
Rose & Crown
English Bulldog
Another one I'll need someone to share with me. I have guilt thresholds to consider.
x
Epcot
Sommerfest
Nudel gratin
Epcot
Sommerfest
Curry Wurst
Epcot
Sunshine Seasons
Whoopie pie
Epcot
Via Napoli
Fritto misto
Epcot
Via Napoli
Prosciutto e melon pizza
MK
Be Our Guest
Tuna Nicoise salad
MK
Be Our Guest
The Master's Cupcake
I hear I should try the grey stuff.
x
MK
Cheshire Cafe
Cake cup
THE CHESHIRE CUPCAKE ONE. Oh man. Priority one, I'm telling you.
MK
Golden Oak Outpost
Corn nuggets
MK
Liberty Tree Tavern (Lunch)
Ooey Gooey Toffee Cake
MK
Plaza Ice Cream Parlor
All-American Sundae
x
MK
Sommerfest
Grapefruit beer
MK
Starbucks
Peanut butter cupcake
MK
Storybook Treats
Cookie fudge sundae
x
MK
Sunshine Tree Terrace
Citrus swirl
I'm pretty into Dole Whip floats, but tons of people swear by these, so…
MK/Boardwalk
Plaza/Beaches and Cream
Mickey's Sink Sundae
x
Multiple
Multiple
Sweet cream cheese pretzel
Multiple
Multiple
Babycakes mini cupcake pack
x
Multiple
Multiple
Mickey ganache tart
Multiple
Multiple
Marshmallow wand
I hear the marshmallows are homemade?
Polynesian
Captain Cook's
PB&J cupcake
Polynesian
Captain Cook's
Chocolate beer cupcake
Polynesian
Captain Cook's
Tiki toffee
x
Pop Century
Everything Pop
King cupcake
Pop Century
Everything Pop
Cotton candy lemonade
Port Orleans
Sassagoula Floatworks
Biegnets
Don't forget, you can follow FRoA on Twitter @fairestrunofall and on Instagram @fairestrunofall. If you have any questions or thoughts, leave a comment or email fairestrunofall@gmail.com. See ya real soon!