I know it's wildly common for people to have that dream, the night before a race, that they have slept through their alarm.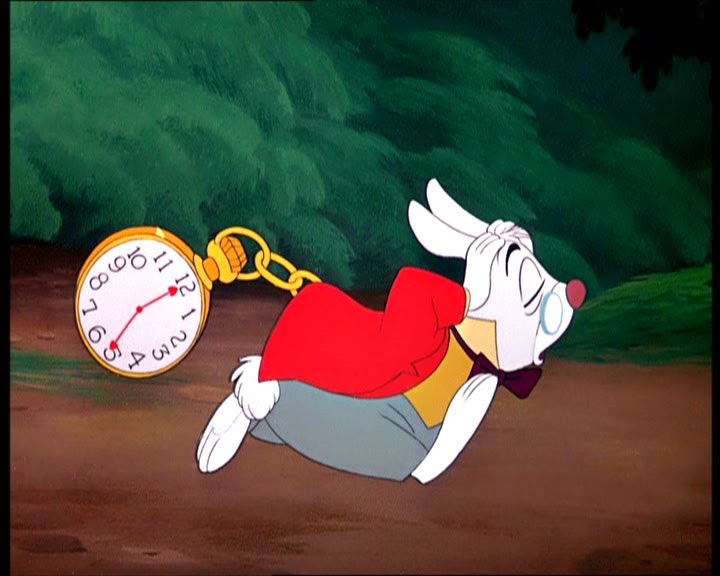 This image also helpfully doubles as a metaphor for running itself.
OH GOD NOT GOING FAST ENOUGH
(source)
I am WAY AHEAD OF YOU.
Sure, I've had that dream. I've had it the night before the race. I've also had it three months before the race and sooner, and I've had it weirder.
Take the Wine & Dine Half. That's not until November. And yet a couple weeks ago I had my first OH GOD RUNDISNEY dream. For some reason registration was the same morning of the race, and while I made it to the starting line in plenty of time, I suddenly realized I had forgotten my paperwork and it was almost start time.
It gets more disconnected – for some reason I decided to sit and stare despairingly at the buses full of runners still coming in (why are they still coming in when it's almost start time?). Then I did a lot of threading through stanchions and stanchions like I was trying to board the Magical Express or something. And then it was past start time but I was still running around this generic hotel (why???) with this other guy with the same problem because we couldn't find ANYONE who worked for runDisney (again: ???). We finally located some bored-looking girl in an empty basement room (???) but I don't know what she had to tell us because I finally woke up.
I can get even further ahead of myself. I hadn't even registered for Dopey yet when I had a dream that Moon and I were at WDW for the full marathon and somehow showed up late to the race, which – for some reason – started right outside the Magic Kingdom gate? Running theme here: although it was past start time, I was insistent that we could still make it, but first we had to go through these STANCHIONS AND STANCHIONS AND STANCHIONS. Dream analyzers: what do stanchions represent? Is it phallic? Do I feel hemmed in by life? Is this some Temple Grandin thing? WHY ARE THE STANCHIONS TRYING TO KEEP ME FROM RUNNING DISNEY ON TIME?
Anyway. Yeah. I have actual runDisney nightmares. Anybody else? What's the weirdest race dream you've ever had?
Don't forget, you can follow FRoA on Twitter @fairestrunofall and on Instagram @fairestrunofall. If you have any questions or thoughts, leave a comment or email fairestrunofall@gmail.com. See ya real soon!